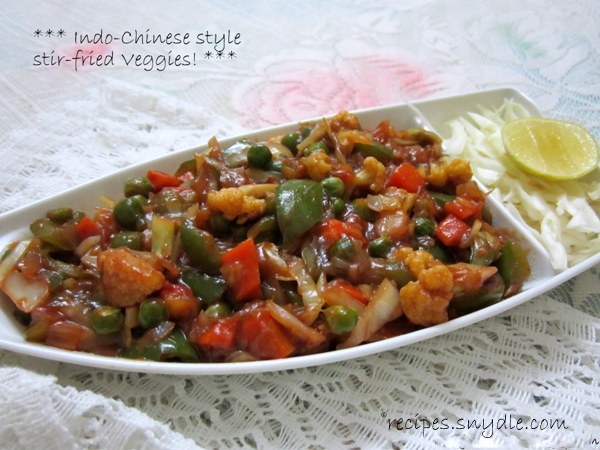 Hi there dear foodies! Looking for a nice Chinese recipe today? Well lucky day! Today, it's the recipe of stir-fried veggies cooked with orange juice. It is bursting with oriental flavors of ginger-garlic, soy sauce and chilies. As it has so many fresh vegetables and it teams up perfectly with brown rice and noodles alike. I like having it with egg fried rice.
I added the vegetables I had at the moment in my refrigerator. You can add the vegetables of your choice- French beans, baby-corn, broccoli or mushroom.
Ingredients
Onion – 1 medium, sliced
Ginger – 1 tbsp, julienned
Garlic – 2 tbsp, minced
Capsicum – 1, cut into dices
Red bell pepper – 1, cut into small pieces
Carrot – 1 medium, diced
Green peas – ½ cup, boiled
Cauliflower – 1/2 cup, cut into small florets and blanched
Cabbage – 1/2 cup, shredded
Green chilies- 4, split lengthwise
Soy sauce – 1 tbsp
Chili-garlic sauce – 1 tbsp
Vinegar – 1/2 tbsp
Tomato paste – 1 tbsp
Palm sugar – 1 tsp
Salt- To taste
Orange juice – 50 ml
Oil – 3 tbsp
How to Make Indo-Chinese Style Stir-Fried Veggies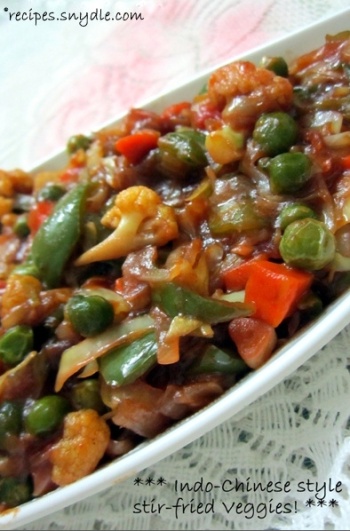 In a wok, heat oil. Toss in the sliced onions and sauté for a minute on high heat. Add ginger and garlic and fry for a minute till the raw smell disappears.
Throw in the green chilies, capsicum and red bell peppers and sauté for another minute.
Add in the remaining vegetables and salt. Sauté the vegetables for a minute, occasionally tossing them.
It's time to add the soya sauce, chili-garlic sauce, vinegar, tomato paste and stir it around well. Cook for a couple of minutes tossing it.
When the vegetables are cooked, pour in the orange juice. Add the palm sugar and adjust the salt. Give it a quick stir. Allow the vegetables to soak in the flavor of orange juice. However, do not dry it up entirely. Turn off the heat and serve hot!
Enjoy the stir-fried veggies hot with hakka noodles, ginger noodles or rice!