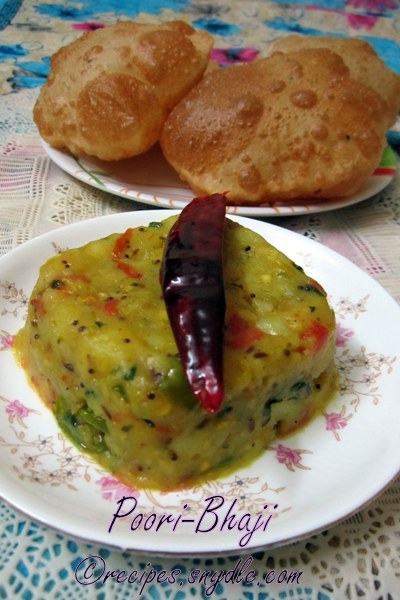 Who doesn't like to have steaming-hot Poori Bhaji Recipe with potato curry on a rainy afternoon? The mere thought of this scrumptious Maharashtrian delicacy can make anyone hungry. Poori-Bhaji (or puri bhaji) is a popular dish in Maharashtra. If you have been looking for easy dinner ideas, then this is it!
The Poori Bhaji Recipe is a type of Indian bread, made from whole wheat flour and deep fried till brownish and fluffy. The bhaji is the dry potato curry or sabzi made with boiled potatoes and spices. You can find innumerable potato recipes of this kind throughout India, each of them bursting with flavors of local cuisine. Such is the diversity of Indian food! If you have been to Gali Parathe Wali in Chandni Chowk, Delhi, you are served the soupy / stew-y version of potato curry with parathas. In south India, the dry potato sabzi is served with dosai, what we know as Masala Dosa. And in Maharashtra and other states in central part of India, people relish poori-bhaji with great fervor.
Practically speaking, poori-bhaaji can be had anytime; for breakfast, lunch or dinner. So, in this post I am going to tell you how to make the potato bhaji. In the upcoming post, we will see how to make perfect pooris.
Like I said, the popular Indian foods are prepared throughout the country, and each one of them tastes quite distinctive, sometimes way different from the authentic cousin. We are a Sindhi household, and most dishes prepared at home consist of garlic. Garlic pairs up beautifully with potatoes. But if you don't like garlic in your food, you can give it a pass. This recipe calls for a lot of fresh green chilies because we do not add red chili powder to it. All the hotness comes from green chilies. You may adjust the quantity as per your taste. We add a couple of dry red chilies for aroma. You can even bite on them. They won't taste very fiery after they are sautéed properly. Also, I mashed the potatoes completely. If you like your potatoes slightly crumbled or cubed, you can keep them that way.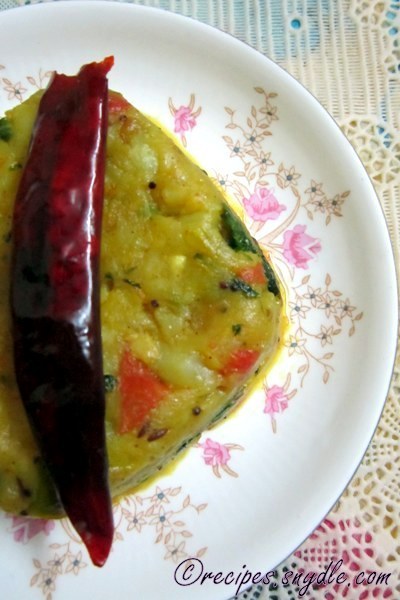 Now let us see how to make this scrumptious potato bhaji. This will serve 3 people, if you follow the given measurements.
Ingredients: Poori Bhaji Recipe
Potatoes – 5 large, boiled
Onion – 1 medium, roughly chopped
Garlic – 6 cloves
Ginger – 1/2 inch piece
Green chilies – 8, finely chopped
Tomato – 1 medium, chopped
Coriander leaves – For garnishing
Turmeric powder – ½ tsp
Garam Masala – 1/3 tsp
Amchur / dried mango powder – 1/3 tsp
Salt – To taste
Water – A few spoonfuls
For tempering
Oil – 4 tsp
Cumin seeds / Jeera – 1/2 tsp
Mustard seeds – 1/2 seeds
Dried red chilies – 4
Fenugreek seeds / Methi dana – 10 seeds
Fennel seeds / Saunf – 1/3 tsp
How to Make Poori Bhaji Recipe |Potato Sabzi 
Finely crush together the ginger and garlic in mortar-pestle. Keep aside.
Heat oil in a skillet. Add in the cumin seeds and mustard seeds and allow it to crackle.
Toss in the dry red chilies and sauté for a few seconds till the chilies turn puffy and aromatic. Take care not to burn anything. The fennel seeds and fenugreek seeds will be added at the later stage.
Add in the onions and sauté till they turn golden. Make a well in the center of the skillet. Add the fenugreek seeds and fennel seeds at this stage, in the center of the skillet. Sauté for a minute, taking care not to burn the fenugreek seeds and fennel seeds. It should now smell earthy and fresh. Now mix it to combine it with the onion.
Throw in the green chilies and sauté for a couple of minutes.
Add the tomato and sprinkle little salt to accelerate the cooking process.
When the oil starts separating, add the turmeric powder and garam masala and give it a nice mix. Cook for a minute.
You might need to add some water if the mixture seems too dry. A couple of tablespoons of water will do the trick.
Add in the boiled mashed potatoes and adjust the seasoning. Like I said before, you can cut the boiled potatoes into tiny cubes or lightly crumble them instead of mashing them completely. Add the amchur / dry mango powder at this stage. It adds an amazing zing to the potatoes. Mix it well to coat the potatoes in the spices.
Add in chopped coriander and mix. Cover the skillet with the lid. Let the potatoes get heated on a very low flame as they absorb all the flavors. Turn the flame off after 3-4 minutes. Mix the potatoes intermittently to avoid them from sticking to the base of the skillet and burning. Potato bhaji is ready! Serve hot with soft, fluffy, hot Poori Bhaji Recipe.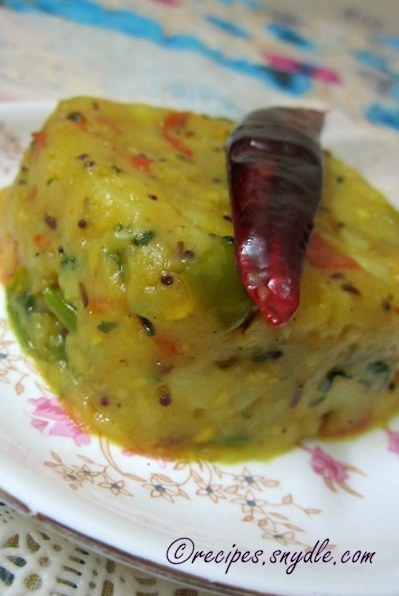 It is amazing how a humble potato can be turned into an absolutely lip-smacking side-dish. You must add this quick potato curry in your list of delicious dinner recipes. Give it a try and let us know how it came for you. Its Poori Bhaji Recipe in the upcoming post. Stay tuned!