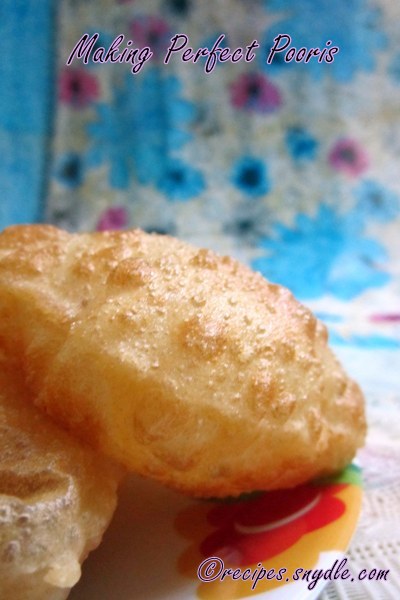 In the previous post we saw how to make Maharastrian style potato curry that pairs up beautifully with Poori Recipe. A poori or puri is an Indian flatbread. It is made from unleavened whole wheat flour and deep fried. Pooris taste best when served hot. After they cool down, they tend to become very soggy.
Making Poori Recipe is a cakewalk. It is way simpler than making other Indian flatbreads like roti, chapati and naan. Pooris are smaller than these other varieties of flatbreads and hence they are easy to handle, even if you are a novice.
This recipe will yield around 10-12 pooris. Each poori is about 4 inches in diameter. So, let's see how to make perfect Poori Recipe.
Ingredients
Whole wheat flour – 2 cups
Water – As needed
Salt – 1 tsp flat or to taste
Oil – 1 tbsp + some more for deep frying
How to Make Perfect Fluffy Pooris | Poori Recipe
In a bowl, combine the wheat flour, salt and 1 tbsp oil and mix it nicely with your fingers.
Now, add water to the flour little by little as you need the dough.
The dough should not be very stiff. Neither it should be very soft and sticky. It should be just like chapatti dough, soft yet pliable.
Knead the dough for 5 more minutes to make it pliable and well combined. Finally, roll the dough to a big ball with your palm as you knead it. Rub a few drops of oil on the surface. Cover the bowl and let the dough rest for 15 minutes. Rubbing oil on the surface of the dough will ensure it doesn't turn dry as the dough rests.
After the dough has rested, kneed it once again just for a minute. Divide the dough into 10-12 equal parts. Take a small ball, place it on the rolling surface and flatten it a bit with your finger tips. Apply a drop of oil or two to prevent the dough from sticking to the rolling surface. Alternatively, you may use a little dry floor for this purpose. Using too much dry flour will cause the oil to darken as you fry the pooris.
Now roll out the ball with a rolling pin into small round pooris. Make sure you do it with a light hand or the pooris won't puff up. Don't roll it out too thin or too thick. Transfer the rolled out circles onto a large plate and cover it with a kitchen towel to prevent drying.
Roll out all the balls into circles one after another and keep them covered in the plate. In the meanwhile, heat sufficient oil in a deep skillet or kadhai. When all the pooris are rolled out, it's time to fry them.
It's important to maintain the oil at the right temperature. To test it, drop a crumb of dough in the oil. If it sizzles and floats to the top, the oil is ready to fry. If the crumb of dough turns dark brown or black, the oil is too hot. You might want to reduce the flame and wait till the oil comes down to right temperature.
When the temperature is right, drop a poori from the side of the skillet into the oil. Do so where gently and carefully. With the help of a perforated ladle that is used for deep frying, gently push the poori down into the oil. It will puff up in a couple of seconds. Turn the poori upside down and fry for a few seconds. Turn upside down again a couple of times after a few seconds for an even color. The poori will now turn golden brown. It takes just a few seconds, may be 25 seconds to fry a poori.
Fry the rest of the pooris one by one and serve hot.
Serve it with the potato sabji. You can find the recipe here -> Potato Curry.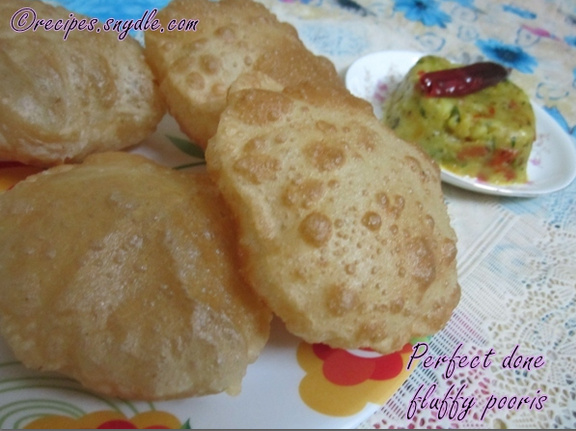 Poori Recipe also go well with chana masala, Punjabi chhole, vegetable korma, daal and so on. You can also serve them with other side-dish of your choice. Bon appétit!