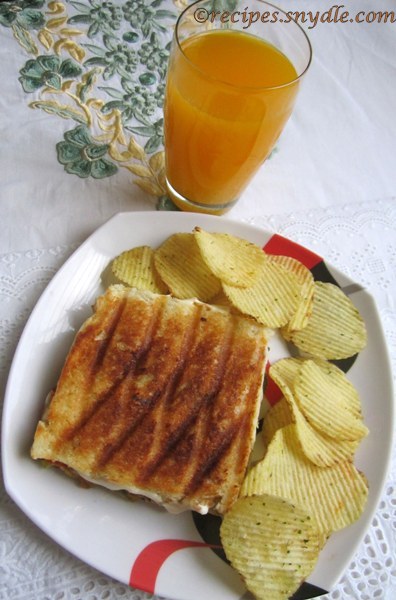 Hi there dear readers. Here I am again with a new recipe- Grilled Devil Recipe. Have you been looking for good brunch recipes to enjoy on weekends as you are glued to the television watching your favorite sitcom? Does the sound of sandwich ring a bell?
Sandwiches make for not only a perfect brunch but also picnic food. There is just too much goodness packed between those two slices of grilled bread. Sandwiches are such versatile food. They can be made with any of your favorite bread, buns, baguette or even bagels. You can experiment with the filling using different veggies, chicken or meat. Sauce, chutney and cheese are important components of a good sandwich. So, you know there is a lot to try out with.
The recipe I am sharing today is one my much-loved sandwich recipes. It contains a potato preparation, some raw veggies, mint chutney and lots of ooey-gooey cheese! It is like the grilled cheese sandwich with veggies. You can say it's an Indian-style sandwich recipe, spicy and filling. This sandwich is quite similar to the Bombay sandwich, which is a popular street food in Mumbai. It is certainly high on calories, but it's perfectly fine to sink your teeth in such wonderful sandwiches once in a while.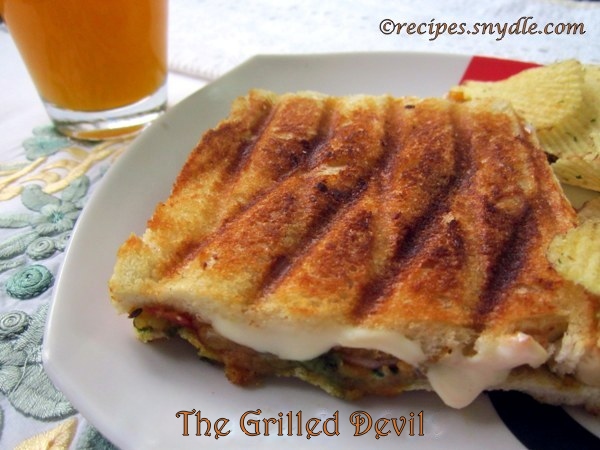 This sandwich does need to preparation. But, what you get in the end justifies all the efforts you put into it. This is a recipe for two, i.e., it will yield 4 sandwiches. So, let's see how to make this vegetable grilled sandwich.
How to Make Grilled Devil Recipe
You will need:
Bread slices – 8
Butter – As required
Cheese spread or Mozzarella cheese – As required
The Mint Chutney
The mint chutney is a spicy, sweet and tangy spread. It is prepared from mint, coriander leaves or cilantro and some other ingredients. Every household has their own typical recipe of mint chutney. You can use the mint chutney that you usually prepare at home. For those who are not familiar with the recipe, I am writing about it for you.
Ingredients
Mint leaves – A handful
Coriander leaves / Cilantro – 1 small bunch
Green chilies – 8
Tamarind pulp – 1 tbsp
Garlic – 4 cloves
Jaggery – A lime-sized lump
Ginger – 1 tsp, chopped
Onion – 2 tbsp, chopped
Roasted groundnuts ¼ cup
Salt – To taste
Water – 3 to 4 tbsp
Making Mint Chutney
Combine all the ingredients in a blender and grind them to form a smooth paste.
Add some water little by little while grinding, whenever needed. We want thick yet spreadable chutney, and not something that is too chunky or watery. Keep the chutney aside.
The Potato Mix
Ingredients
Potato – 2 medium
Crushed Garlic – 4 cloves
Crushed Ginger- 1/3 tsp
Onion – 3 tbsp, finely chopped
Tomato Puree – 2 tbsp
Green chilies – 2, finely chopped
Coriander leaves – 2 tbsp, finely chopped
Mustard seeds- 1/3 tsp
Curry leaves – 1 spring worth of leaves
Salt – To taste
Oil- 1 tbsp
Water – ¼ cup, as needed
Dry Spice Powders
Cumin powder- 1/3 tsp
Red chili powder- 1/3 tsp
Turmeric- 1/4 tsp
Making the Potato Mix
Boil the potatoes and peel them. Mash them and keep aside.
Take a pan and heat the oil in it. Spoon in the mustard seeds and allow it to sizzle. Carefully add the curry leaves and stir for a few seconds.
Toss in the onion and sauté it till it turns golden-brown. Next, add in the green chilies, garlic, ginger and sauté it for a minute till they lose the rawness and become aromatic.
Add the tomato puree, salt and the dry spice powder and give it a good mix. Put in the potato mash and mix well. Add water if mixture looks lumpy and dry. Cook it till the potato is nice and hot. Finish it with coriander leaves and keep aside.
Sliced Vegetables
We will need some slices of tomato, onion and cucumber. You can adjust the quantity of raw veggies you need on your sandwich. Ideally, 1 onion slice straighten out into rings, 2 tomato slices and 4 cucumber slices per sandwich are enough to give a nice crunch and freshness.
A dash of spices
Red chili powder
Chaat Masala
Salt
Pulling together the Grilled Veggie Sandwich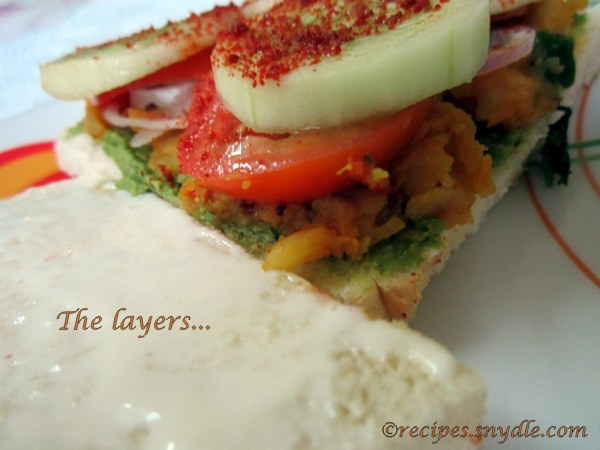 Take 2 slices of bread. Chop off its crusty sides, if you wish.
Spread some butter on one slice bread and evenly put on mint chutney on it.
Now spread the potato mix over the layer of mint chutney with a light hand.
Spread the slices of tomato, onion and cucumber and sprinkle red chili powder, chaat masala and some salt to taste.
Take the second slice and put on a generous layer of cheese spread on it. I used creamy cheese that spreads easily and is kind of gooey as compared to the regular cheese spreads. This one tastes better. I use the Gowardhan Go cheese spread that is available in the glass bottle. If you do not find it, you use the regular cheese spread or even grated mozzarella cheese or cheddar cheese slices. Place the second slice on the sandwich t close it, cheesy side down.
The sandwich is ready to be grilled. You can grill it in an electric griller like I did. Or you can use a sandwich maker or even a grill pan.
Place it in the griller/ sandwich maker / grill pan and apply some more butter on the outer side of the sandwich on both sides. Grill it on for 7-8 minutes. It will be piping hot from inside and sizzling golden on the outside. Prepare the other sandwiches in the similar manner.
The butter on the inner side of the sandwich will prevent the bread from turning squishy. The butter on the outer side will cause the bread to develop a nice brown crust while grilling.
Your grilled vegetable sandwich with ooey-gooey cheese is ready to be served. Serve it with fries of potato wafers and your favorite drink.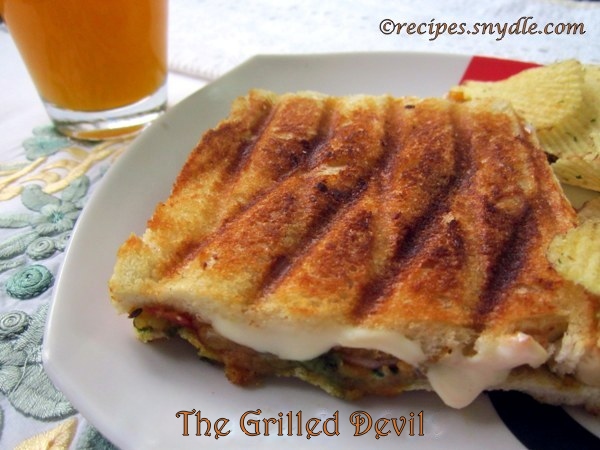 This sandwich is a bit time-consuming. But in the end, it's all worth it. To reduce the work, you can make the mint chutney one day before. Next day you just have to prepare the potato mix and slice the veggies. Putting the sandwich together takes no time.
We hope you like this recipe and will treat yourself by making it at home. More sandwich recipes coming up for you. Stay tuned!