Like they say, breakfast is the most essential meal of the day. A hearty breakfast will keep your energy levels up, which is really important as you gear up to face the routine challenges. Morning time is rush hour. You have to send kids to school and get ready to leave for work. It's only natural to look out for easy and quick breakfast recipes. However, it is not necessary for 'quick and easy' to mean 'drab and boring'. You can make lip-smacking breakfast and grow beyond having just milk and cereal every day. In India, upma is a popular breakfast dish. When we here 'upma', we picture a recipe made from semolina or rawa.  But upma doesn't have to be just like that. We can make it more fun and delicious. We can make upma from bread. Here is some great Bread Upma Recipe for you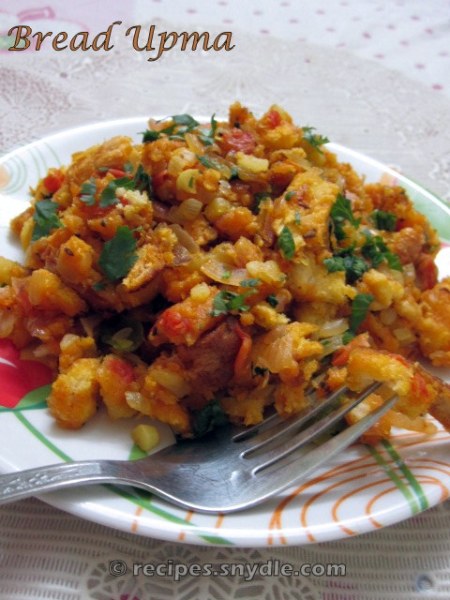 I like my food to have a texture. So, I have added tiny bits of potatoes to this upma that will go well with the softness of bread. You may use brown bread as well. It tastes equally good. This recipe serves 2 people. Let us see how to make bread upma within a few minutes.
Ingredients
Bread slices – 6, pulled into bite-size pieces
Onion – 1 medium, finely chopped
Potato – 1 medium, diced into small cubes
Green chilies – 2, finely chopped
Curry leaves – 5 to 6 leaves
Tomatoes – 2 large, chopped
Garlic – 5 cloves, chopped
Oil – 2 tbsp
Mustard seeds – 1/2 tsp
Cumin seeds – 1/2 tsp
Salt – To taste
Water – 2 tbsp
Lemon juice – 1 tbsp
Sugar – 1/2 tsp
Coriander leaves – A handful + some more for garnish, chopped
Spices
Red chili powder – 1/2 tsp
Turmeric powder – 1/3 tsp
Garam masala – 1/4 tsp
How to Make Bread Upma
Heat oil in a skillet. Mix the mustard seeds and cumin seeds and allow it to sizzle for a few seconds.
The tiny dices of potato and sauté them till they look half cooked.
Put in the onions and sauté them till they turn pink. Add in the curry leaves and sauté for a minute so that their flavor is released.
Now toss in the chopped garlic, green chilies and sauté for a couple of minutes till it loses the raw smell and gets aromatic.
Add in the tomatoes and some salt. We need the tomatoes to turn mushy, so that they would coat the bread really well. Don't hit the tomatoes with the back of the spoon. You will end up mashing the potatoes as well. Let the tomatoes cook in their own juices on a medium flame.
After the tomatoes are cooked, throw in a handful of chopped coriander leaves for an extra punch of fresh flavors. Give it a toss.
Add in the red chili powder, turmeric powder and garam masala. Give it a nice stir. Let the raw smell go away. You may add a couple of spoonfuls of water and stir again.
Add in the bite-size pieces of bread and toss them up so that the spicy mixture to coat the bread evenly. Adjust the salt at this stage.
Add the salt and sugar for the tang. Mix well and turn the heat off when the bread is hot and coated in the spices.
Garnish it with coriander leaves and serve hot!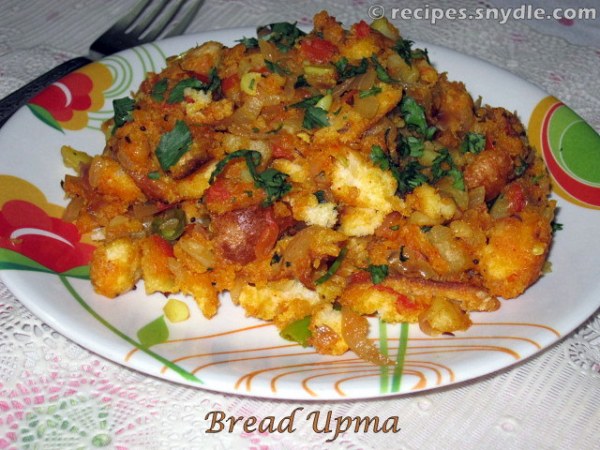 The soft bread, firm bits of potatoes, tang of the tomatoes and freshness of coriander leaves; this dish is so simple yet bursting with flavors. Try making this bread upma instead of the usual rawa upma and make your morning colorful and yummy! Make breakfast something to look forward to everyday.