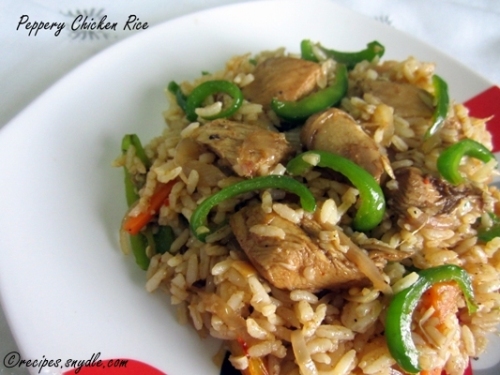 Hi there again dear readers. Hope you are doing great and having fun this weekend!
Previously I posted a chicken curry recipe (which you can find here) and today I am back with yet another one. This one is a Chinese recipe, or a fried rice recipe to be specific. It is called Peppery Chicken Rice. The main elements are chicken, capsicum and of course rice. I went ahead and tossed in a few bits of carrot for the color. Carrot is optional. I used an assortment of chilies in fresh and dried form. You can alter the amount of chilies to suit your palate. This is a recipe for two. It's a straightforward recipe that calls extra prep time. So let's roll!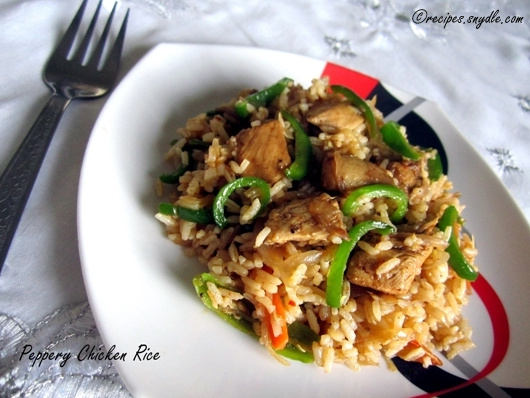 Ingredients
For Cooking the Rice
Rice- 1 cup (American Measuring Cup- 250ml by volume)
Water- 2 and 1/2 cups or as needed
Salt- To taste
Oil- 1 tsp
For Preparing the Chicken
Chicken- 300 grams
Cloves- 4
Green cardamom- 2 pods
Salt- 1/4 tsp
Water- As needed
For Preparing the Veggies
Onion- 1 medium, finely sliced
Ginger- 1/2 inch piece, finely crushed
Garlic- 10 cloves, finely crushed
Capsicum- 1 large, cut into strips
Tomato- 1, diced
Carrots- 1, cut into thin strips
Green chilies- 5, split lengthwise
Red chili flakes- 1 tsp
Red chili powder- 1 tsp
Black pepper powder- 1/2 tsp
Chili garlic sauce- 1 tsp
Soy sauce- 1 tbsp
Ajinomoto – 1/3 tsp (optional)
Chicken stock- 50 ml
Oil- 3 tbsp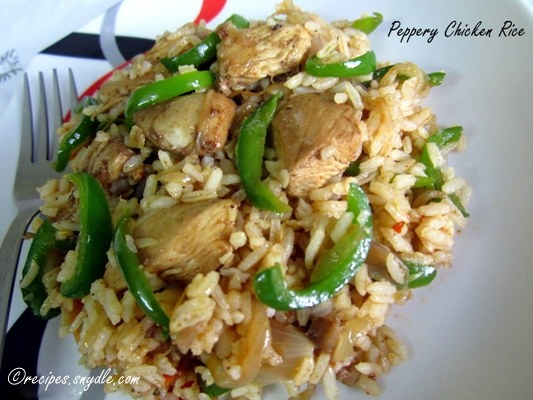 How to Make Peppery Chicken Rice
The first step is to cook rice. Take a pan and boil water in it. Add in the oil and salt. When the water comes to boil, add in the rice. Cook it and set it aside for later use.
In a pressure cooker, cook chicken for 2 whistles with adequate water. Also add in the cloves, green cardamom and salt for a nice flavor. Allow the pressure to release on its own. Remove the chicken and debone it. Dice the chicken into bite-size chunks. Reserve the chicken stock.
Heat 3 tbsp oil in a wok. Toss in the onions and sauté till they turn translucent. Bring on the green chilies, ginger and garlic. Sauté it for a minute so that the raw smell goes away.
Toss in the chicken and fry them for a couple of minutes. The chicken should get some golden color. Add the tomato, capsicum and carrots and give it a nice toss on high flame.
It's time to add in the sauces- chili garlic sauce and soy sauce. Also add the red chili flakes, red chili powder, black pepper powder and ajinomoto.
Pour in the chicken stock and mix well. The chicken will soak in the flavors well. The chicken stock, rice and soy sauce have salt in them. So, season the veggies carefully.
Time to add in the rice. Toss everything well. The rice should become hot and be evenly coated in spices. Finish with cilantro or green part of spring onion, whatever you like.
Enjoy hot as it is or with your favorite side dish.