Are you a French-fries fanatic like I am? Does a serving of freshly made hot fries make you drive to McDonald's every other day? Well then, it's time that you tried something more than plain salted fries. Today's recipe is about fries cooked with hot and sweet sauce.
Preparing for exams is such a nerve-racking thing when you have to leaf through a pile of chubby reference books in a few weeks' time. I crave for carbs during exam time. I get this urge to stuff myself on grilled cheese sandwich (recipe here) , burgers and fries. It has something to do with the evolution. We love to feast on foods rich in carbs and proteins. It explains the rationale behind our survival through the evolutionary ladder. I can't really tell if there is any science involved, but I can surely surmise that I love to indulge in fries as I study! No two ways about it!
These fries are zesty, succulent and a bit sweet. They get their sweetness from the fresh orange juice and palm sugar. These are really quick to make. Let's see how to make hot and sweet fries!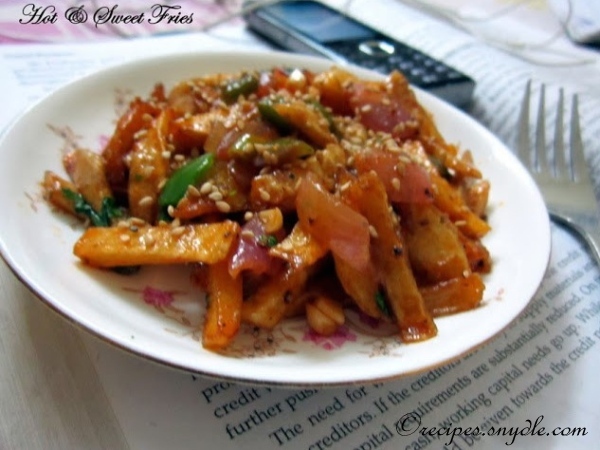 Ingredients
For the Fries
Potatoes- 5
Cornstarch- 1 & 1/2 tbsp
Salt- 1/2 tsp
Oil- For deep frying
Making the Sauce
Shallots- 5, diced (Or 1 medium onion if you don't have shallots)
Capsicum / Green Bell Pepper – 1, diced to bite-size bits
Green chili- 2, chopped
Garlic- 8 pods, minced
Ginger- 1 tsp, minced
Freshly squeezed orange juice- 100 ml
Palm sugar- 1 tsp
Water- 100 ml
Tomato paste- 1 tbsp
Chili- garlic sauce- 1 tbsp
Soy sauce- 1 tbsp
Vinegar- 1 tsp
Black pepper- To taste, freshly ground
Salt- To taste
Oil- 1 tbsp
Cornstarch- 1 tsp diluted in little water
Green part of spring onion- 2 springs, finely chopped
Lightly toasted sesame seeds- For garnishing (OPTIONAL)
How to Make Hot & Sweet Fries
Peel the potatoes, wash them well and allow them to dry. Slice them into long strips as in French fries. Do not slice them very thick or they might stay raw on the inside. Place the potato strips on a kitchen towel as you cut. It will soak the excess water from the potato.
Dust some salt and cornstarch and toss the potato strips to get an even coat on each one of them.
Heat sufficient oil in a skillet. When the oil is hot enough, turn the flame to low. Slide in some potato strips and fry them till they look crusty and golden. Keep stirring constantly for even crispiness. This usually takes 6 to 7 minutes. Remove the fries on to a kitchen towel and keep aside. Fry the remaining fries.
Now we have to make the sauce. Take water in a bowl and add in the tomato paste, chili-garlic sauce, soy sauce and vinegar. Combine it well and keep it aside. Dice shallots in quarters and separate out the layers.
To make the sauce, heat oil in a wok. Add in diced shallots and sauté on high flame for 30 seconds till raw smell disappears. Fling in the garlic, green chilies, and ginger and sauté for a few seconds. Toss in the capsicum and sauté again for a few seconds.
Pour in the fusion of sauces and water and bring it to boil. Pour in the cornstarch mixture little by little as you stir. It will thicken the sauce a bit. Add the orange juice and palm sugar. Season it with black pepper and salt. Use the salt sparingly because the fries and the sauces already have salt in them.
Add in the chopped spring onion and fries. Combine well on medium heat. It needs a couple of minutes for the fries to soak in the juicy and flavorful sauce.
And it's done! Transfer the fries onto the plate and adorn them with lightly toasted sesame seeds.
Somewhat crispy on the outside, extremely succulent from the inside, enjoy these fries hot.
Note- You can substitute palm sugar with brown sugar (Demerara sugar).