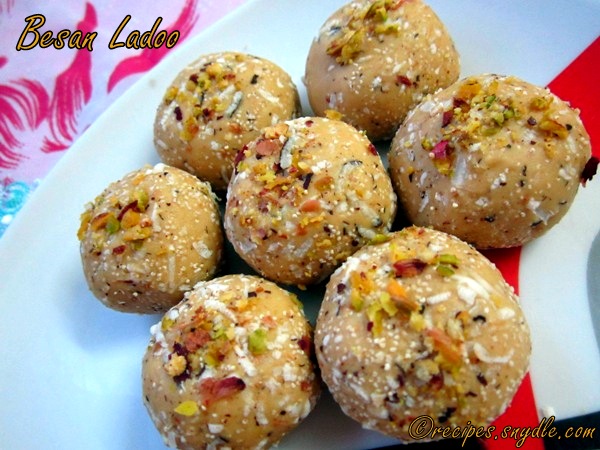 Hello buddies. Today I am sharing besan ladoo recipe. Who doesn't love Indian desserts? Besan ladoo or besan laddu is a decadent sweet laced with mesmerizing aroma of fresh ghee or the clarified butter. It is a popular sweet prepared on festive occasions. Nevertheless, you don't need to wait for the occasion to make these ladoos! Make it any day you want and pop a one or two of these cute little yellow beauties after the lunch!
You can add cashew nuts and raisins to it. I was so bored of looking at plain yellow ladoos. So I rolled them in freshly shredded coconut, poppy seeds and crushed pistachios. They look pretty. The punch of salty pistachios after you bite into the gorgeous sweetness feels so good. It also gives a really nice texture and flavor to the ladoos. Besan is known as 'Split Gram Flour' or 'Chickpea flour' in English. I have a love-hate relationship with besan ladoos. They are so yummy to eat. But it takes a long time to roast the flour. However, the end result will make you forget all the pain!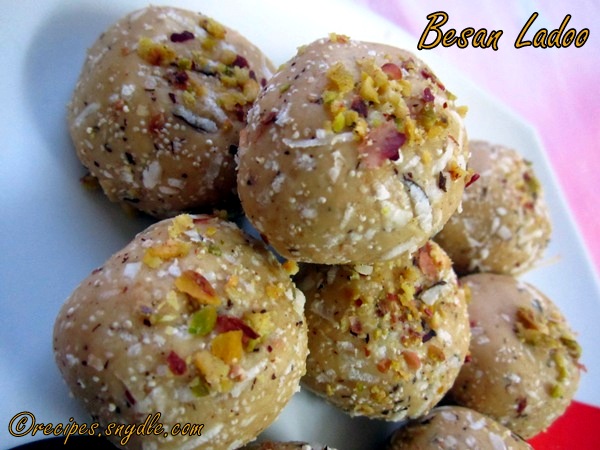 Let us see how to make besan ladoos. This recipe makes 12 medium-sized ladoos
Ingredients
Besan / gram flour / chickpea flour – 2 cups
Ghee (Clarified butter) – 3/4 cups
Sugar – 1 cup, powdered. Adjust to taste
Green cardamom powder- 1/2 tsp
Cashew nuts – 1/2 cup, broken in pieces (optional)
Fresh coconut – 3 tbsp, grated
Poppy seeds – 1 tsp
Pistachios – 5 to 6, crushed
How to Make Perfect Besan Ladoos
We shall start by dry roasting the besan / gram flour. Take a heavy-bottom pan or skillet and add besan to it. Heat it on low flame. Roast the besan for the next 10 to 15 minutes on low flame. Stir occasionally for an evenly roasted besan. Dry roasting will help eradicate the raw smell of besan. There will be slight change in besan's color.
Add in the melted ghee / clarified butter to the besan and combine them well. Roast for next 10 minutes on a low flame. Stir constantly to avoid burning. Make sure there are no lumps in the mixture.
The raw smell of besan should completely disappear. The besan will furthermore change in color. It will smell aromatic and nutty. When the ghee begins to separate, you will know that the besan is cooked well.
While the besan is being roasted, heat just a couple of drops of ghee in another pan. Lightly toast the poppy seeds and grated coconut and on a low flame. This will take just 1 minute. Remove them onto a plate.
Remove the besan mixture off the flame. Let it cool down for 5 minutes. Add in the cardamom powder, broken cashew nuts and powdered sugar. Combine the mixture well with the help of a spoon. The mixture should be crumbly yet easy to bind.
When the mixture is cool enough to be touched with hands, mix it well once again using your fingers. Take a small amount of mixture and roll it between your palms to lemon-sized balls to form ladoos.
Spin the ladoos in the grated coconut and poppy seeds mixture for an even coated. Shower the ladoos with crushed pistachios on the top. Let the ladoos sit for 10 minutes to set.
Enjoy the ladoos with your family and friends!