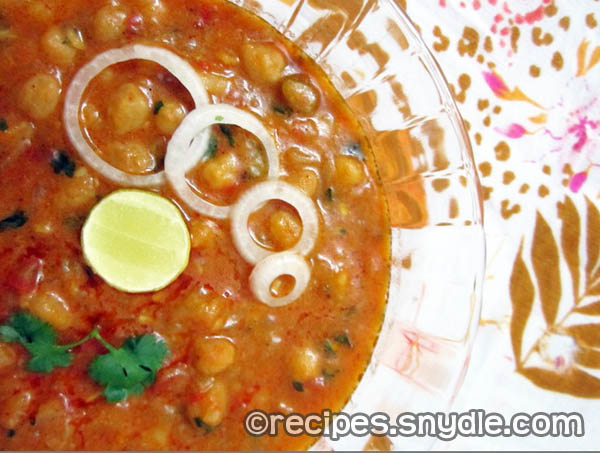 Chana Masala Recipe – Hello again dear readers. Have you noticed how stunning the weather has been these days? The summer has been making way for monsoon. The sky's been hazy and winds cooler. The occasional thunder and light showers make it a perfect day to relish spicy and delicious food. I really do not understand the correlation between misty weather and the cravings for great food, especially something that is fried and zesty. But it certainly is a beautiful correlation. Food brings people closer. What is the better way to welcome the monsoon and enjoy the nature's beauty than getting together with family and friends and feasting on home-made delicacies cooked with love?
Today's recipe is chana masala, also known as chhole masala. It is a vegetarian preparation consisting of kabuli chana or garbanzo beans simmered in tangy and spicy gravy. It can be had with roti, naan, rice or bhatura. Bhatura is a type of fried Indian flatbread. This dish has its roots in Punjab, a North Indian state. Nevertheless, people across India find chana masala to be a delightful dish. It is so obvious that chana masala is prepared in hundreds of ways across the country, each recipe having a hint of its local cuisine. This particular recipe is my Mom's and I learned it from her.
So today we enjoyed a lunch of chana masala with bhature at the dining table set by the window as the raindrops rolled down the window pane. It was an amazing afternoon! Now let's see how to make chana masala.
Ingredients –
Chana Masala Recipe
Kabuli chana / Garbanzo beans – 250 grams
Onion – 2 large, finely chopped
Tomato –  2 large, pureed
Green chilies – 3 nos., slit lengthwise
Ginger-Garlic – 2 tbsp, finely crushed
Salt – To taste
Chana stock –1 cup (250 ml)
Oil – 4 tbsp
Cilantro – For garnish
Kasoori Methi – 1/2 tbsp (Optional), lightly roasted and crushed between palms
Dry Spice Powders
Red chili powder – 1 & 1/2 tsp
Turmeric powder – 1/3 tsp
Chhole Masala – 2 tbsp
Cumin powder – 1 tsp
Whole spices
Cinnamon – 2 stick
Bay leaf – 2 leaves
Chana Masala Recipe – how?
You will need to prepare for the chana one day ahead. Wash the chana and soak it in ample water overnight. Next day, pressure cook the chana with sufficient water and some salt. Chana will be done in 4 to 5 whistles. Drain the chana and keep aside. Reserve the chana stock.
Take one-third of boiled chana and grind them to a fine paste in the mixie.
In a deep skillet, heat the oil. Drop in the cinnamon stick and bay leaf and sauté for a few seconds, taking care not to burn them.
Add in the onion and sauté it till it's nice and golden. You can add a pinch of salt to the onion to make it cook faster. Now fling in the green chilies and crushed ginger-garlic and let it cook for a minute till it smells good.
Toss in the tomatoes puree little by little and cook it till oil separates.
Add in the dry spice powders, and mix everything really well. Sauté it for a couple of minutes so that the spices lose their rawness. You will now see oil separating out again.
Next, add it the chana paste and whole chana and mix well so they are evenly coated with the spices.
Sprinkle little chana stock every now and then to avoid burning. Sauté the chana like this for 5 to 10 minutes. This will ensure that spices get well incorporated with the chana. Otherwise, chana will taste flavorless, like cardboard.
Add in remaining chana stock to make the gravy. Also, adjust the salt. You may adjust them amount of stock according to the desired consistency. Mix well and cover the skillet with a lid. Let the chana simmer away in the gravy for 20 minutes.
Later on add kasoori methi, if using. Switch off the flame after a minute. Garnish with coriander and serve hot.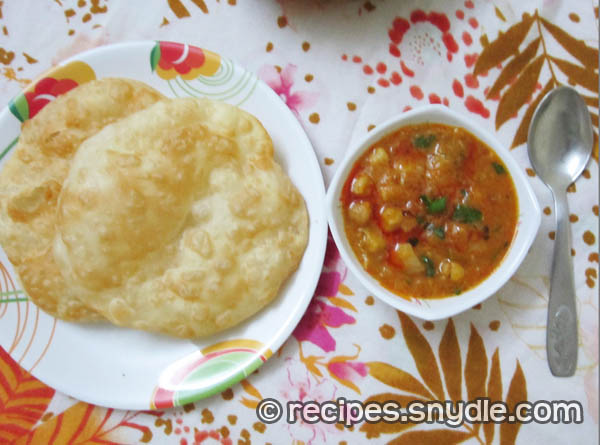 It's not very common to add kasoori methi to chana masala. But, it renders an earthy flavor to the dish which doesn't overpower the typical flavors of chana masala powder. Yogurt brings down the hotness quotient of the dish. It was makes the gravy creamy and emulsified. Make sure you use fresh yogurt that is not very sour.
You can make Chana Masala Recipe with spinach as well. You can even use coconut milk instead of water for a richer version. Chana masala is a very simple recipe and requires no fancy ingredients. You just need a good brand of chhole masala and some serious sautéing to bring out the flavor.