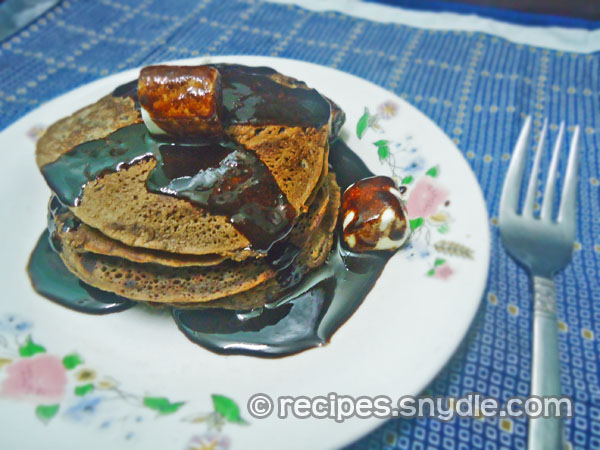 Chocolate Pancake Recipe – Chocolate is one of the best creations on earth. It's one of the best inventions—second only to the internet—of all time. It was flipping channels on the TV once when I saw a show about creating desserts. It was the show about chefs creating desserts and winning something. I really can't remember much about it, but I do remember seeing the chefs using big bowls of chocolate to create their desserts. They were told to make a replica of that edible garden thing in Willy Wonka's factory.
It really made my mouth water. I was craving for some chocolate—anything as long as there's chocolate! Unfortunately, I haven't gone to the grocery store that week and I was running low of ingredients. Am too tired – and lazy – to fix my hair, put some powder on and go out. One grocery shop is just 100 meters away but with this summer heat (around 36 degrees), I'd rather go hungry (and let my mood swings for not having chocolate that I crave) than to go out and get toasted.
But what the heck, my tummy is really crying out loud, literally. So I had to ransack our cupboard for anything that I can prepare or cook. Luckily, I was able to find enough ingredients to make a batch of chocolate pancakes. I also found a half-empty bottle of chocolate syrup. Lady Luck was surely smiling at me! So what did I wait for? Nothing. I just grabbed my usual pancake-making-paraphernalia and start with the cooking. Okay tum-tum, don't worry, chocolate is on its way. Chocolate Pancake Recipe !
Chocolate Pancake Recipe
Ingredients: Chocolate Pancake Recipe
2 medium-sized eggs
2 cups all-purpose flour
1 ¾ cups of milk
4 tablespoons of cocoa powder
1/8 cup melted butter, oil or melted margarine
2 tablespoons sugar
½ teaspoon salt
4 teaspoons baking powder
How to Cook Chocolate Pancake
Combine the eggs, oil, and milk in a bowl. Mix well.
Combine the flour, sugar, cocoa powder, salt and baking powder in a separate bowl and mix well.
Combine the two together little by little while mixing to avoid clumps.
Set the batter aside for five minutes while you heat up the pan.
Fry the pancakes, serve and enjoy!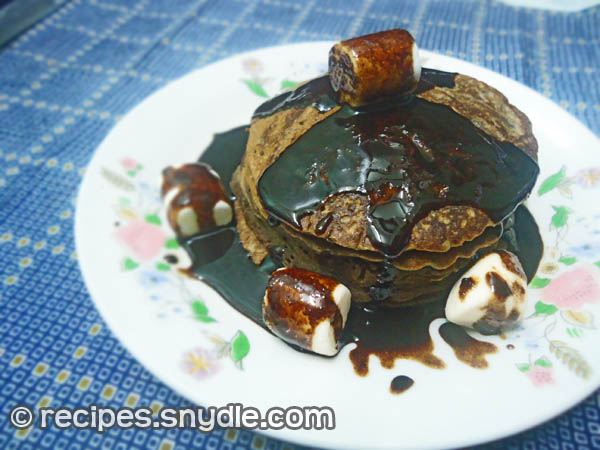 Oh my, this is soooo heavenly. I got to taste this fluffy and chocolatey pancakes that seems to by melting in my mouth. I know I'm being so glutton here, having chocolate pancakes topped with chocolate syrup but who cares. Love this… love chocolates… yum yum! Got a happy tummy finally!