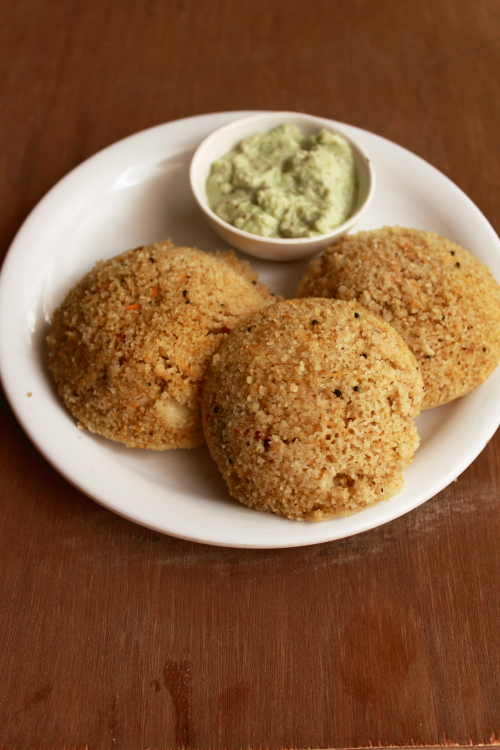 Idli is a common breakfast item in South India.  It is prepared using rice and urad dal and takes a long time for preparation with soaking, grinding, and fermentation.  But today, I am sharing an instant idli recipe made with oats.  Oats is healthy, rich in fiber, and when mixed with rava and other spices, it makes wonderful idlis that tastes great with coconut chutney and sambar.
I have used eno fruit salt while preparing oats idli, but if you don't have eno fruit salt, you can make use of baking soda.  To get a healthier version, rava can be substituted with wheat rava instead of normal sooji.
Oats is considered to be healthy and there are various popular oats recipes.  It is often consumed in the form of porridge, but this oats idli is a variation to the normal idli and tastes great.  Moreover, it is very easy to prepare too.
oats idli recipe
ingredients 
quick cooking oats – 1/2 cup
rava or semolina – 1/2 cup
curd or yogurt – 1/2 cup
ghee or oil – 2 teaspoons
mustard seeds – 1/2 teaspoon
cumin seeds – 1 teaspoon
asafoetida powder or hing – two generous pinches
ginger – 1/2 teaspoon, grated
cashews – 2 tablespoon, roughly chopped
green chilies – 2 teaspoons, finely chopped
coriander leaves – 1 tablespoon, finely chopped
eno fruit salt – 1/2 teaspoon
salt – to taste
how to make oats idli recipe
1.Dry roast instant oats in a kadai or pan in medium flame until it gets roasted well.   Transfer it to a plate and allow it to cool.  Then grind it to a coarse powder. Keep aside.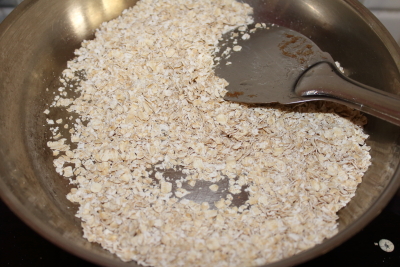 2.  Heat oil in a pan.  When the oil is hot enough, splutter mustard seeds.  Add grated ginger, cumin seeds, cashew nuts, chopped green chilies and saute well.
3.  Add rava and saute well on medium flame till rava gets light brown.  Transfer the roasted ingredients to a bowl along with roasted oats powder.  Allow it to cool.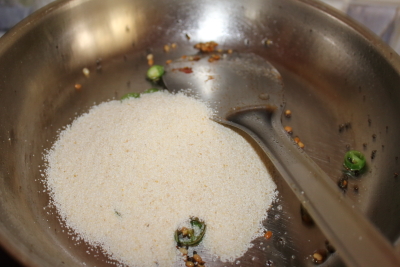 4.  Once cool, add curd or yogurt and enough water to get a batter consistency.  Keep it aside for 10 – 15 minutes.  Add more water if desired. The batter should be fairly thick.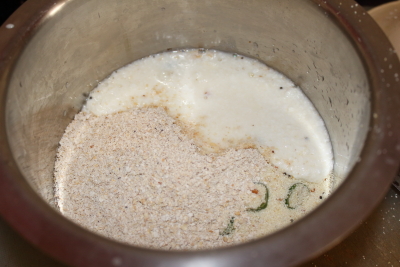 5.  Bring water to a boil in a steamer or a pressure cooker.  Grease an idli plate and keep aside.
6.  When the water in the steamer begins to boil, add eno fruit salt to the batter.  Add 2 teaspoons of water over it.  You will find that it starts bubbling.  Mix gently.  Don't leave the batter out for a long time after adding eno fruit salt.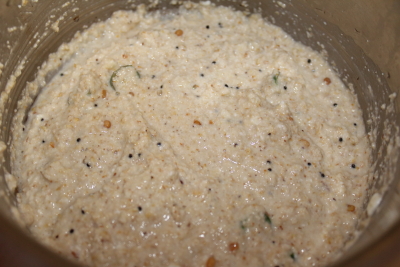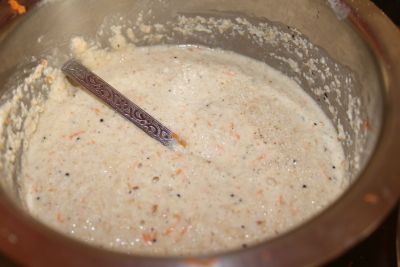 7.  Pour batter into greased idli molds, place it into steamer or pressure cooker and steam cook for 10 – 12 minutes in medium flame until idli gets cooked well.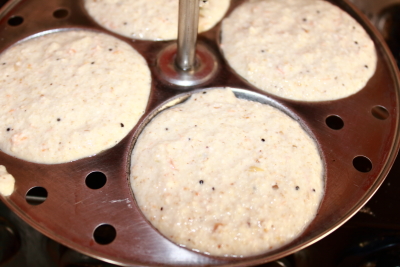 8.  Cool slightly, remove the idli from mould using spoon and serve warm with coconut chutney and sambar.