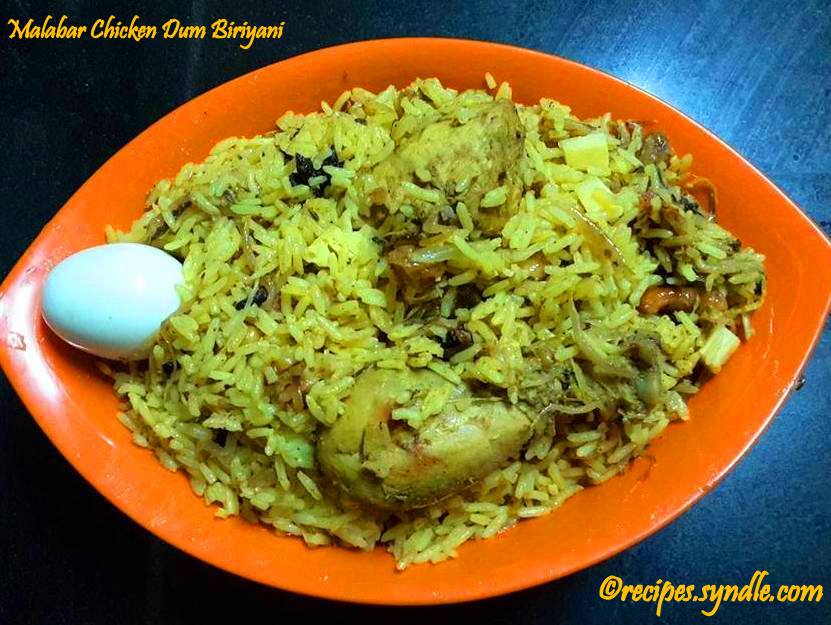 Malabar Chicken Biryani is a traditional biryani receipe of north kerala. Here today I am going to describe the preparation of a perfect malabar dum briyani. Malabar dum briyani is really a favorite of many food lovers all over the world. A biriyani is one of the most popular dishes in the malabar region. Its a festive food of all people. There are many recipes for a tasty biriyani, some with cashew paste, poppy seeds or coconut paste. But today am adding some cashew paste in chicken masala.
Kerala Chicken Biriyani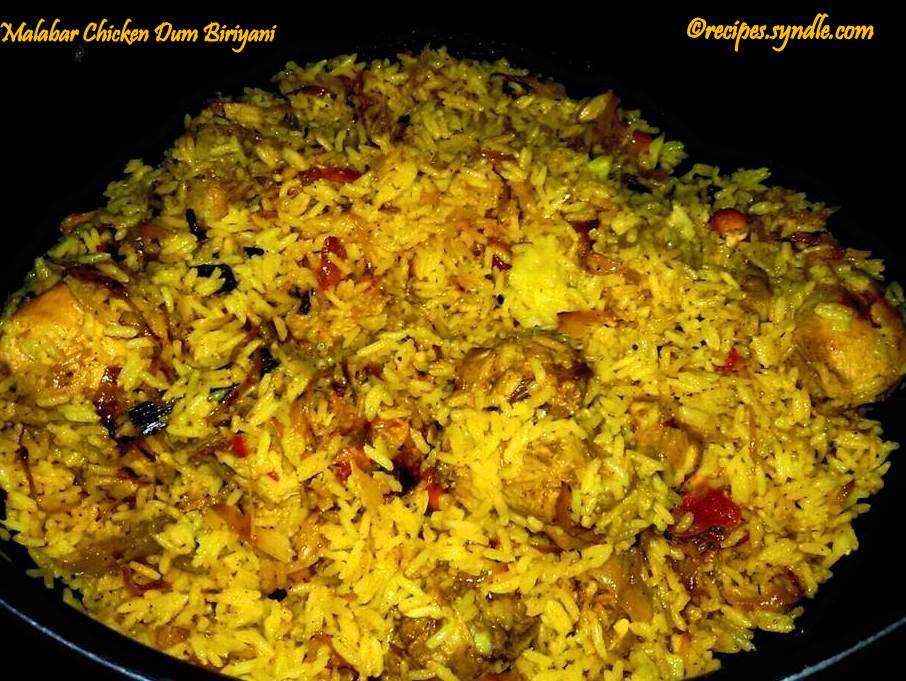 Biriyani got its name from Iranian word 'birian' meaning 'fried before cooking'. So it is orginated from Iran. This biryani recipe is one of the yummy and magnificent dishes in Homely Kitchen with exquisite taste. The most popular and best served briyani is the authentic and aromatic Thalassery Chicken Dum Biriyani. I am dedicating this yummy briyani to all biriyani lovers of the world.  So friends lets see how I am going to make this yummy Biriyani.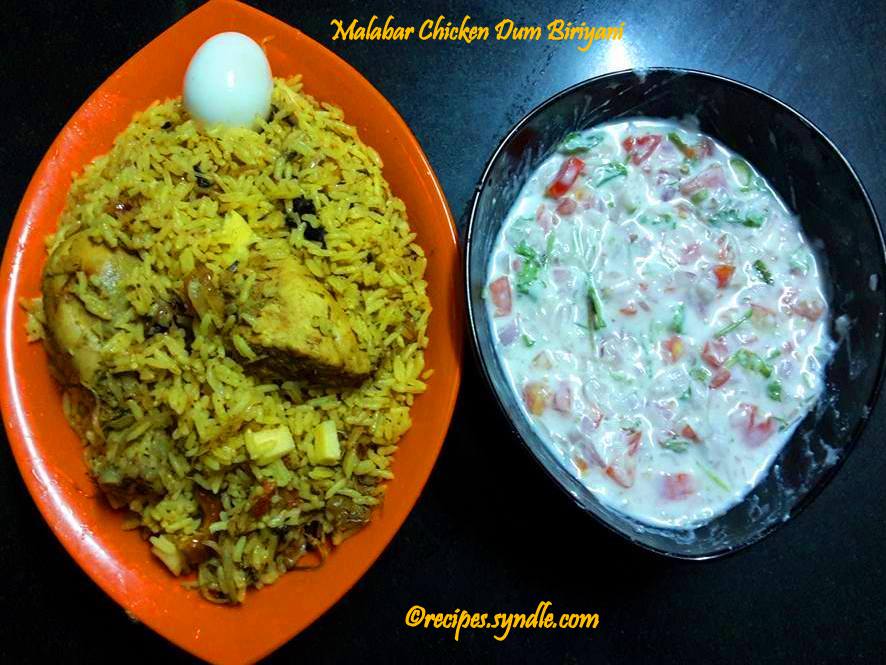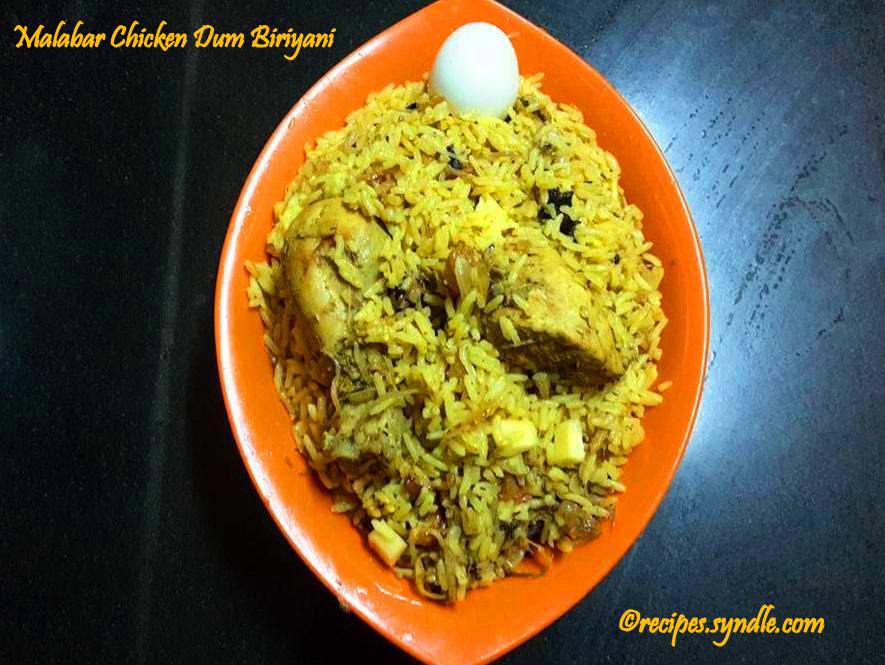 How to prepare malabar chicken biriyani
Ingredients
Briyani Rice – 3 cup
Water- 5 1/2 cup
Briyani leaves- 1
Cinnamon- 2
Star anise- 2
Cloves- 5
Cardamom-4
Fennel seeds- 1tsp
Ghee – 2tbsp
Salt- to taste
Briyani essence or pineapple essence- 2 drops(optional)
Turmeric powder-1 tsp (optional its for colouring rice)
Tomatoes- 3
Green chillies-8
Pudina leaves/mint leaves- 3 sprig
Corriander leaves- as needed
Cashew nut paste- 1tbsp
Ginger- 3 tsp,chopped
Garlic- 3 tsp, chopped
For Marrination
Chichen- 1 kg
Onion- 2, sliced
Lemon juice- 2 tsp
Salt- to taste
Turmeric powder- 1tsp
Garam masala -2 tsp
Yogurt/curd- 1tbsp
Ginger paste- 1tsp
Garlic paste- 1tsp
Home maid Briyani masala- 2 tsp
For Seasoning
Onions- 4, roasted in ghee
Cashewnuts- 15, roasted in ghee
Rasins- 20, roasted in ghee
How to Make Malabar Chicken Biriyani 
Cut the chicken into big pieces. Clean it and wash well.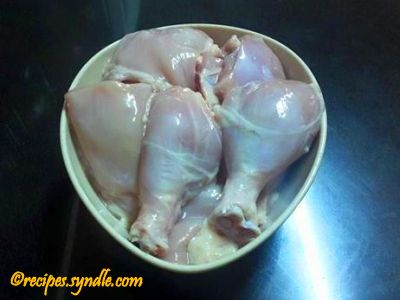 Marrinate chicken pieces with the ingredients listed under 'For marrination', and keep it in refrigerator for 2 hours.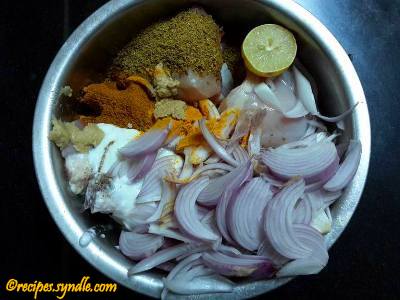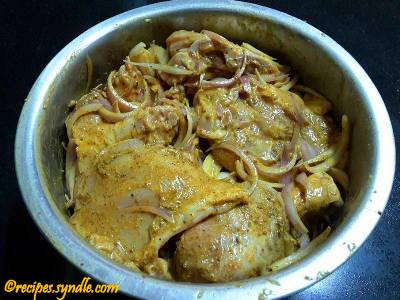 Meanwhile cook the rice, For that wash and drain rice and keep it aside( you can use basmathi rice or jeerakashala rice)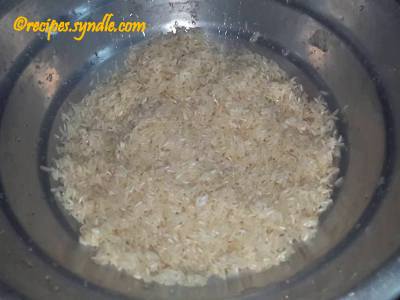 Heat ghee in a deep heavy bottom sauce pan. Add cinammon, cloves, cardamom, fennel seeds, star anise, and saute in well.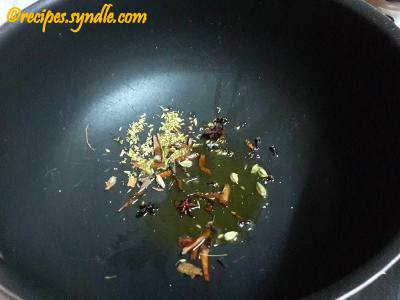 Now add the drained rice and fry for few minutes, add salt and 6 cup of water( ratio: 1 cup rice= 2 cup water) to the rice.  Then add 1 tsp lemon juice,briyani leaves, pineapple essence and turmeric powder(optional), bring the flame to medium low, lid the pan and cook till all the water is absorbed and the rice is cooked. Then turn off the stove and allow to rest for 15 minutes.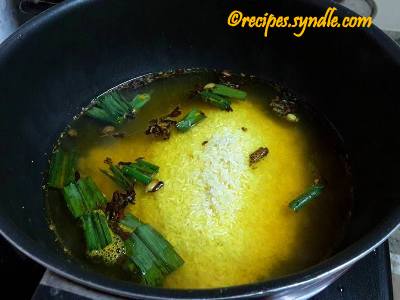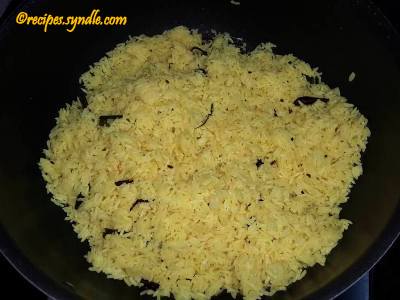 Heat ghee in a pan, add chopped ginger and garlic. Saute it well.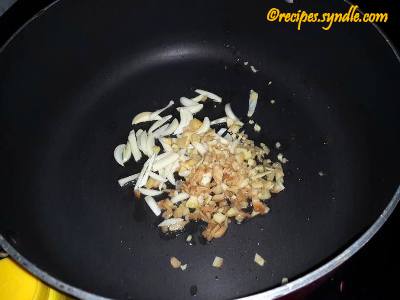 Add sliced tomatoes and green chillies, saute it for a couple fof minute. Dont allow tomatoes to turn mushy.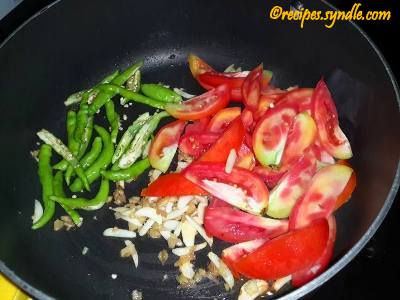 Add pudina leaves/mint leaves and corriander leaves.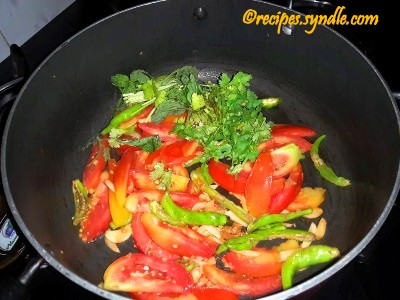 Then add the marrinated Chicken pieces and mix it well.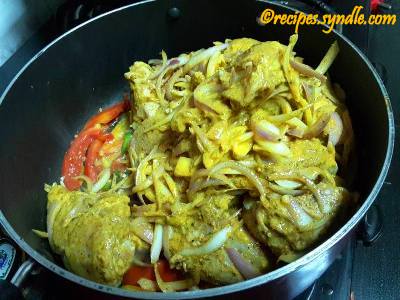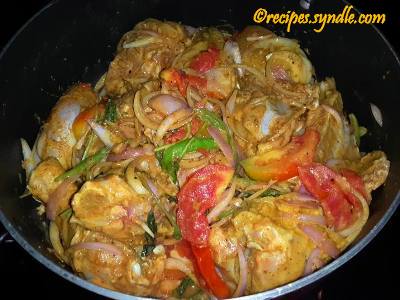 Grind soaked cashew nuts to a fine paste and add this  to the chicken.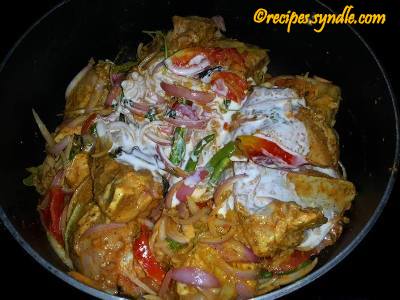 Add 1 cup of water and allow the chicken to cook. Cook it till the gravy becomes thick and chicken is tender, remove from flame and set aside.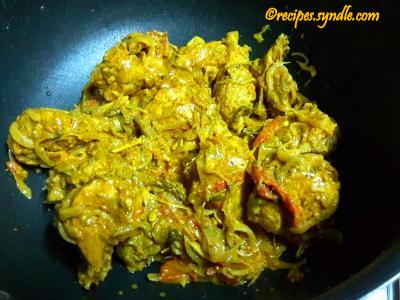 Heat ghee in a pan and fry the cashew nuts, rasins, and onions to golden brown colour and remove. Keep it aside.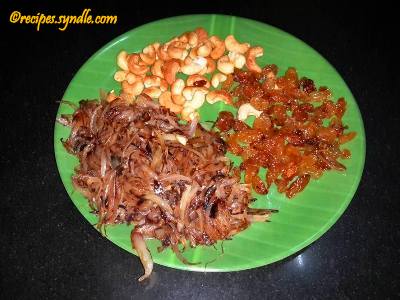 Now the Chicken and the rice is cooked its time for the assembly. Take the deep bottom pan with the chicken in it. Sprinkle some fried onions, cashews and rasins over it.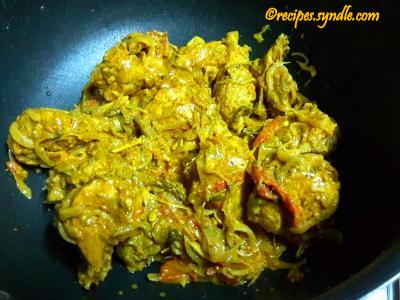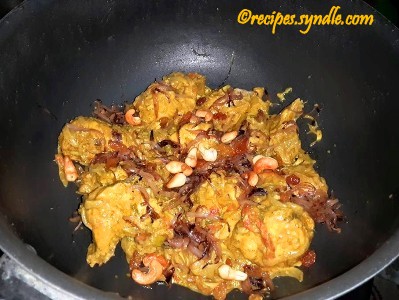 Then layer the rice over the chicken, add  fried onions, cashews and rasins.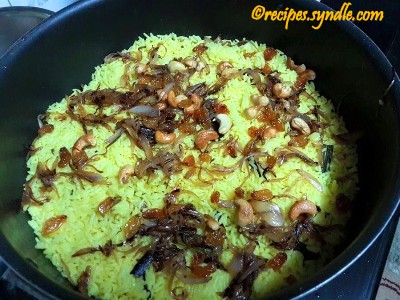 Now its time to put dum for the briyani. Close the vessel and seal the edges of  the lid with  dough of maida, with no air passage. I am not using dough to seal, cover the pot with a tight lid. Place the chicken briyani pot on a hot pre heated tawa and dum it for 15 minutes on a very low flame.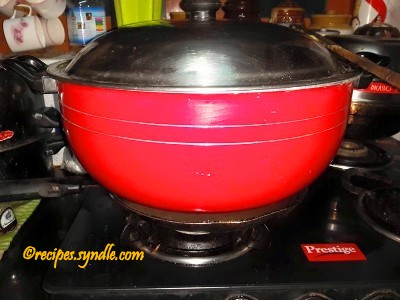 Switch off the stove. Open the pan lid, the smell will be amazing. Mix it up slightly. Elese use a long spoon to scoop out the layers  right from the rice to the chicken on to a plate.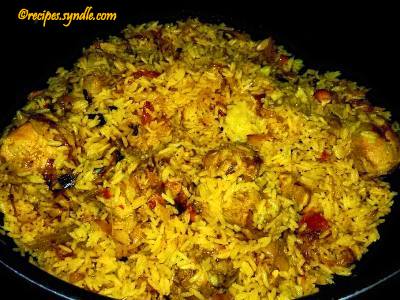 Serve it hot along with raita, boiled egg and pineapple slices