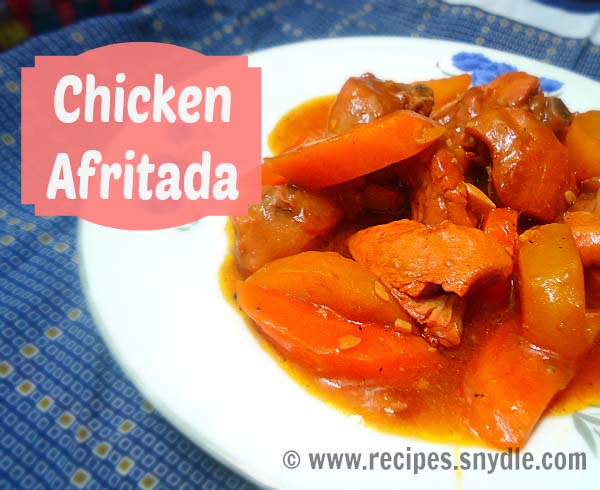 Chicken Afritada – it's  tasty and juicy chicken and the different vegetables in it. Chicken afritada is a dish in a beautiful tomato sauce. It mainly has carrots, potatoes and bell peppers, but you can go crazy and add more things like hotdog, peas and pineapples! It's a well-loved dish by a lot of Filipinos and every family and every region have their own special way of making it. (You can even substitute the chicken for pork, if chicken isn't your thing.)  Here's my version of easy chicken afritada recipe. Enjoy!
Easy Chicken Afritada Recipe
Ingredients
Salt
Blackpepper
¼ cup of cooking oil
900 grams of chicken, cut into pieces
1 ¼ cup of chicken broth
1 potato, sliced into quarters
2 pieces of bay leaf
1 red bell pepper, diced
1 medium-sized onion, chopped
A cup of tomato sauce
2 tablespoons of minced garlic
How to Cook Chicken Afritada
Brown the chicken in cooking oil over medium heat.
Remove the chicken and set aside.
Sauté garlic and onions in the pot where you cooked the chicken.
Stir in the chicken.
Pour in the chicken broth then add bay leaf and the tomato sauce.
Let it simmer for half an hour to 40 minutes.
Add the carrots and potatoes and simmer until the vegetables are soft.
Add the remaining bell pepper and sprinkle a bit of salt and pepper to taste.
Simmer for a 3-5 minutes and serve.
Tips
You may use water if you don't have chicken broth. Just season it with salt or fish sauce.
You may also add your favorite sausage, hotdogs and meat products to spice up your dish.
More Photo of the Dish