After sharing a pakora recipe, I am again sharing another famous South Indian vada recipe: Maddur vada. It is a very tasty and easy to prepare vada made with all purpose flour, rava / semolina and rice flour.  Vada is a famous South Indian delicacy usually made with lentils.  But this vada recipe is very easy as it requires no soaking or grinding.  Just mix all the ingredients and make vada.
Maddur is a place in Karnataka, between Bangalore and Mysore.  And this vada is a speciality of this region.  Hence the name, maddur vada.  It is also called as maddur vade.  This vada is very crispy from outside and soft from inside.  Serve it with coconut chutney.  It tastes great.
Ingredients:maida – 1 cup
rice flour – 1/4 cup
semolina / rava – 4 tablespoons
green chilies – 2 – 3
asafoetida powder / hing – a pinch
coriander leaves – few (finely chopped )
curry leaves – few (finely chopped)
ghee / clarified butter – 2 tablespoons
salt – to taste
oil – for deep frying
How to make maddur vada / maddur vade
1.  In a bowl, combine all the ingredients except oil.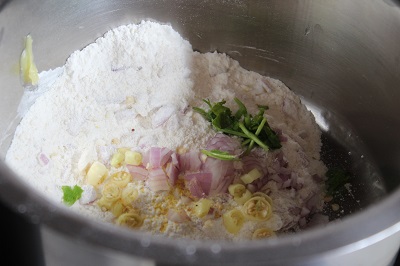 2.  Add water slowly to make a thick, stiff batter.  Cover and leave it aside for 15 – 20 minutes.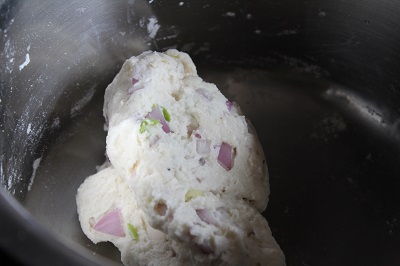 3.  In a pan heat oil.
4.  With greased hands, take one tablespoon of batter, flatten it to a vada shape.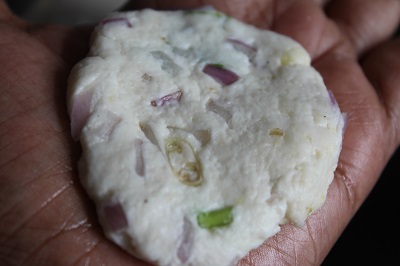 5.  When oil is hot enough, reduce the flame to medium, and slide the vada into the hot oil.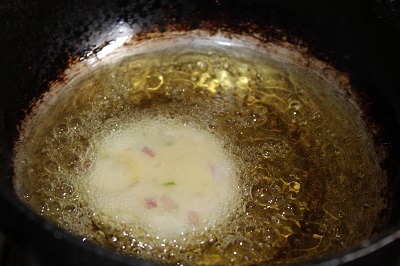 6.  Deep fry for 2 -3 minutes on both sides, till golden brown and crisp.
7.  Remove it using a slotted spoon and drain excess oil using an absorbent paper.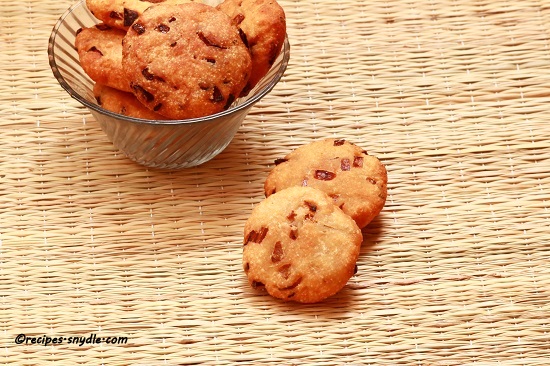 8.  Serve hot with coconut chutney.