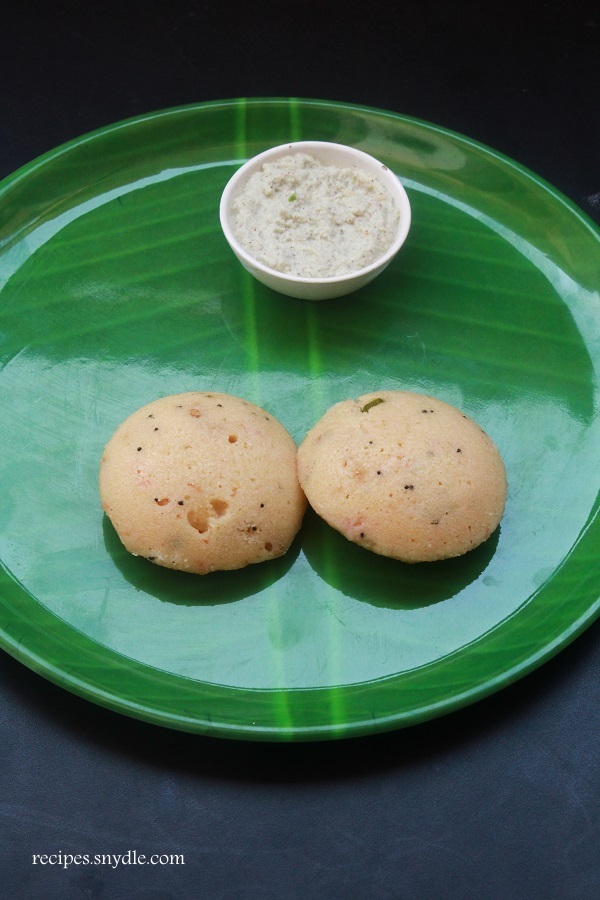 Instant rava idli is a very popular South Indian breakfast.  It is an instant and easy to make recipe.  It is made with rava or sooji or semolina.  Rava is mixed with dal and curd and steam cooked to make soft idlis.The method of making this idli is very easy.  Temper all the ingredients, add curd, little water mix well.  Add eno fruit salt or baking soda or baking powder and immediately make idli.
One thing to be taken care while making rava idli is that after adding baking soda the batter should be used immediately.  Don't leave the batter aside after adding baking soda.  This idli recipe is very easy as it does not require any grinding or fermentation unlike traditional ones.You can also add various vegetables like grated carrots, cabbage, boiled peas while making idli.  This will increase the nutritional value.Rava idli tastes great when served hot with coconut chutney.
Rava idli recipe
Ingredients 
rava or sooji – 1 cup
oil – 1 tablespoon
mustard seeds – 1/2 teaspoon
curry leaves – few
urad dal – 1/2 teaspoon
chana dal – 1/2 teaspoon
hing or asafoetida powder – a pinch
curd – 1/2 cup
salt – to taste
grated carrots – 1/4 cup
green chili – 1 finely chopped
eno salt – 1/4 teaspoon of baking soda a pinch
coriander leaves – 1 tablespoon finely chopped
How to make rava idli recipe
1. Heat oil in a pan.  When oil is hot enough, splutter mustard seeds.  Add urad dal, chana dal, curry leaves, hing, green chili and saute till dal turns golden brown.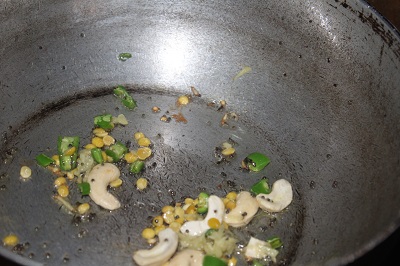 2.  Add grated carrots and saute for a second.
3.  Add rava and saute well in medium flame for a few seconds.  Take care that rava does not become brownish in color.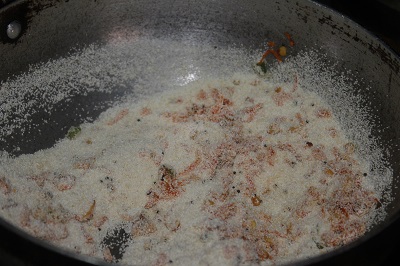 4.  Transfer the roasted ingredients to a bowl and let it cool.
5.  Add curd or yogurt, mix well.  Add enough water to make a dough of pouring consistency.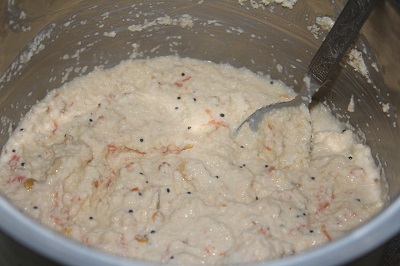 6.  Leave the batter aside for 10 – 15 minutes.  Rava will absorb the water from the batter.  Add more water if necessary.
7.  Grease an idli plate.
8.  Add baking soda or eno salt to the batter and mix well.  Immediately pour the batter into the greased idli plate and steam cook it for 10 – 15 minutes.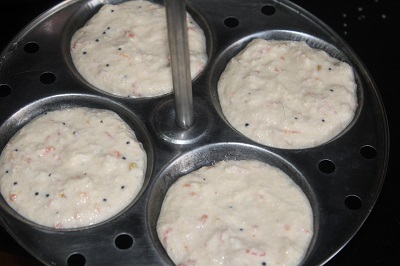 9.  Serve rava idli hot with coconut chutney.