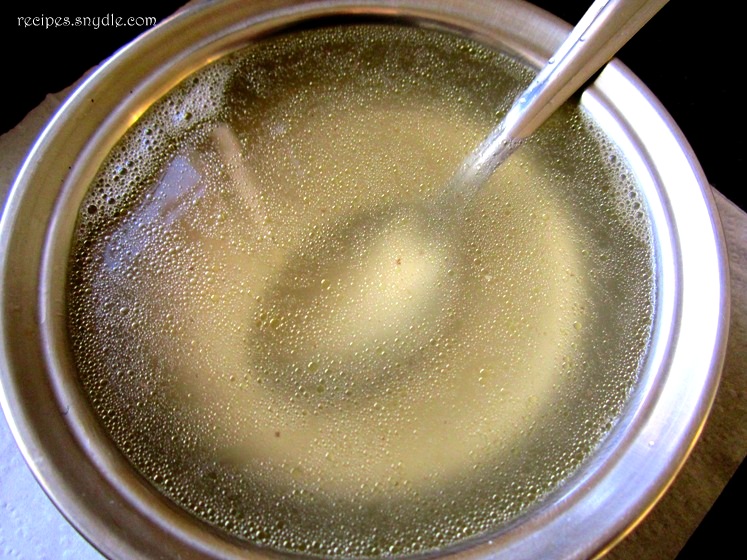 Hey buddies! It's been a really long time since I shared any recipe. Today I am back with two! This one is a yakhni recipe or chicken stock recipe. The other one is the chicken sweetcorn soup recipe that I have used this stock in. You can check it out here.
Yakhni is a clear chicken soup. This is very healthy and nutritious. You can have this whenever you feel like. It is a great soup for those who are unwell. This soup provides warmth because it has ginger and garlic. It's easy on the tummy. It might not look great but it is really good for both your tastebuds and tummy.
You can use this chicken stock to make soups like I did today. You could also use it to make Chinese gravy recipes or Yakhni Pulao instead of water. Plain white rice cooked using chicken stock tastes heavenly as well. Make sure you use bony parts like the ribs and the backbone. You could also toss in the wings. I used some nice bony chunks that had plenty of meat on them. I wanted the meat for adding it to the chicken sweetcorn soup. The bones impart the taste and flavor to the stock. You cannot make a good stock by simply boiling chicken meat. Now let's get started with the recipe of yakhni or chicken stock.
This recipe makes 1 and 1/2 cups of yakhni that was enough to make a bowlful of sweetcorn chicken soup. For the purpose of measurement, 1 cup = 250 ml.
Ingredients
Chicken with bones – 300 grams
Water – 3 cups
Ginger – 1 inch piece, cut into slices
Garlic – 2 cloves, chopped
Salt – to taste
Black peppercorns – 5
How to Make Chicken Stock / Yakhni
Place the cleaned chicken in the stockpot. Add in the water.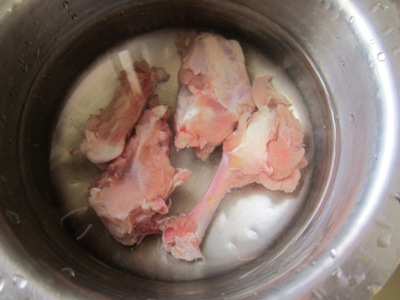 Add in the salt, ginger, garlic and black peppercorns.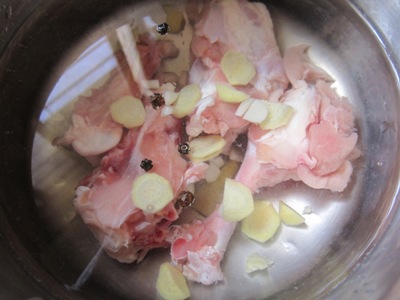 Place the pot on medium flame and bring the stock to a boil. Cover the stockpot partially.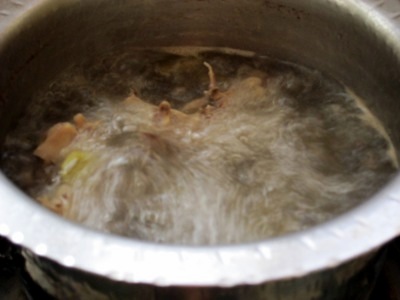 Let the stock boil till the water reduces to half, i.e., 1 and 1/2 cups.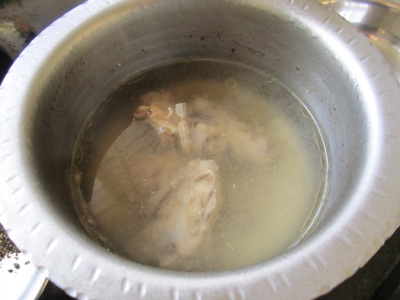 Switch off the flame. Yakhni is ready. Strain it into a bowl or a cup using a strainer. Do not scoop out the fat layer on top. That thing is worth it's weight in gold!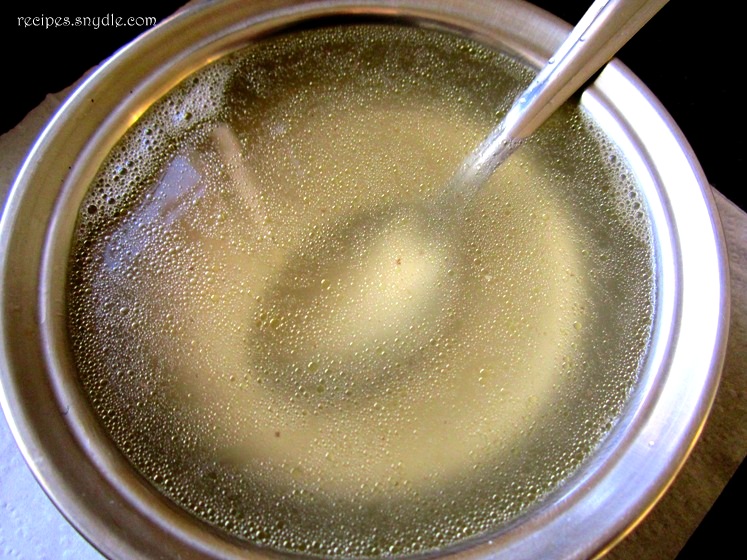 The chicken pieces left here have so much meat. So I pulled the meat and added it to the sweetcorn soup.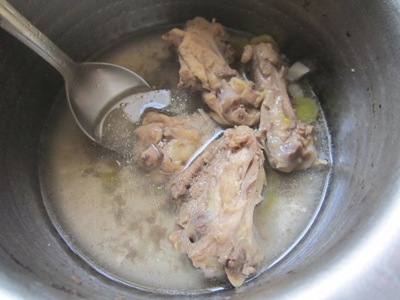 Have this hot or use it to make delicious curries or pulaos. Enjoy.