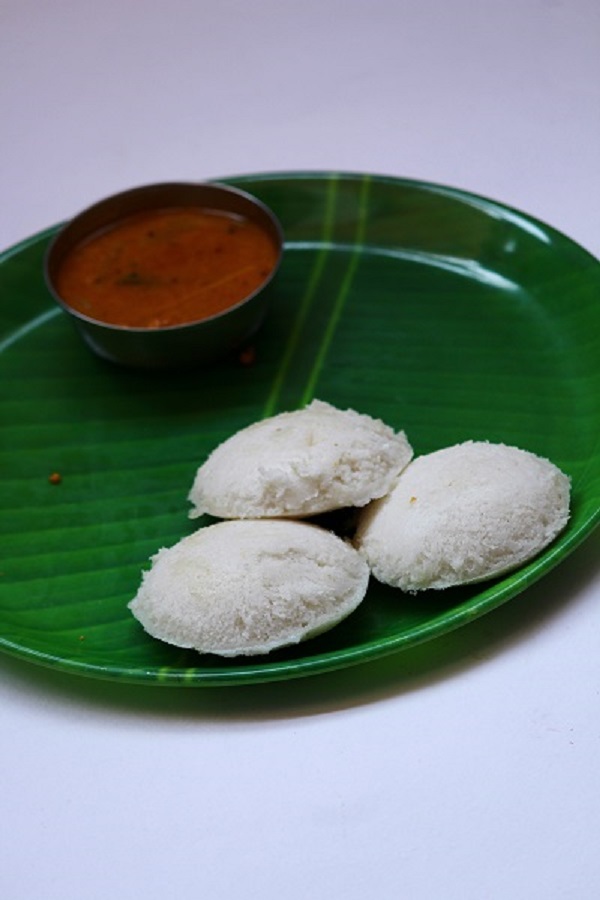 Idli / idly  – is a very popular Indian food.  It is a traditional breakfast in South India but very popular through out the country.  It can be considered as a steamed rice cake.  I always keep idli / dosa batter ready in refrigerator.  It makes my job easier during busy morning hours.  I have always noticed that whenever I have idli / dosa batter ready, I am not at all worried about breakfast.  Just grease an idli plate, pour the batter into it, and them steam cook for 10 minutes.  Breakfast is ready.
Idli recipe – The method of preparing idli contains three main process.  The first one is preparation of idli batter and the second one, fermentation and the third step is preparing idli.  If you get the first two steps properly, then the third step is very easy.
how to make idli batter –  To make idli batter, the main ingredient is rice and urud dal.  Usually I make use of idli rice, but you can also make use of other rice varieties for making this.  Rice and urud dal is soaked separately for 5 – 6 hours and then ground separately.
how to make soft idli –  The quality of urud dal is very important for getting soft idli.  Try to get nice white whole urud dal for making idli.  It always gives you best result.  If you are using pale yellow color urud dal, then increase the quantity of urud dal to make soft idly.  Soaking also plays an important role in soft idli's.  Rice should be soaked for minimum of 5 – 6 hours.  While grinding, grind urud dal for 40 minutes or until batter increases in quantity and becomes soft and fluffy.
Side dish for idli –  Idly can be served with sambar or any chutney variety.  I love my idli with onion tomato chutney where as hubby likes it with sambar and kids love it with idli podi.  Now go through the recipe  and make yummy idlis.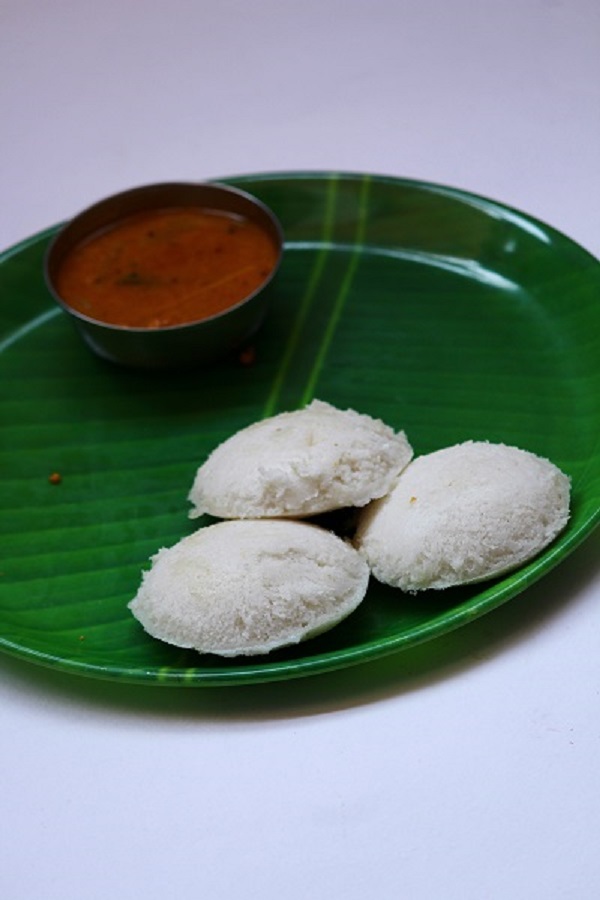 Ingredients required
idli rice  – 4 cups
urud dal  – 1 cup
fenugreek seeds / uluva – 1/2 teaspoon
salt – as required
Technique
1.  Measure each ingredient given above and keep them separately.
2.  Wash twice or thrice in clear water.  (This will help you to get white idlis. ) .  Add enough water.  Keep covered.
3.  In another bowl, add urud dal and methi seeds (uluva) together, wash nicely and keep covered.
4.  Soak rice and urud dal separately for 5 – 6 hours.
5.  After soaking for 6 hours, drain the excess water from urud methi mixture to a clear bowl.  Add 1/2 cup of this water to the grinder.  Then add the soaked urud dal and methi seeds, grind for 35 – 40 minutes.  Collect urud dal batter into a container.  Keep aside.
6.  Next add soaked rice along with little water.  Add 1 cup initially and then 1/2 cup every 10 minutes.  Grind this for around 25 – 30 minutes.  (The amount of time needed to grind will depend on the grinder. ).  Don't grind to make a smooth batter.  The batter should look smooth but when you touch it,  it should be coarsely ground.
7.  Now add the ground urud dal to it and grind again for few more minutes.
8.  Transfer the batter to a big bowl, large enough to hold the batter even after fermentation.
9.  Leave it aside for 10 – 12 hours for fermentation.  (The fermentation time depends on the region, like if you are in a hot region, it will take less time for fermentation. )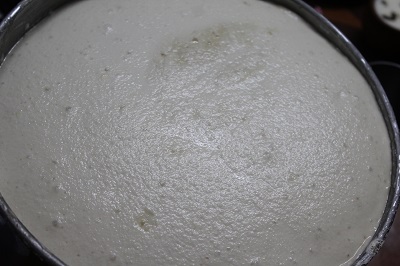 10.  After 10 hours, you will find that it has fermented well and the batter is ready to make idli now.
To make idli
1.  Grease idli plate with oil.  Add 1 cup of water to idli pan or pressure cooker.  Bring it to boil.
2.  Pour 3/4 ladle of batter to idli plates and steam cook for 10 minutes.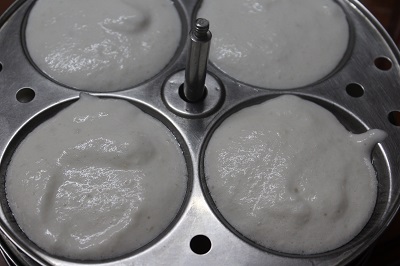 3.  Hot and soft idlis are ready.