Vazhakkai varuval is a very tasty side dish for rice.  Vazhakkai is a tamil word which means plantain.  Here raw plantain is made use of for making this dish.  As I told you before, this is a very tasty side dish.  I was very lazy to prepare an elaborate lunch, so made an easy lunch with pepper rasam, egg burji and some vazhakkai poriyal.  It was a very yummy combination, I must say.
How to prepare vazhakkai roast
The method of preparing vazhakkai fry is very easy.  Mix all the masalas together, marinate plantain pieces for some time, and then roast in low flame, covered for some time.  Serve it with rice and any curry and papad.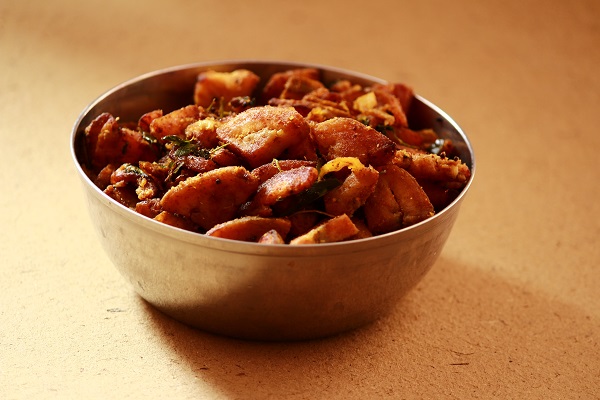 Ingredients required
raw banana  – 2
turmeric powder  – 1/4 teaspoon
garlic   – 2 – 3
onion (finely chopped)  – 1 (medium)
red chilly powder  – 1 teaspoon
coriander powder  –  1/2 teaspoon
salt  – to taste
For tempering
oil – 1 tablespoon
mustard seeds  –  1/4 teaspoon
curry leaves  – few
asafoetida / hing / perumkayam – a pinch
split urud dal  – 1/2 teaspoon
Technique
1.  Wash plantain / vazhakka, peel the skin and cut them into small pieces.  Put it in water to avoid discoloration.  Keep it aside.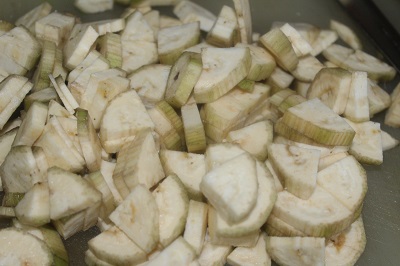 2.  In a bowl, add red chilly powder, turmeric powder, coriander powder, ginger garlic paste, salt and mix well.  Make a paste.
3.  Add vazhakka pieces to it, mix well, and keep aside for 10 – 15 minutes.
4.  In a wide pan, heat oil.  When oil is hot enough, splutter mustard seeds.  Then add urud dal, hing, curry leaves, and saute for few seconds.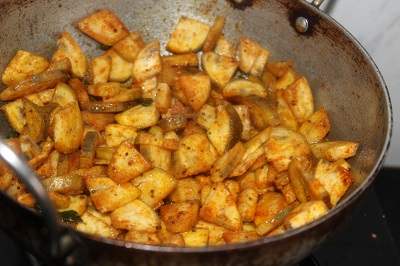 5.  Now add the marinated plantain pieces, chopped onion, cover with lid, and roast until golden brown on both sides.  Vazhakkai varuval is ready.  Serve with hot rice. (Don't add water)