Today, I am sharing idiyappam recipe, which is another popular breakfast item in Kerala.  It is made with roasted rice flour and coconut.  Idiyappam or nool puttu as we call it, is one of my favorite breakfast item.  Serve it with some potato stew or with kurma or with egg curry, it tastes great. Now to the recipe..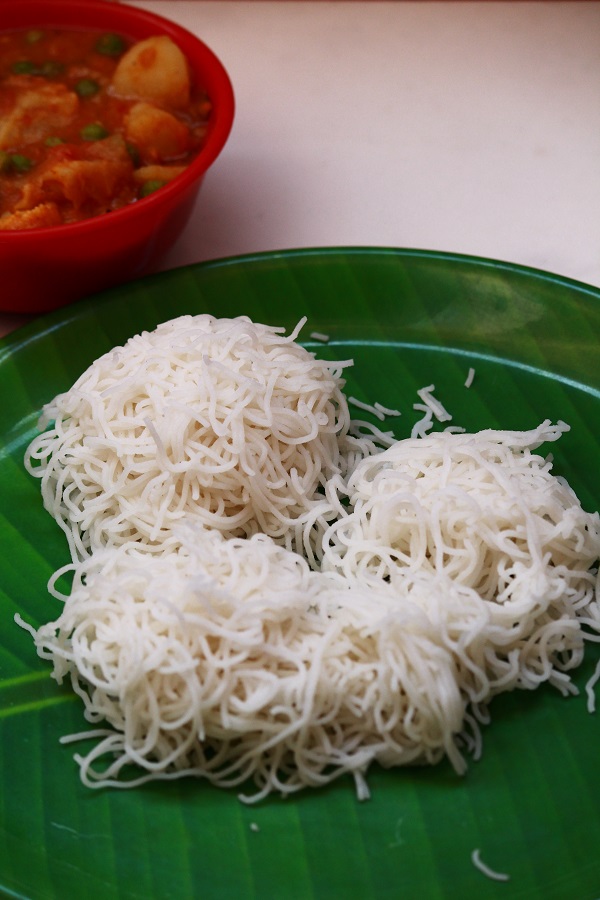 Ingredients required
rice flour  –  2 cups
water – 2 – 2 1/2 cups
salt – to taste
scraped coconut – 3 – 4 tablespoon
Technique
1.  In a saucepan add water and bring it to boil.  Let it boil nicely.
2.  In a wide mouthed bowl, mix rice flour, and salt.
3.  When water starts boiling, and bubbles come up, slowly add the hot water to the rice flour.
4.  Mix vigorously with a spatula, until the rice flour comes together and forms a soft dough.  (It shouldn't be too much watery. You should be able to make small balls out of that.  )
5.  Add 1 teaspoon of coconut oil, and knead once more.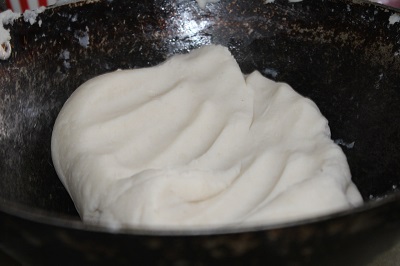 6.  While the dough is still warm, take small portions, make balls and put it inside the murukku press / idiyappam maker.  Use the plate with the smallest hole to make this.
7.  Grease an idli plate or idiyappam tray, sprinkle coconut over the tray.  Then press the dough in circular motion onto the plate.  Don't make it thick, otherwise it will stick to each other and will not get cooked properly.)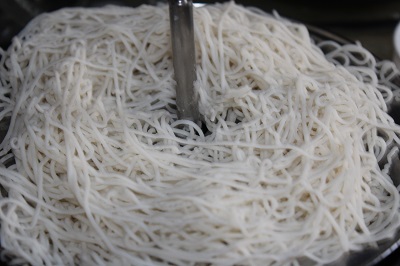 8.  Place it in a steamer or a pressure cooker and steam cook for 5 – 10 minutes.
9.  Serve hot with chutney or kurma or any other curry of your choice.