Today's recipe is another easy and tasty recipe which is available in all the restaurants in India – tomato soup.  Now a days, variety of soups are available in the restaurants and you also get packets available from which you can make soups very easily but I always feel that the soup which we make at home with fresh vegetables tastes great.  Now to the recipe..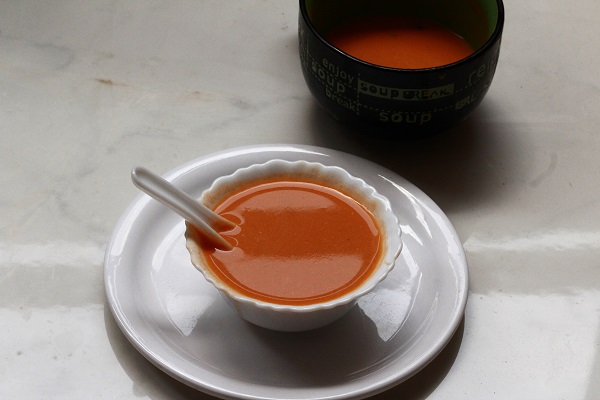 Ingredients required
tomatoes  – 4
onion  – 1 (small)
garlic cloves  – 2 -3
corn starch – 1 teaspoon mixed in 2 teaspoons of water
sugar – 1 teaspoon
bay leaf – 1
butter – 1 1/2 tablespoon
water  – 1 cup
cream  – 2 tablespoon (divided)
black pepper corns – 5 – 6
salt – to taste
Technique
1.  Rinse tomatoes nicely and keep it aside.
2.  In a pan, take enough water so that the entire tomatoes get immersed in it.  Boil the water .
3.  Make cross cuts at the bottom of the tomatoes and put it in boiling water.  Cook for 10 – 15 minutes on medium heat.  Drain the tomatoes and let it cool down.
4.  Meanwhile, in a pan, heat butter, add chopped garlic pieces, bay leaf and saute for 4 – 5 seconds.  Then add chopped onion and saute well.  Turn off the stove.
5.  Now peel off the skin from the tomatoes, roughly chop and add it to the mixer jar.  Next add the sauteed onion, garlic also to the mixer jar.  Don't add bay leaf.  Keep it aside.  Grind well.
6.   Next, strain the ground mixture using a strainer to remove the coarse particles.  Press nicely with the back of a spoon and take the entire juice out.  Add 1 cup of water to it.
7.  In a bowl, add 1 teaspoon of corn starch and 2 teaspoons of water.  Mix well and keep it aside.
8.  Now again boil the soup by adding bay leaf and sugar.  Let it boil for 3 – 4 minutes.  Then add the corn flour mixture and give it a quick stir.  Boil until thick consistency is reached.  Season with black pepper, adjust salt and garnish with chopped coriander leaves.  Turn off the flame.  Now add cream and mix well.
9.  Serve it hot.  If you like, garnish with cream..