Stew / Ishtu is a Kerala based dish made with potatoes and is served along with idiyappam, appam, or in my place, it is also served with idli.  As with any other dish, this dish also has got different versions depending on the region.  Some make it with addition of whole spices, but in our place we cook potatoes in coconut milk without any whole spices.  It is not necessary that stew can be made only with potatoes.  It can also be made with mixed vegetables, also with mutton and so on.  Now take a look at this kerala potato stew..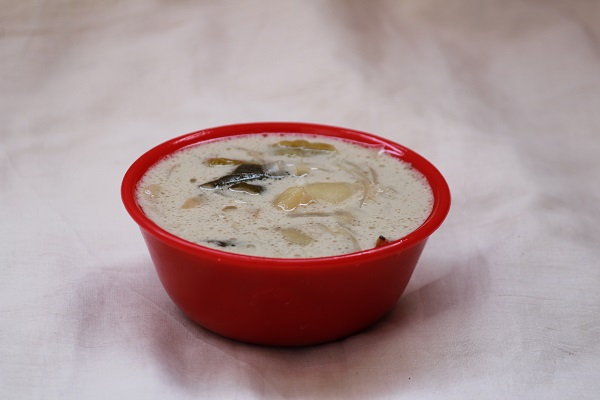 Ingredients required
potatoes  – 2
onion  – 1
green chillies  – 4 – 5
ginger  – 1 big piece
curry leaves – few
thick coconut milk   – 1/2 cup
thin coconut milk  –  2 cups
coconut oil  – 1 tablespoon
salt  – to taste
Technique
1.  Heat 1 teaspoon of oil in a pan, then add sliced onion, chopped ginger, slit green chillies, curry leaves and saute for some time till onion becomes translucent.
2.  To this add the diced potatoes and saute once again.
3.  Now add thin coconut milk, mix well, let it start boiling. Then reduce the flame, and cook for some more time till the potatoes get cooked well.  Keep stirring in between.
4.  Once potatoes are cooked well, then with the flame in low (very important), add thick coconut milk, keep stirring for 1 – 2 minutes.  Turn off the stove.
5.  Finally add curry leaves and rest of the coconut oil.  Keep covered for some time so that the flavors get locked in the curry.
6.  Serve it with appam, idiappam, or with idli.