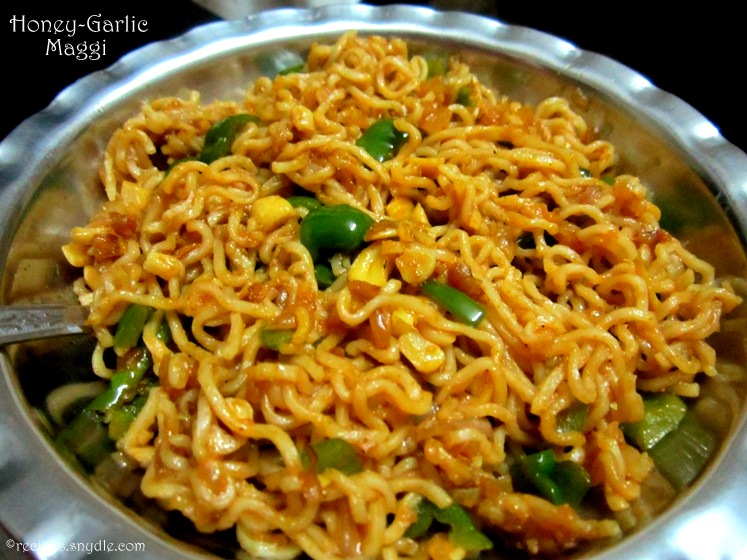 Hello foodie buddies. Today I am sharing a lip-smacking and yet surprisingly simple recipe. It's Saturday and who wants to cook lavish lunch instead of hanging around and watching TV? This is my attempt to give our favorite, beloved Maggi a makeover. You can use the usual noodles too. But then you will need to use those Maggi tastemakers anyway. But then the Maggi noodles would be left without any tastemaker. So instead I decided to use Maggi noodles itself. Either way, the honey-garlic noodles will taste delicious. And boy oh boy, I made this at 4 in the morning and it was ready in a jiffy! A perfect treat to put the midnight hunger pangs to rest.
I added some cashews for the crunch. To make it more filling, you can add some paneer or cooked shredded chicken the same time you add capsicum. Moreover, you have to be quick. We don't want the noodles to be overcooked and soggy.
This recipe will yield 2 servings. For the purpose of measurement, 1 cup = 250 ml.
Ingredients
Maggi Masala – 2 packs, regular size
Water – 4 cups, to boil the noodles
Onion – 1/2 cup, chopped
Capsicum – 1/2 cup, diced into small cubes
Cashew nuts – 20, broken into halves or quarters
Green chilies – 3, split lengthwise
Garlic – 3 tsbp, minced
Ginger – 1/2 inch piece, finely crushed
Salt – To taste
Oil – 2 tbsp
To Prepare the Sauce Mixture
Water – 3 tbsp
Tastemakers from the Maggi packs
Soy sauce – 1 tbsp
Tomato ketchup – 1 tbsp
Vinegar – 1/2 tbsp
Honey – 1 tbsp
How to Make Honey-Garlic Maggi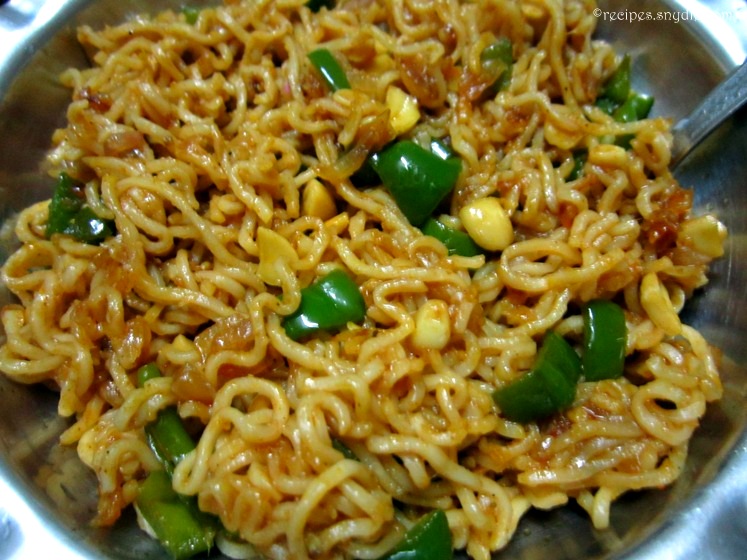 Take a small bowl and prepare a mixture of water, soy sauce, vinegar, Maggi taste maker, honey and ketchup. Make sure there are no lumps.
In a big pot heat the water and drop in the Maggi noodles. Boil the noodles till they are just done. Do not overcook or they will become very mushy. Unlike the usual hakka noodles, Maggi noodles do not have a spine. Strain the noodles using a colander and sprinkle some oil over them and toss them. Keep aside.
In a wok, heat oil. Fry the cashew nuts over low flame till they are golden and fragrant. Take them out on the kitchen towel. Keep aside.
Now turn the flame to high. In the remaining oil, toss in the chopped onion. Stir fry the onion for a few seconds till it loses their raw smell. Add in the minced garlic and crushed ginger and stir fry for 10-15 seconds till they become fragrant.
If you are going to add diced paneer or cooked, shredded chicken, add it at this stage and sauté it for a few seconds till they become a little golden on the outside.
Toss in the capsicum and green chilies and stir fry for a few seconds. Season the veggies with some salt. Go easy on the salt though. The soy sauce and Maggi Masala Tastemaker already contain some salt.
Add in the fried cashew nuts. Pour in the sauce mixture and stir fry the sauces with the veggies for 5-10 seconds. Don't let the moisture dry up. Add in the boiled noodles. Toss the noodles well so that the sauces coat the noodles evenly while they get heated.
Honey-Garlic Noodles are ready. Serve hot as is or with any side dish of your choice. Usually I like to serve them with Vegetable Manchurian. Enjoy!