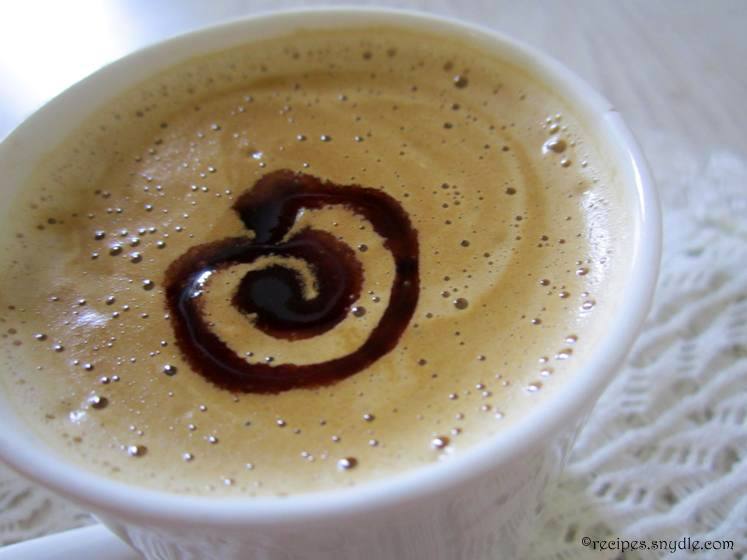 Hello, dear buddies. Today's recipe is a much requested one. It's the recipe for Hand Beaten Coffee, also known as Indian Cappuccino. This coffee is deliciously creamy, rich and frothy. A bit time-consuming but you can make the concentrate in advance.
Beaten coffee is very different from the regular coffee we make at home using instant coffee powders. This one is certainly a nice upgrade, because of its opulence and the hint of chocolate. Usually, Indian cappuccino is sprinkled with drinking chocolate powder, which tastes amazing and takes the taste factor up a notch. However, I made a swirl pattern using Hershey's chocolate syrup.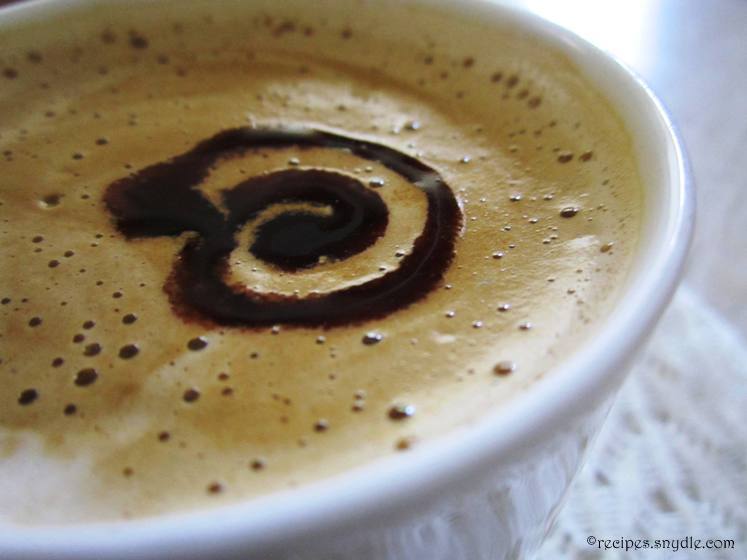 With these step by step pictures, I am sure you will find it really easy and compelled to try making beaten coffee. My coffee mug holds 175 ml of liquid. This recipe yields about 3 cups of coffee. I made one cup now, and saved the beaten coffee for the next day. I stored it covered in the refrigerator. Let's start with the recipe now.
Ingredients
Good quality coffee – 2 tsp (I used Bru Gold)
Sugar – 2 tsp + some more as per taste.
Water – about 1 tbsp
Full-fat milk – 175 ml or as much as you need
How to Make Indian Cappuccino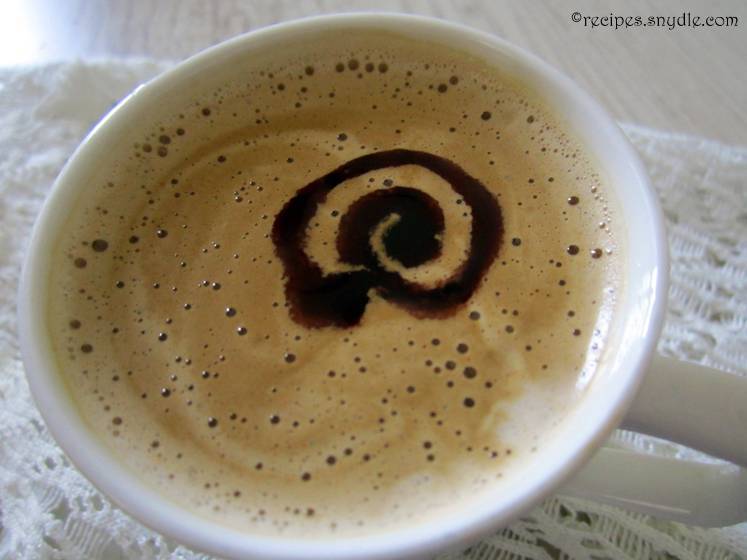 Take a small cup and add coffee to it. Please do not use instant coffee. It won't yield good result. Also, do not take a large cup. It will make beating very difficult for so little coffee.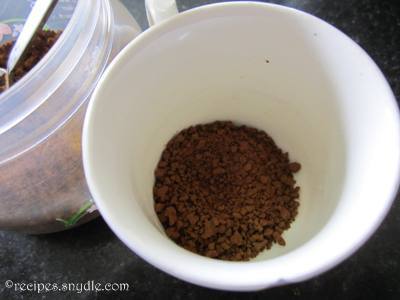 Now add 2 tsp sugar to the coffee. Sugar helps generate voluminous mixture.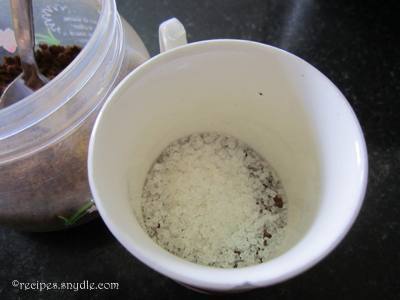 Heat some water and bring it to a boil. Add 1/2 tbsp to the coffee and sugar mixture.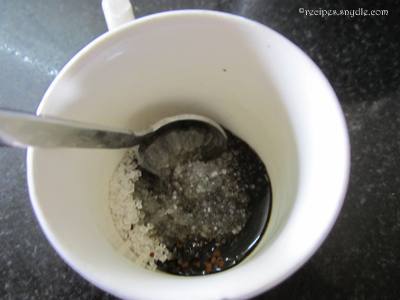 Beat it vigorously using a small spoon for about 3 minutes. After 3 minutes, it should look like this.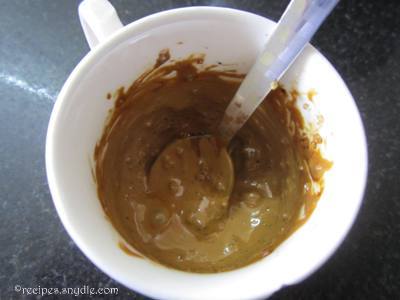 Add in another 1/2 tbsp of boiling hot water and beat again for another 3-4 minutes.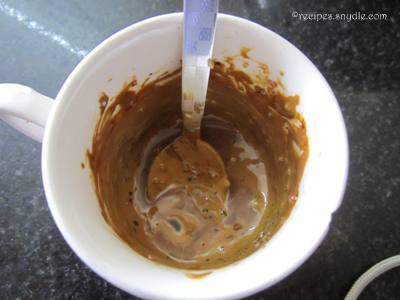 The sugar should have almost melted.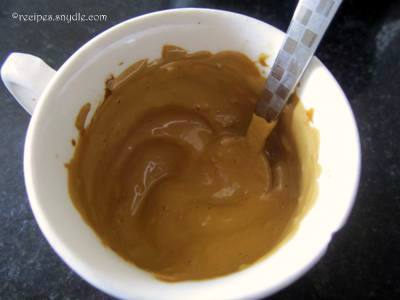 The coffee-sugar mixture should look soft, creamy and fluffy because of the air that got incorporated into it due to all the beating. The mixture shouldn't be too stiff otherwise it won't mix well with the milk.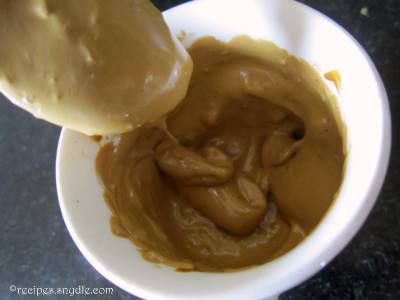 Boil a cup of milk and add sugar to taste. I used 1 tsp of sugar here. You will need it because the sugar in the coffee mixture is not sufficient and it tastes bitter.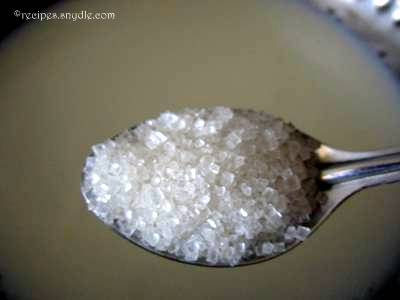 Take the coffee mixture in your coffee mug depending on how strong you want it. I took about 1 tbsp of coffee mixture in my cup. The remaining coffee mixture stays good in fridge for 2 days.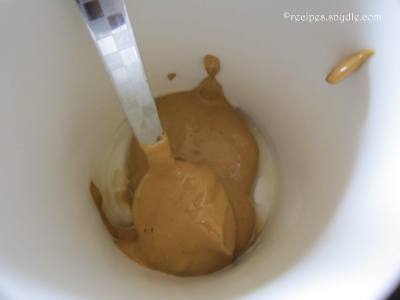 Pour the milk into the coffee mug. You may use a strainer like I did. Let it stand for a few seconds.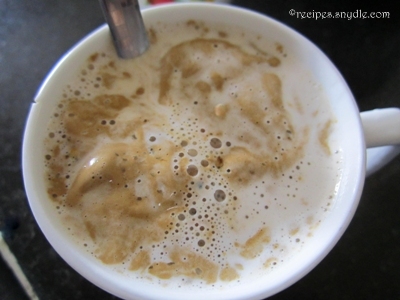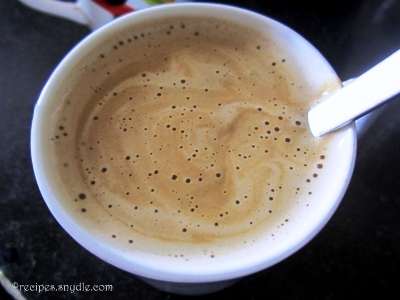 Dust some drinking chocolate or make a pattern with Hershey's chocolate syrup.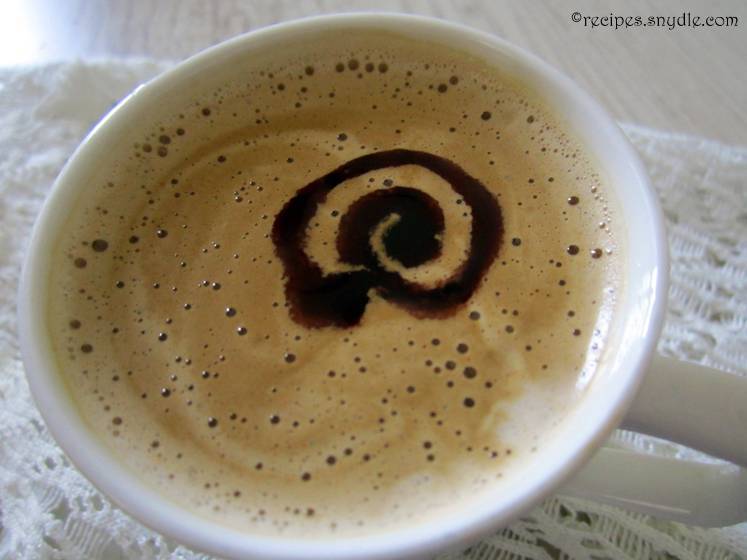 Serve. Mix it a bit before sipping on your coffee for an even taste of chocolate. Enjoy!