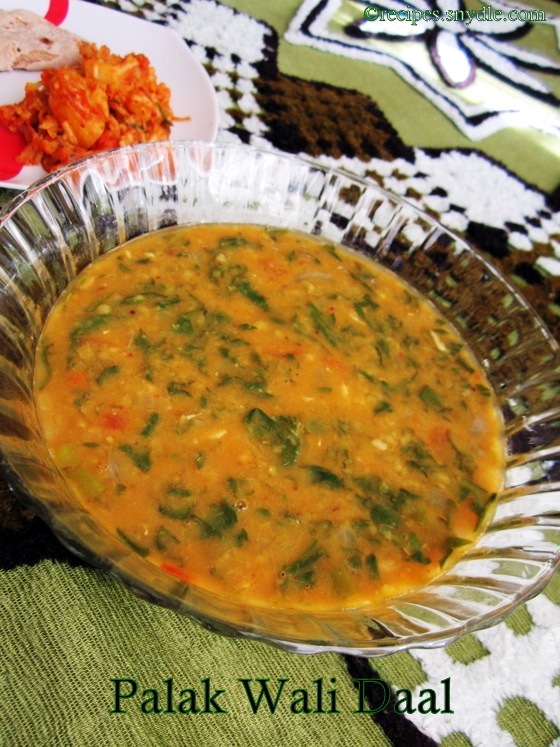 Hello there! Looking for light and nutritious lunch recipes, are we? Well here is one such easy recipe that you can make. It's called Palak Wali Dal. It is a made from yellow moong dal and spinach. It pairs up excellently with rice. We also had some rotis, salad and aloo-gobi on the side.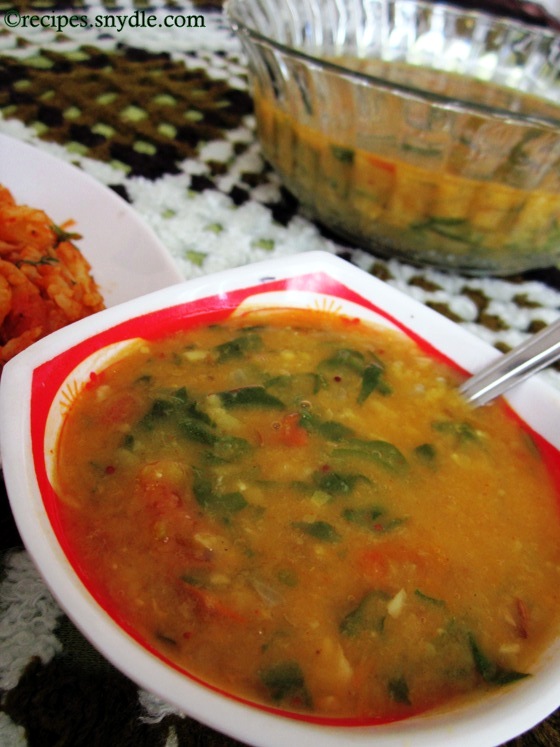 This dal is mildly spicy and smells great because of the flavors of spinach and garlic. Let's start with the recipe of Palak Wali Dal. For the purpose of measurement, 1 cup = 250 ml. This recipe yields 4 to 5 servings.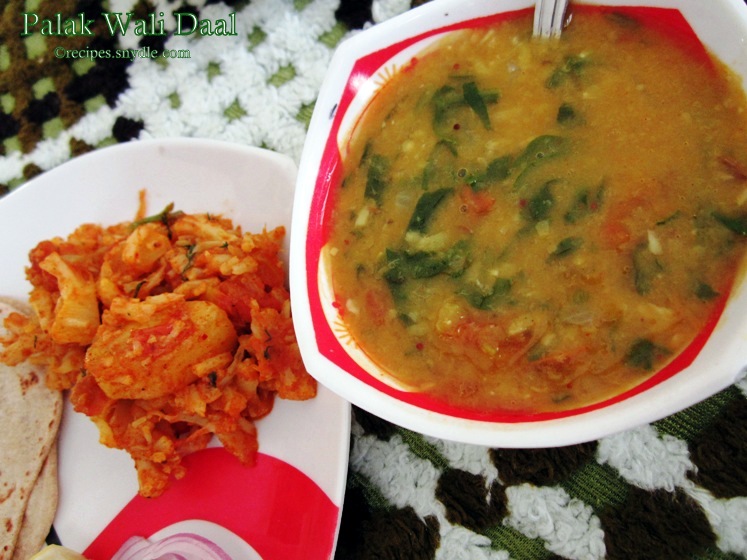 Ingredients
Yellow Moong dal – 1 and 1/2 cup
Spinach leaves – 1 bunch, roughly chopped
Onion – 1 large, finely chopped
Tomatoes – 1 large, finely chopped
Garlic – 12 cloves, finely crushed
Ginger – 1/2 inch piece, finely crushed
Green chilies – 2, finely chopped
Turmeric powder – 1/3 tsp + 1/3 tsp
Red chili powder – 1/2 tsp
Red chili flakes – 3/4 tsp
Coriander powder – 1 tsp
Garam masala – 1/2 tsp
Salt – to taste
Cumin seeds – 1 tsp
Oil – 3 tbsp
Water – 3 cups or as needed depending on your pressure cooker
Coriander leaves – a handful, finely chopped
How to Make Palak Wali Dal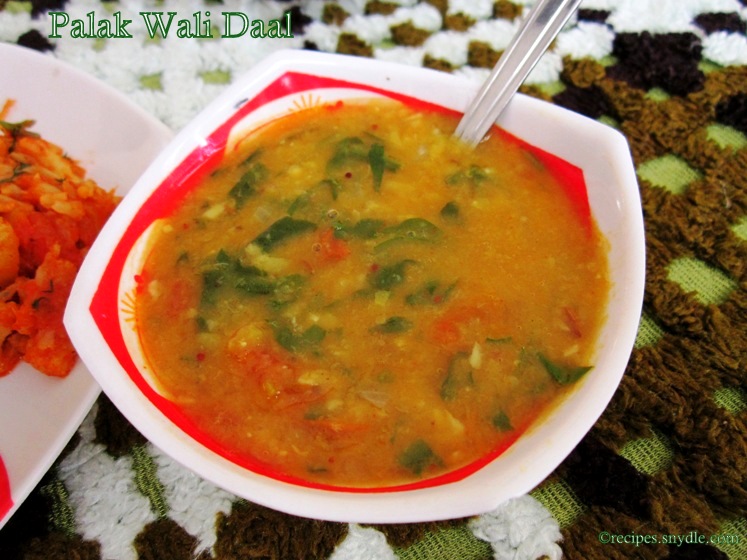 Wash and soak yellow moong dal for half an hour. Drain it and add it to the pressure cooker. Add enough water and salt to taste and 1/3 tsp of turmeric. Pressure cook for 5 whistles or till the dal gets cooked and becomes one with the water added to it.
In a skillet, heat oil. Add in the cumin seeds and allow them to crackle.
Add in the onion and sauté it till it becomes golden brown.
Add in the crushed ginger and garlic and sauté for a minute so that the raw smell disappears.
Add in the green chilies and sauté for another minute till it becomes aromatic.
Add in the tomatoes and some salt and cook till the tomatoes are mushy and oil begins to separate.
Add in the dry spice powders; red chili powder, red chili flakes, coriander powder, garam masala and 1/3 turmeric powder and sauté for 30 seconds. Try not to burn anything.
Add in the roughly chopped spinach and cook it for about 2-3 minutes so that it becomes tender and smells nice.
Add in the cooked dal and mix well. Allow it to come to the boil. Turn the heat to low and simmer for about 7 to 8 minutes with the lid on. The dal will thicken a bit.
Check the salt. Add in the coriander leaves and mix.
Delicious palak wali dal is ready. Serve hot with rice, roti and a side dish. Enjoy!