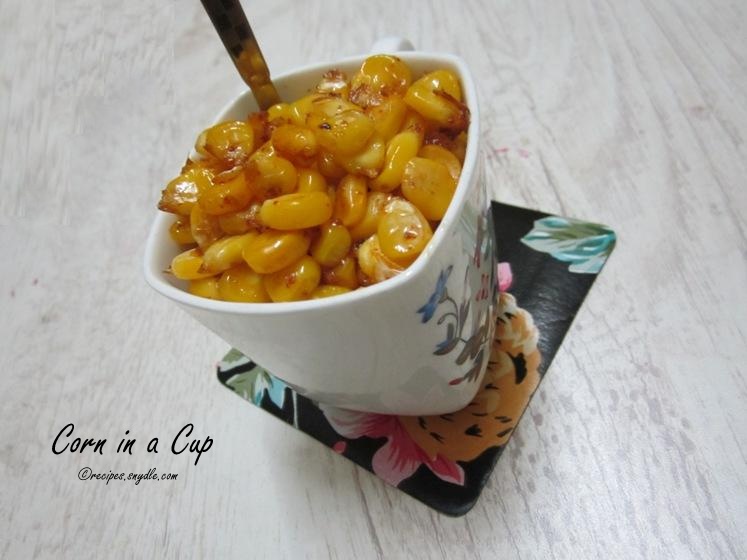 Hello foodies. Looking for some recipes for healthy snacks, are we? Well then you are in for a treat! Today I am sharing the recipe of Corn in a Cup. You can also say that is it a sweet corn chat because it is zesty and spicy because of the spices that go into it.
This sweet corn recipe is a way better, healthier snack than potato chips, fries and cookies. Sweet corn is loaded with nutrients and fibers, which make it so healthy. I often use sweet corn, at least thrice a week. Sometimes I have it just plain, boiled. Sometimes I make curries with it. Yesterday, I used it to make sandwich. I intend to make sweet corn chicken soup and sweet corn kheer and I will definitely share the recipes with you.
This corn in a cup is a restaurant style recipe. I used to have something like this at a small restaurant near my college. Today it rained here and we always crave for something spicy, hot and delicious snack. So I made this corn today. Everyone at home loved it. It's juicy, spicy and delicious.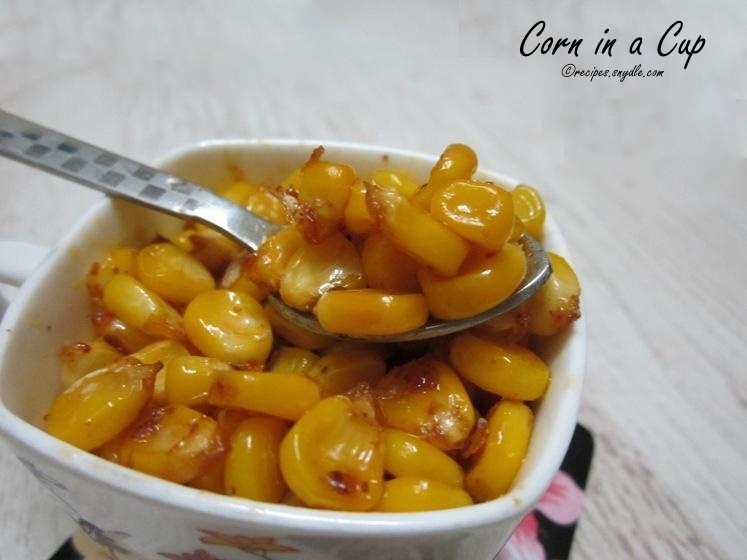 For other recipes that I used sweet corn in, here are the links below.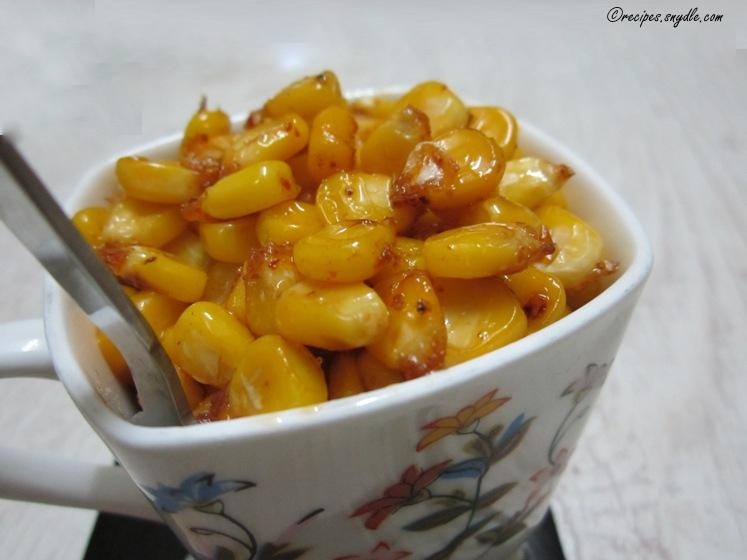 Now let's get started with the recipe of Corn in a Cup. This recipe yields 2 servings. For the purpose of measurement, 1 cup = 250 ml.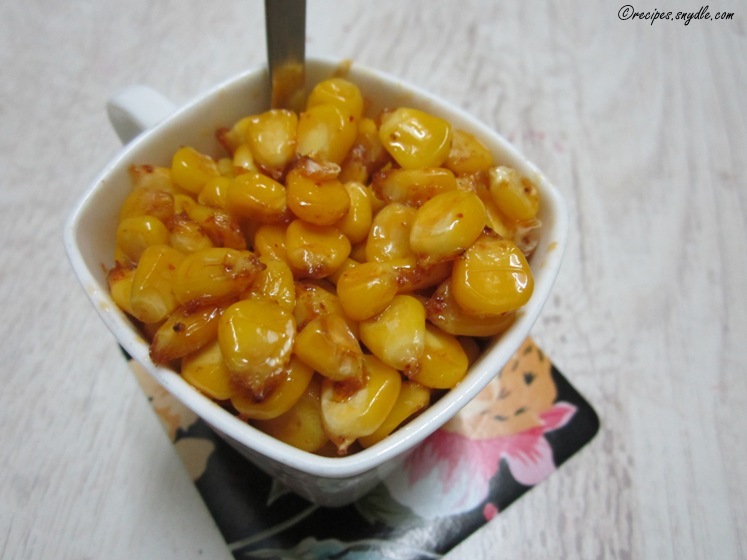 Ingredients
Fresh sweet corn – 1 and 1/2 cups
Water – 2 cups or as needed
Red chili powder – 2 tsp
Chat masala – 1 and 1/2 tsp
Salt – to taste
Ghee / clarified butter – 1 tbsp
Lemon juice – 1 tbsp
How to Make Corn in a Cup
Prepare all your ingredients.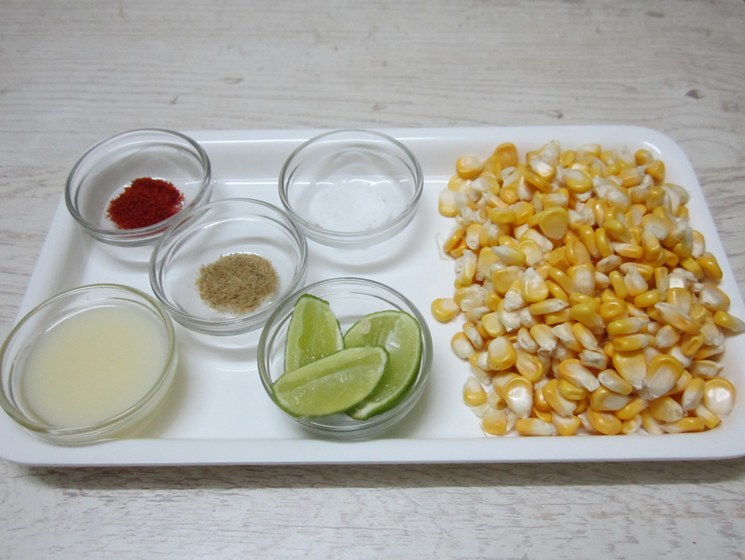 Wash the sweet corn kernels and and add some water to it, just enough for boiling it. Keep the bowl on the stove and bring the water to a boil.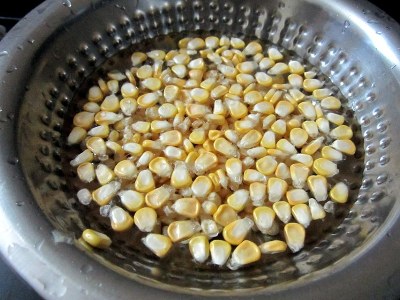 Once boiling, allow the sweet corn to boil for about 3-4 minutes.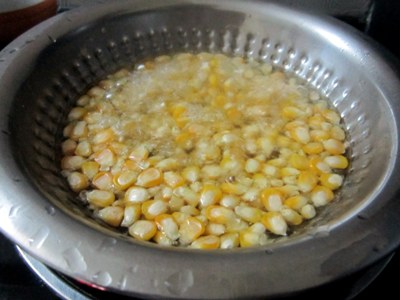 Strain the water and keep the sweet corn aside.
In a skillet, melt the clarified butter.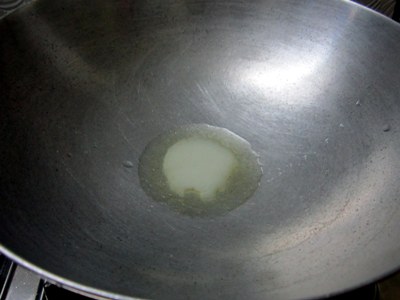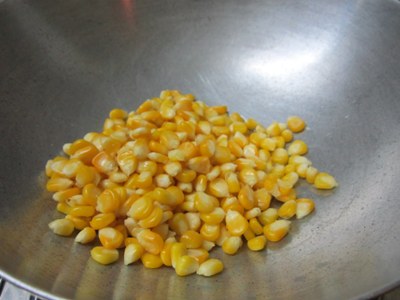 Keep the flame high and roast the sweet corn for about 2 minutes, stirring constantly. Roast until some of the kernels start getting some golden brown color.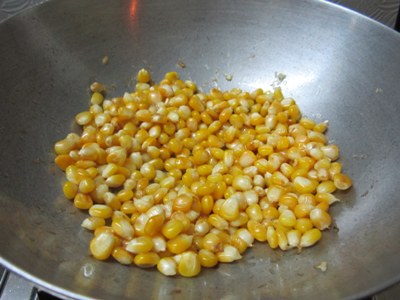 Then turn the flame to medium and add in the salt, chat masala and red chili powder. Roast for another minute. Try not to burn the spices.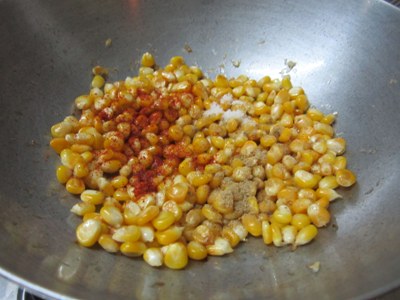 Add in the lemon juice. Mix well and roast for another few seconds, Scrape the bottom of the skillet and mix well. Do not over cook, else the sweet corn will lose its juiciness and begin to shrink.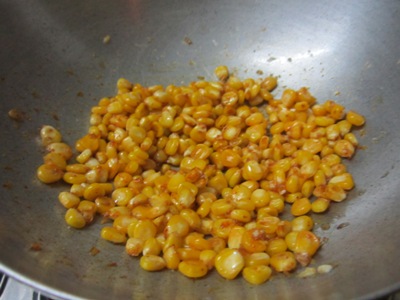 Switch off the flame and transfer the hot sweet corn into a cup. Corn in a cup is ready. Serve hot. Enjoy!