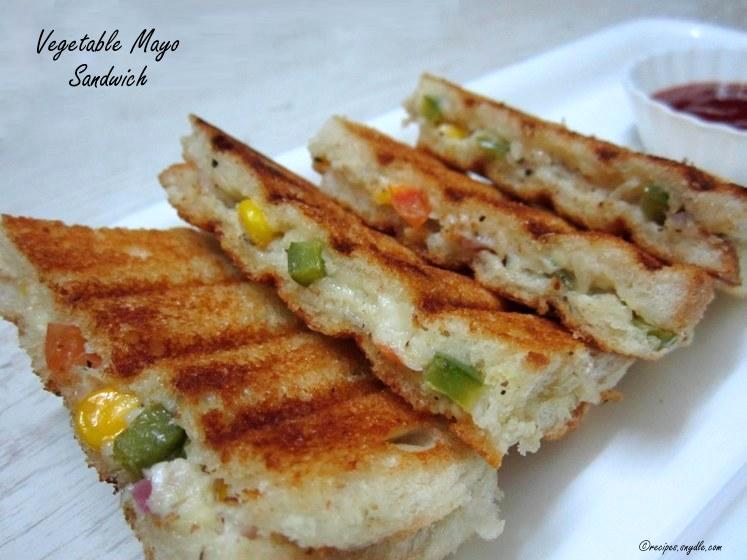 Vegetable Mayo Sandwich recipe with step by step pictures.
Hello, foodies. Today I am sharing yet another, delicious and healthy sandwich recipe. This one has a lot of vegetables in it and interesting seasoning ingredients and a generous addition of mayonnaise. Hence, the name.
I am a big fan of sandwiches. It's their versatility that makes me love sandwiches so much. Till date I have created a number of vegetarian sandwiches and I hope to give chicken sandwich and egg salad sandwich a try. For now, you can browse my collection of vegetable sandwich recipes, the links of which I have shared below.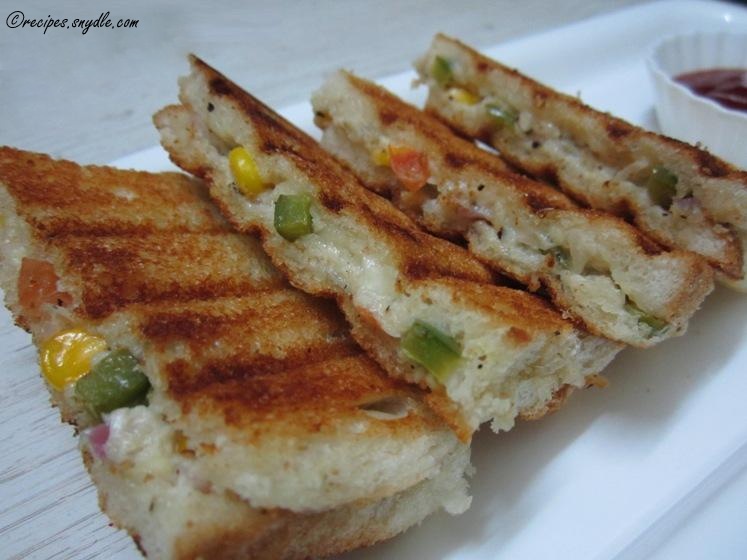 In this vegetable sandwich recipe with mayonnaise, you can use your favorite veggies. Since the veggies are not supposed to be cooked, add whatever veggies you like that can be had raw or slightly cooked while grilling the sandwich. You can use grated carrot and finely chopped french beans as well. I used whatever veggies I had at hand today. I have seen people enjoy this sandwich without grilling, but personally I like my sandwiches grilled to crispy. So, you can say this is a type of grilled vegetable sandwich.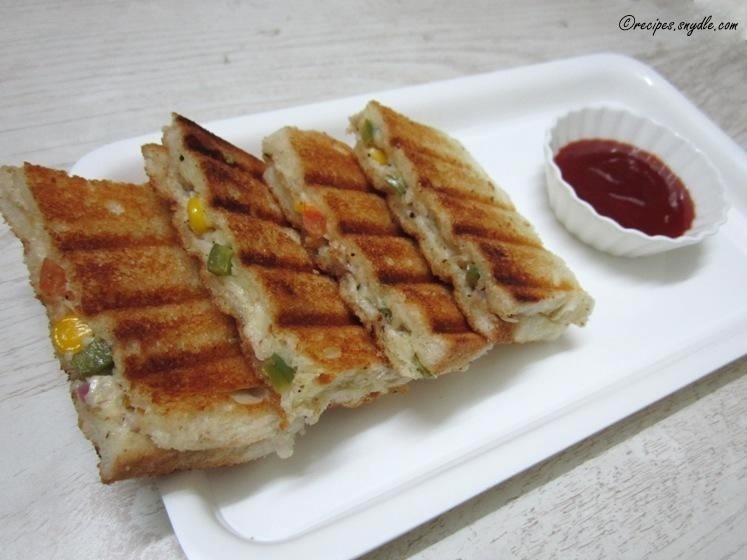 Let's begin with the recipe of Vegetable Mayo Sandwich with step by step pictures. This recipe yields 8 sandwiches. For the purpose of measurement, 1 cup = 250 ml.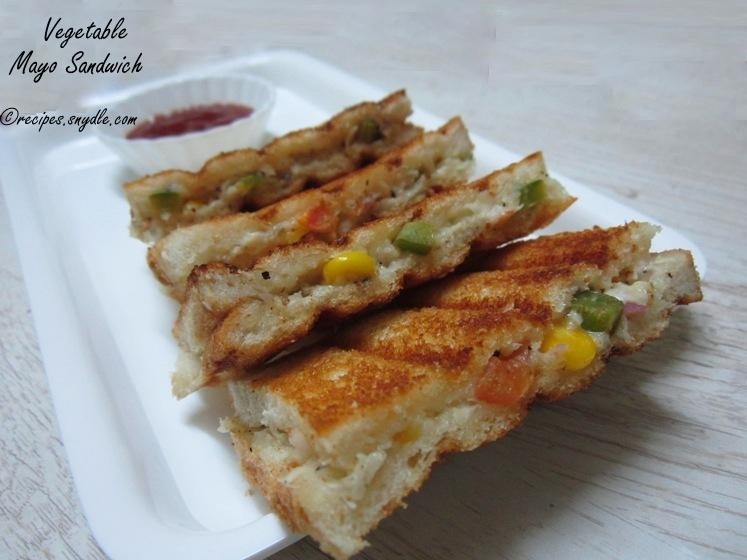 Ingredients
Bread slices – 16
Butter – as needed
Mayo – 9 to 10 tbsp
Grated cabbage – 1 cup, tightly packed
Capsicum – 1/2 cup
Sweet corn – 1/2 cup
Tomato – 1 large, finely chopped
Onion – 1 medium, finely chopped
Green chilies – 2, finely chopped
Black pepper – 1 and 1/2, or to taste
Salt – to taste
Lemon juice – 3 tsp
Sugar – 1 and 1/2 tsp
Amchur powder/Dried mango powder – 1 tsp
How to Make Vegetable Mayo Sandwich
Grate the cabbage and squeeze it gently to remove excess water. Take the cabbage, onion, tomato, capsicum, green chilies, and sweet corn in a mixing bowl.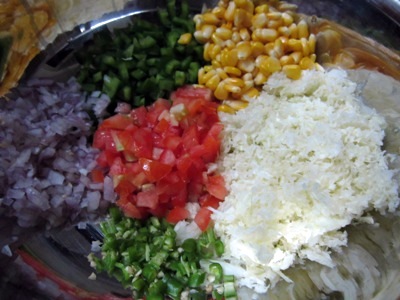 Sprinkle some salt, sugar, lemon juice, black pepper and amchur powder.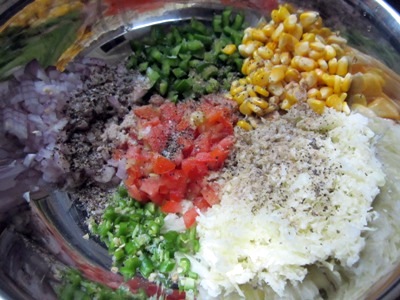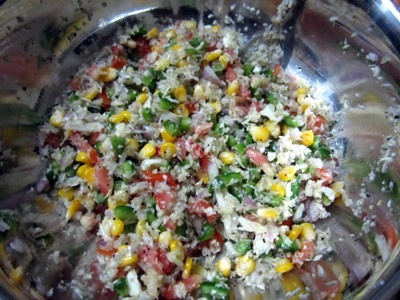 Mix well. The mixture should look creamy like this.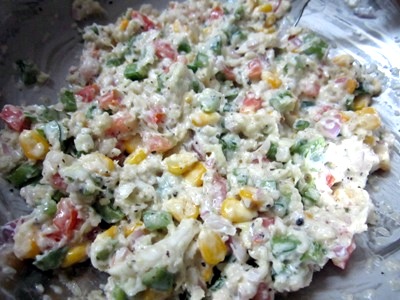 Take the bread slices, Cut the crust off, if you like. Apply some butter.
Spread a generous amount of stuffing onto the bread slice. The key to a good sandwich is being generous.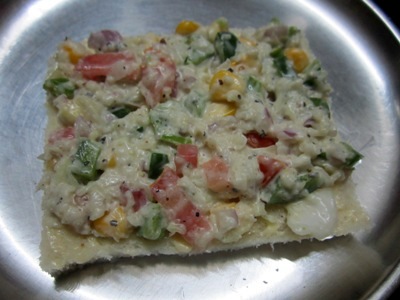 Take another bread slice and apply butter onto it as well.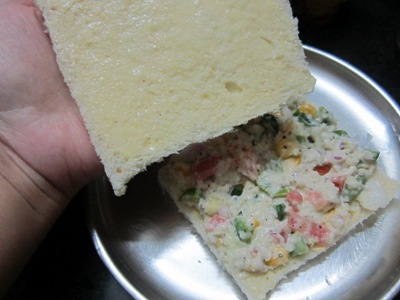 Pack the sandwich with this second slice, buttered side in. Apply some butter on the outside now.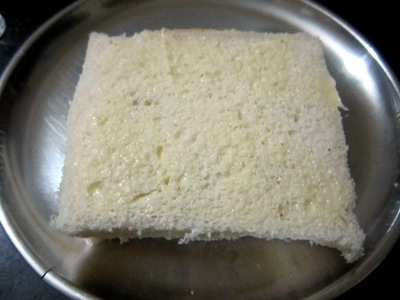 Put the sandwich buttered side down onto the panini press or into the sandwich maker.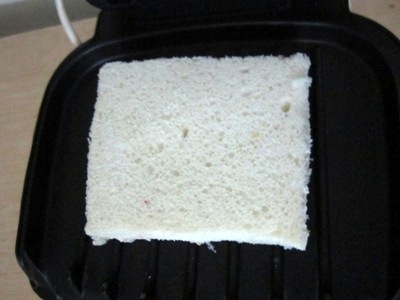 Apply butter onto the other side as well. Applying butter on both sides on the outside is very important to make a sandwich crispy and fragrant on the outside as well.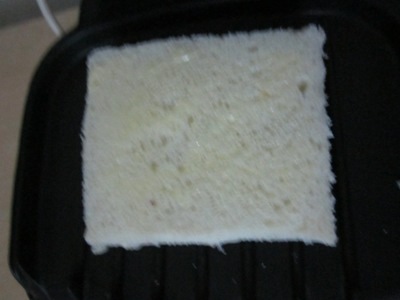 Grill the sandwich till you get nice grill marks on it and the sandwich is golden brown like this. It took about 3 minutes. Take it out onto a plate.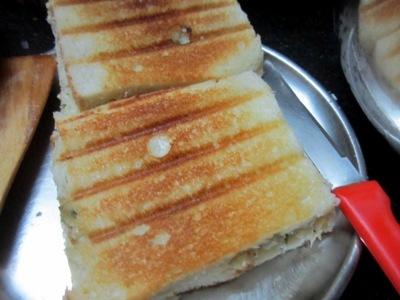 Cut the sandwich into 2 triangles or rectangles. Serve immediately with some ketchup or your favorite dip. Enjoy!