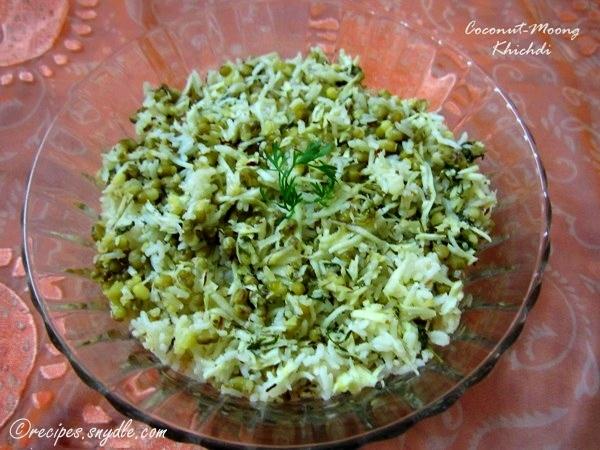 I am a rice fanatic. My meals feel so incomplete without rice. It's my daily dose of carbs! I love cooking rice in different ways- khichdis, biryanis, pulaos and even desserts! Today's recipe is a simple khichdi, which is not only nutritious but also flavorful. I combined rice with whole green mung beans, fresh coconut and a few simple spices. And voila! You get this wonderfully fragrant khichdi with each rice grain separated and shining on its own!
Basmati rice is just perfect for this khichdi. You don't need an assortment of spices. Just the asafoetida (Hing) and the cumin powder is enough to add magic to this rice recipe. I used ghee (clarified butter), but you can use oil if you are watching your calorie intake. Coconut – mung bean khichdi is a perfect comfort food. I used American measuring cups. 1 cup = 250 ml. 2 cups of rice will be sufficient for 3-4 persons.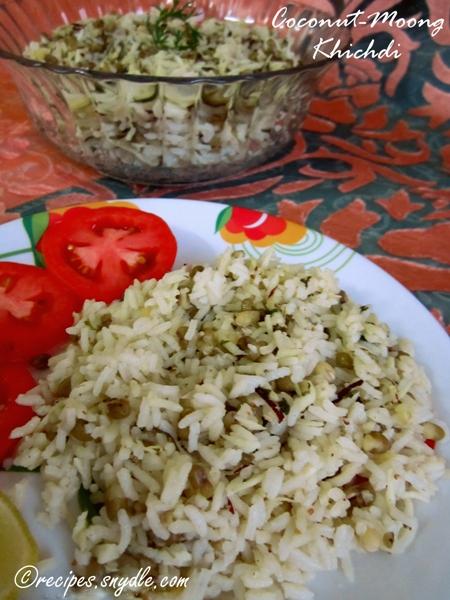 Ingredients – Coconut Moong
Basmati rice- 2 cups, soaked for 30 minutes
Whole green mung bean- 1 cup, sprouted
Fresh coconut- 2/3 cup, grated
Turmeric powder- 1/5 tsp, just for tad bit of a color
Asafoetida powder / Hing – A generous pinch
Jeera powder (Cumin powder) – 1 tsp
Salt- To taste
Sugar- 1/4 tsp
Cilantro – A handful, finely chopped
Ghee (Clarified butter) – 1 tbsp
Oil- 1 tsp
Hot water- 4 cups or as needed
How to Make Coconut Moong Khichdi
Heat ghee and oil in a pressure cooker. Keep the flame low. Add asafoetida powder and let it hiss for 3-4 seconds. The ghee should be just warm.
Add in the soaked rice and roast for a 2 to 3 of minutes. Stir often carefully. The rice grains should not break.
Add in the sprouted whole green mung beans, coconut, cumin powder, turmeric powder, salt, sugar and cilantro. Cook for two more minutes.
Pour in 4 cups of water or as required. The amount of water depends upon the type and age of the rice you use. Usually the amount of water is double of amount of rice, volume wise. Mix everything well and put the lid on. Cook the khichdi for 2 whistles.
As I always say, allow the pressure released on its own. Open the cooker and finish the khichdi with some more chopped cilantro. Enjoy hot as it is or with a side dish.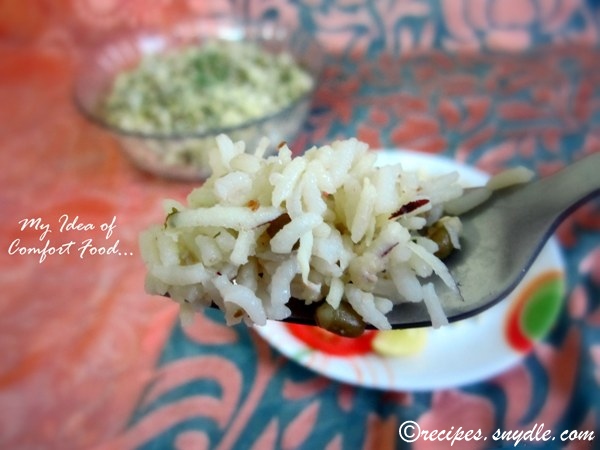 Coconut Moong