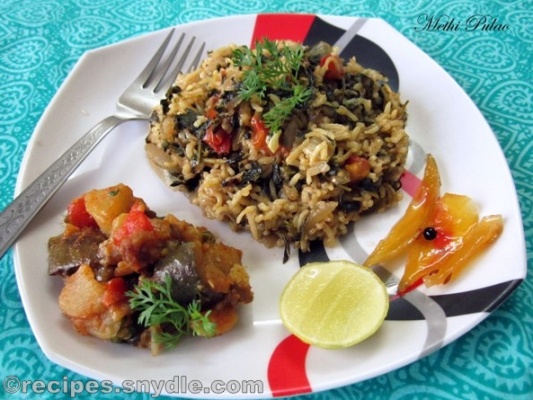 I have been making several rice recipes these days. You can find the recipe I previously posted here. It thought it's a good time to make Fenugreek Pilaf or Methi Pulao today. It's been a long time since we had this. This pulao is my family's favorite. If you are looking for If you have been looking for healthy dinner ideas, this is it! I prepared Fenugreek Pilaf / Methi Pulao and coupled it with a fried brinjal-potato and raw mango pieces that were cooked in sugar syrup.
The earthy flavor of fenugreek leaves will fill your house with wonderful aroma. The pilaf is delicately peppery and very healthy. This is a recipe for two. You can change the quantity of ingredients proportionately when cooking for more people. I used American measuring cup for making the measurements. 1 cup = 250 ml.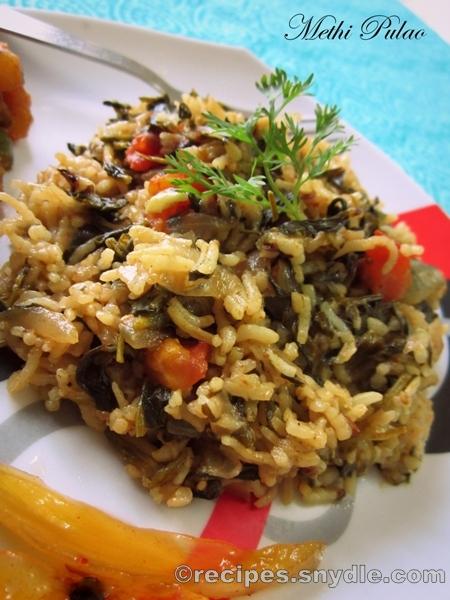 Ingredients
Basmati rice – 1 cup
Fresh fenugreek leaves / methi – 1 bunch
Ginger- 1 tsp, finely crushed
Garlic- 1 tsp, finely crushed
Onion- 1 medium, chopped
Tomato- 1 medium, chopped
Green chilies- 2, chopped
Red chili powder- 1 tsp
Turmeric powder- 1/3 tsp
Garam Masala powder- 1/3 tsp
Salt- To taste
Water- 2 & 1/2 cups or as required
Cilantro- For garnish
Lemon juice- To taste
For Tempering
Bay leaf- 1
Cumin seeds- 1/2 tsp
Cardamom- 2
Cinnamon- 1 stick
Cloves- 2
Black pepper- 2
Oil- 2 tbsp
How to Make Methi Pulao
Wash and soak the rice for about 20 minutes.
Heat oil in a heavy bottom pan. Toss in cumin seeds and allow them to sizzle. Now add the black peppercorns, cinnamon stick, cardamoms, bay leaf, cloves and sauté for 10-15 seconds till they become fragrant.
Bring on the onion and fry till they turn a little golden. Add in the crushed garlic, ginger and green chilies and sauté for a minute. The raw smell should completely wane away.
Add the chopped tomatoes and cook them till they turn soft. The oil will begin to separate.
Add turmeric powder, red chili powder, garam masala powder and salt. Add the methi or fenugreek leaves and cook for 2 minutes.
Toss in the rice and combine everything well. Sauté the rice with the masala for 5 minutes. Sprinkle little water every now and then to prevent the rice from burning. Sautéing the rice with spices increases the flavor. So, don't skip it.
Pour in 2 & 1/2 cups of water and allow it to boil. Let the rice cook till there is some water left. Cover the pan and let the rice get steamed for 10-12 minutes.
When the rice is done, add the lemon juice as per your taste. Finish the pulao with cilantro. Serve hot with curd or a side dish.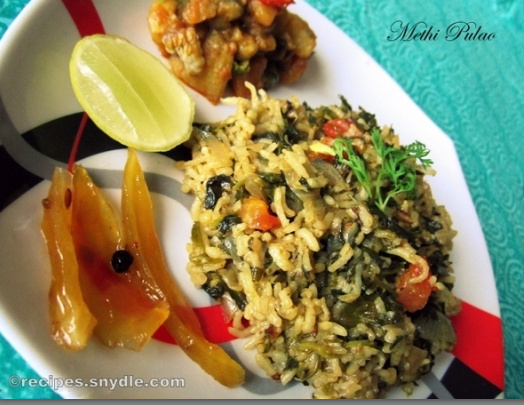 Notes:
Methi pulao can be prepared in pressure cooker too. It will take 1-2 whistles to cook the rice.
Use long grain basmati rice for best results.