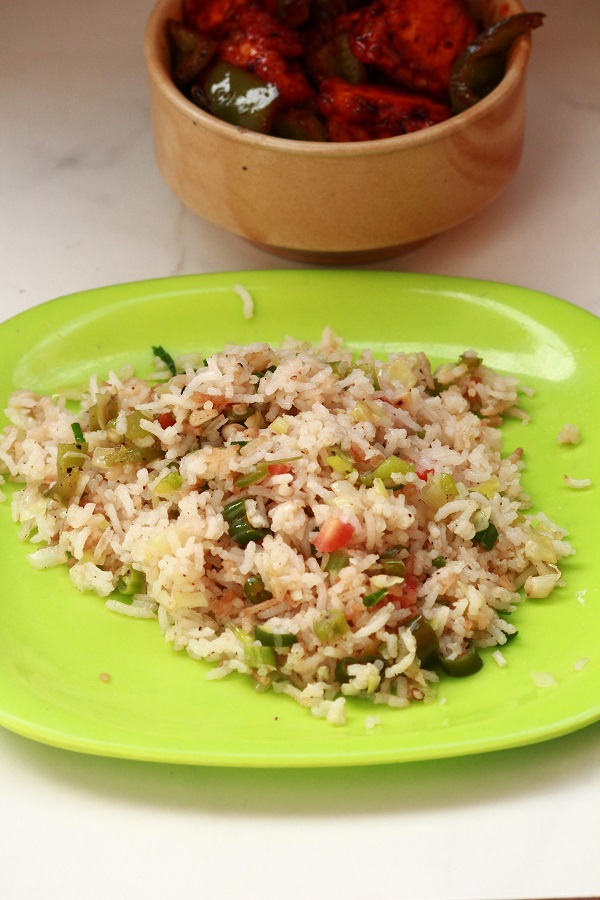 Today's recipe is a simple fried rice.  It is an Indo Chinese dish which every Indian likes to have. There are various ways in which fried rice can be made like chinese fried rice, schezwan, egg and so on.
This veg fried rice is one of our favorites and a dish which is ordered very often whenever we go to a restaurant.  The addition of celery is important in the preparation of this veg fried rice which gives it its chinese touch.  But since I didn't have celery at home, I haven't added any here.
I have added vegetables like carrots, beans, cabbage, and capsicum while making this rice, but you can add any vegetable of your choice.  You can also add mushrooms or baby corn or add items like soya chunks, tofu or others to increase the protein content.'
There is one more thing which has to be taken care of while making veg fried rice.  The rice should be cooked well but not mushy.  It should be separate and not stick to each other.  You can add a teaspoon of oil and little bit of salt while cooking the rice.  This will avoid the rice from sticking to each other.
You can serve veg fried rice with veg manchurian, paneer manchurian, chili paneer or any other dish of your choice.  I have served this with chili paneer.
Chinese fried rice recipe
uncooked rice – 1 1/2 cup
garlic – 2 (crushed)
green chilies – 2 (finely chopped)
spring onion –  6 – 7 (chopped- green and white separate)
beans – 1/4 cup (finely chopped)
carrot – 1 (finely chopped)
capsicum – 1/2 (chopped into tiny cubes)
salt – 1 teaspoon
pepper powder – 1/2 teaspoon
ajinomoto – 1/4 teaspoon (optional)
soya sauce – 1 -2  teaspoon
vinegar – 1 teaspoon
celery – 2 teaspoons finely chopped
How to make vegetable fried rice
1. Soak basmati rice in water for 20 minutes.  Drain it and keep it aside.
2.  Cook rice in 3 cups of water till it gets cooked well.  Spread it on a plate and allow it to cool.
3.  Heat 2 tablespoons of oil.  To this add garlic, green chilies, and spring onion white.  Stir well.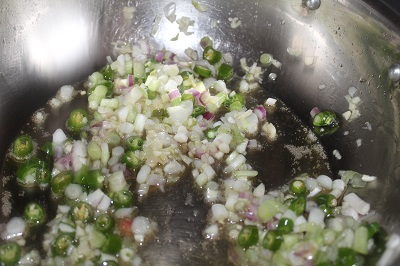 4.  Add beans and then stir for a minute.  Add carrots, again, stir fry for another 1 more minute.
5.  Next add capsicum, stir well.  Add chopped celery also at this stage if you are using it.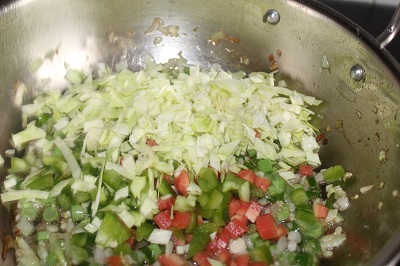 6.  Add salt, pepper powder and ajinomoto.  Addition of ajinomoto is optional.  I haven't used any.  Mix well in high flame.
7.  Reduce the flame, add rice.  Add soya sauce and vinegar.  Mix well.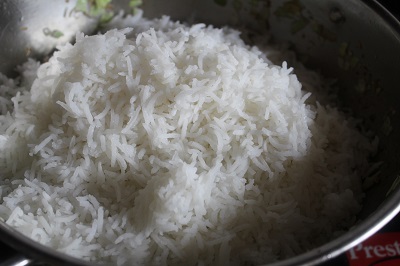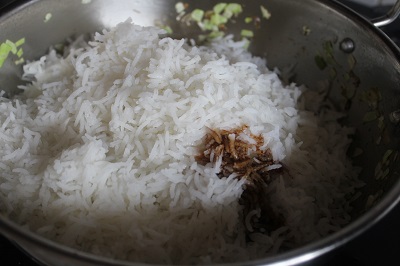 8.  Finally add spring onion greens, stir fry for another 2 more minutes.  Turn off the flame.  Serve hot.