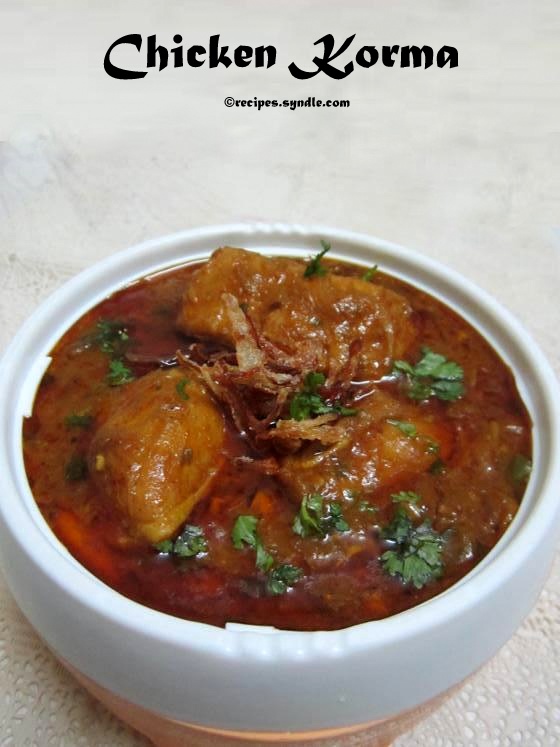 Hello, dear readers. Today I am sharing the recipe of traditional chicken korma with step-by-step pictures. This one is very close to the authentic Pakistani chicken korma recipe. Among all the chicken kormas I have ever had, 2 of them are my favorites. The first one is this and the other on is the recipe of chicken korma that is cooked with coconut milk. The Pakistani chicken korma gravy base consists of fried onions or barista and yogurt. Since the chicken we get in India takes longer to get cooked, I brined it for about 15 hours. I made a simple brine and you can check the procedure here. Trust me when I say that this is a very easy chicken korma recipe. Do try it once and I am sure you will love it.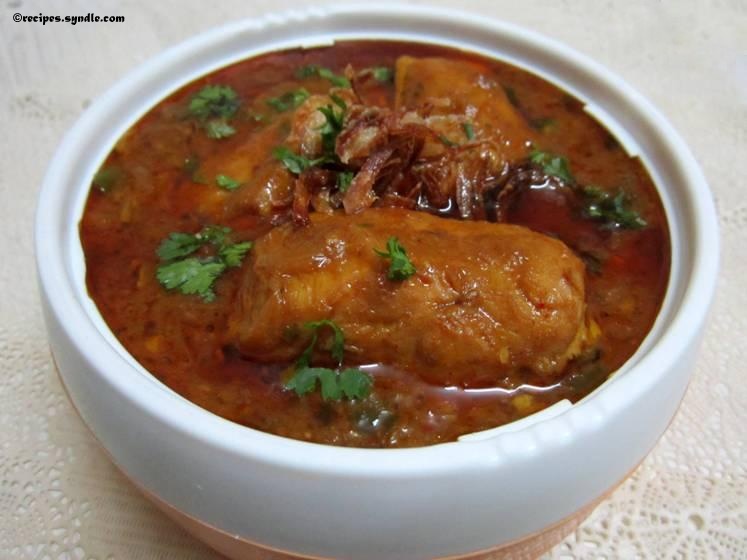 Once brined, the chicken cooks faster and feels juicier. I made this chicken korma recipe in ghee or clarified butter. If you are health conscious or just don't like ghee, you can use oil too. Let's start with the recipe of chicken korma curry. This recipe yields 3-4 servings. For the purpose of measurement, 1 cup = 250 ml.
Ingredients
Whole chicken – 750 grams
Barista – from 2 large onions (Recipe here)
Water – 1 and 1/2 cups
Fresh thick yogurt – 1 cup, whisked well
Green chilies – 4, split lengthwise
Ginger – 2-inch piece, crushed finely in a mortar pestle
Garlic – 20 cloves,  crushed finely in a mortar pestle
Coriander leaves – a handful, finely chopped
Ghee / Clarified butter – 5 tbsp
Salt – to taste
Whole Spices
I do not like many whole spices in the curries. But if you like, you can add more and adjust the quantity of red chili powder and garam masala powder accordingly.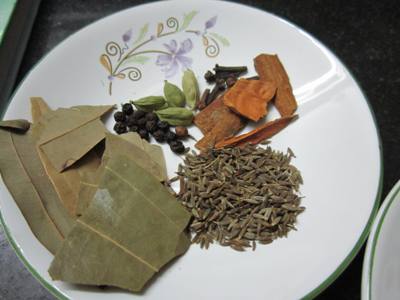 Green cardamom – 4
Black peppercorns – 15
Bay leaves – 4
Cumin seeds – 1 tsp
Cinnamon – 2-inch piece
Cloves – 5
Dry Spice Powders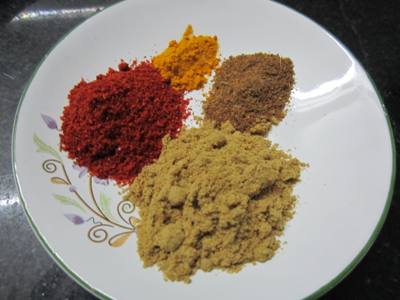 Red chili powder – 2 tsp
Garam masala powder – 1 tsp
Coriander powder – 4 tsp
Turmeric powder – 1/2 tsp
Other Ingredients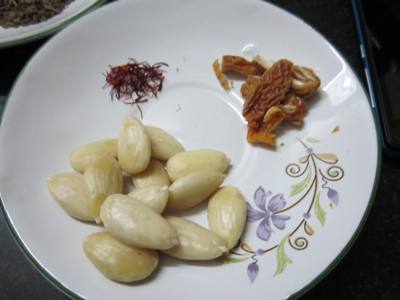 Almonds – 12, blanched and peeled
Saffron – a pinch
Dry dates – 2, chopped lengthwise into four pieces each
How to Make Chicken Korma
Heat a saucepot or a skillet. Add ghee to it. Allow it to melt and heat up nicely.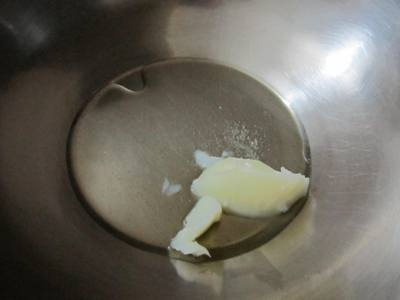 Add chicken and whole spices. Fry the chicken well for 3-4 minutes till it turns white and the spices give out a nice fragrance.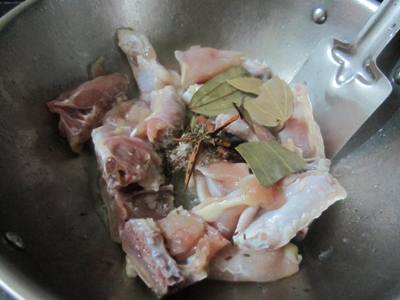 Add in the ginger and garlic and all the dry spice powders. Do not add any salt yet if you are using brined chicken like I did. Mix well and roast the chicken well for 10 minutes on medium-high heat. Sprinkle water when the mixture gets dry and begins to stick to the bottom. Sprinkle more when it dries up again.I used up half cup of water for sprinkling and roasting process. This step is very important.
Add in the almonds, saffron, and dried dates. Roast the chicken for further 5-10 minutes. The chicken will get a nice golden brown color from the roasting and the spices will have seeped in too. The ginger and garlic will get dissolved too.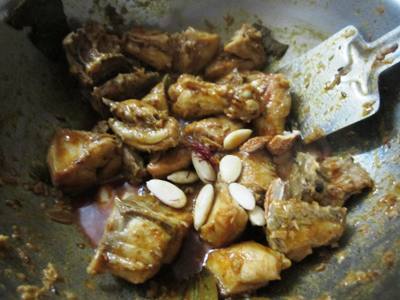 The chicken will be almost cooked by now. Add in the crispy fried onions/barista that have been crushed with hand. Save some for garnish. Mix well.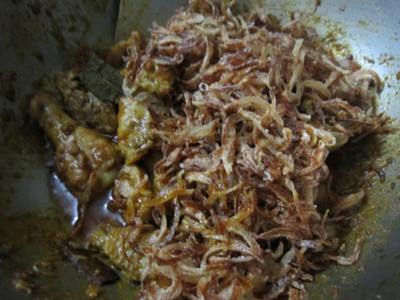 Add in the thick, whisked yogurt. Mix well and roast for a minute or two by stirring constantly because the mixture is pretty thick at this stage.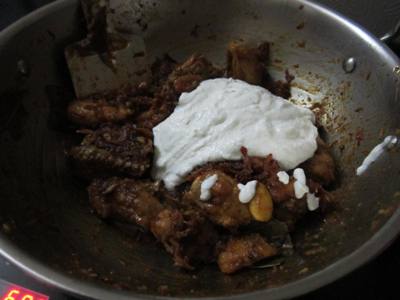 When the yogurt heats up, add in the remaining 1 cup of water. Bring it to a boil and then turn the flame to low. Check the salt. Add some if its less. Cover the skillet and allow the chicken to simmer away for 10-15 minutes. Stir after every 4-5 minutes.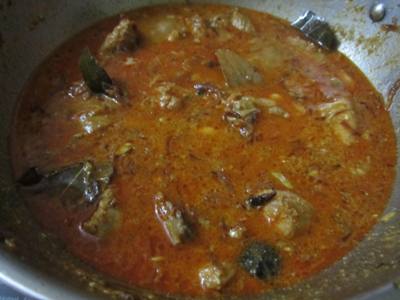 The gravy will have thickened now.The ghee floats on top. The barista will have dissolved off too and you get a very smooth gravy.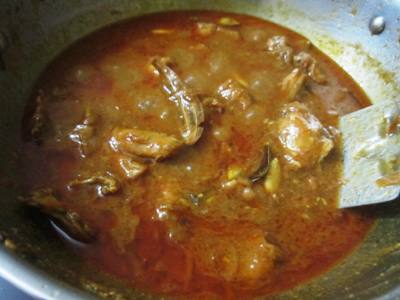 Turn off the flame. Add the chopped coriander leaves and green chilies. Mix well. We don't want the hotness of the chilies to get into the gravy. We just need their flavor.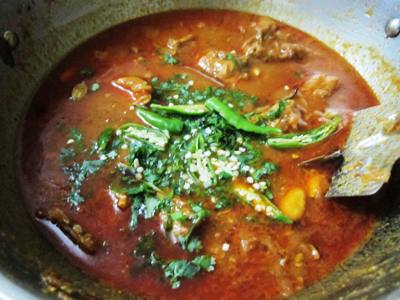 Garnish the chicken korma with barista after transferring it to a serving bowl . Serve hot with naan, rice or rotis. We served the Chicken Korma with the Chili-Garlic Roti. Enjoy!