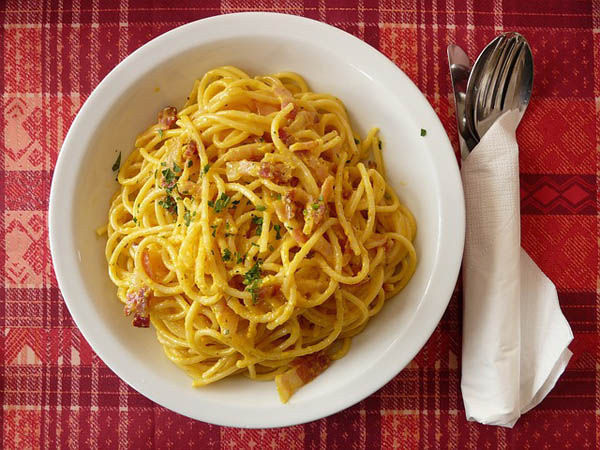 Preparing a home-cooked meal is something that every woman would love to do for her family. There is a certain satisfaction that you can feel from seeing the look of delight and excitement on your family's faces when they taste something that they really like. However, these days, a lot of women are working and carving a career out for themselves as well. You could be one of those women and find yourself too tired after a hard day's work. There is usually little time and energy left to prepare a wonderful meal. However, this doesn't stop you from wishing you could still be able to prepare a sumptuous meal.
It is certainly understandable these days that women have so little time to cook a decent meal especially working women. So we have revamped a classic recipe of the ultimate spaghetti carbonara to fit the busy lifestyle of every career woman today. This could take only a few minutes of preparation and it can turn out and taste like it was prepared for hours.
Pasta is always one of the best dishes served during meals. Not only is it one of the best tasting dishes, it also serves as a complete meal. So you can choose to prepare just one dish for your meal. Dazzle your family with this easy to prepare spaghetti carbonara. Spaghetti has always been a favourite among young children while carbonara has always appealed to the more mature audience. By combining the two, you can already cater to everyone's preference.
Spaghetti Carbonara Recipe
Ingredients:
100g cooked bacon
50g grated cheese
50g parmesan cheese
3 eggs
350g spaghetti
2 peeled garlic cloves
Salt to taste
Ground Black Pepper to taste
How to Cook Easy Spaghetti Carbonara 
Using a large saucepan, bring water to boil. Add 1 tsp. of salt into the boiling water and add the spaghetti. Allow the water to boil again after the spaghetti is submerged before turning the heat down. Allow the water to simmer and wait for 10 minutes. Check the state of the spaghetti from time to time in order not to overcook the pasta.
While cooking the pasta, bring another pan to heat and cook the bacon along with the garlic. Allow the bacon to cook well or as desired.
Once the pasta is cooked, transfer the drained pasta on to the pan with the bacon. Beat the eggs together and add the cheese in the mixture. Once thoroughly mixed, add the mixture into the pan with the pasta. Stir well and add water when needed.
Take the pasta out from the pan and place on a serving dish. Add some grated cheese and the black pepper to garnish. Best served hot.
The whole cooking and preparation process can be finished in less than 30 minutes. You can serve a delicious meal at the least amount of time possible. This is perfect for women who are too busy to spare countless hours in the kitchen. With recipes made easy, you can already make your family happy and stuffed with a delicious home cooked meal.
Photo: Hans/Pixabay