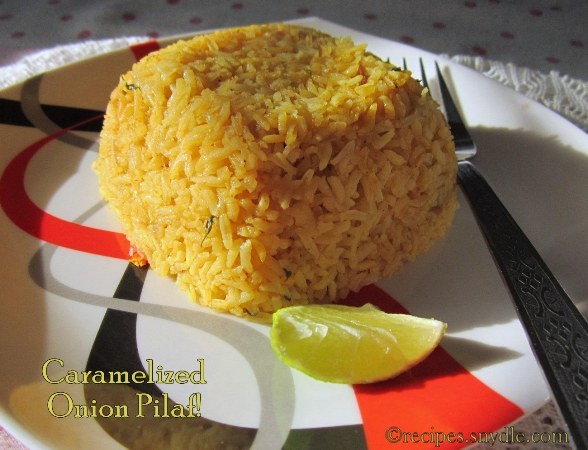 Hello there again! Looking for a good rice recipe for lunch, are we? Great! Because today's recipe is a pilaf recipe coming straight from the kitchen of a Sindhi household. Sindhi pulao is a rice preparation consisting of rice combined with fragrant caramelized onions and earthy spices.
It requires just the basic ingredients in your kitchen. The technique of cooking is what makes this rice recipe so special. We often have it with Sai Bhaaji, which is a thick curry consisting of spinach, chana daal and spices. The combo is just so heavenly. It's like tasting nirvana!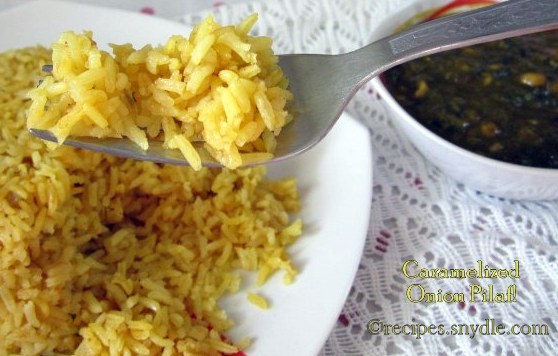 So with further ado, let's get started with the recipe. This is a recipe for two. So, adjust the quantity of ingredients proportionately if you are preparing this dish for more people.
Ingredients
Basmati rice – 1 cup, washed and soaked for 20 minutes
Onion – 3 medium, finely chopped
Tomato- 1 medium, chopped
Green chilies – 3, chopped
Cilantro – A handful, chopped
Turmeric powder – 1/3 tsp
Red Chili powder – 1/2 tsp
Coriander powder – 1/2 tsp
Garam Masala – 1/2 tsp
Salt- To taste.
Bay leaf- 1
Oil- 2 tbsp
Water- 2 cups or as needed
How to Make Caramelized Onion Pilaf
Heat the oil in a heavy-bottom skillet. Toss in the bay leaf and onion when the oil is hot. Sauté the onions on a high to medium flame while stirring occasionally.
We want the onion to turn dark golden brown. It should be fragrant and not burned. This process may take 10 to 15 minutes.
It's time to add in the chopped green chilies, tomato and cilantro. Sauté for a couple of minutes so that the raw smell the of tomato wanes away. The tomato need not be completely mashed. The small pieces render a nice touch to the pilaf.
Add in the salt and all the spices, i.e., the turmeric powder, red chili powder, coriander powder and garam masala. Sauté it for 2 minutes.
Toss in the rice and combine everything well. Sauté the rice with the onions and spices so that it acquires the color. This process will need 5 to 7 minutes. Add a spoonful of water whenever needed to avoid burning the rice.
Pour in the hot water and adjust the salt. Allow the water to come to a boil. When half the water evaporates, cover the skillet with a lid and cook for 7 to 8 minutes till the rice is completely cooked. The grains of rice should not cling to each other. Turn the flame off. Caramelized Onion Pilaf is ready.
Open the lid after 5 minutes and serve steaming hot spinach or spicy potato fries a side dish of your choice.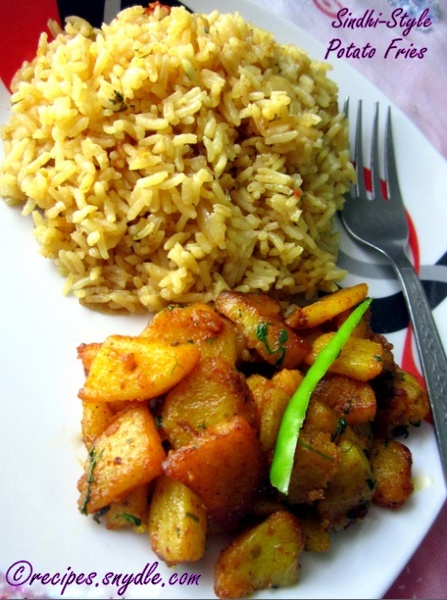 You can find the recipe of Sindhi Style Potato Fries here -> How to Make Sindhi-Style Potato Fries.
In the next post, I will share the recipe of Sindhi Sai Bhaji. Stay tuned.
Note: You can use ordinary rice if you do not have basmati rice at hand. The pilaf will taste equally stunning. I used Surti Kolam rice.