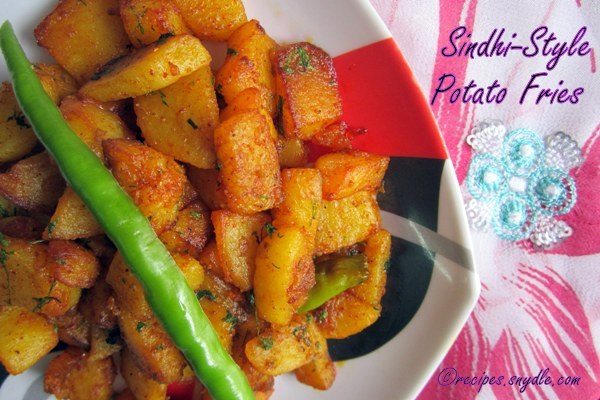 There are several reasons why I am mad over potatoes. One of them is, potatoes are the most versatile and easiest to cook vegetable. A humble potato can be transformed into delicious patties, potato salad, stews, curries and fries within minutes!
Today's recipe is very simple. – Sindhi-Style Potato Fries. It is fried crispy potatoes seasoned with spices. Potatoes are cooked this way in every Sindhi household. It can be teamed up with dal-rice, khichdi and sweet semiya/vermicelli etc. It goes really well with Caramelized onion pilaf, the recipe of which I will share next.
Preparing potatoes this way is similar to making french-fries. This recipe yields for 4 people.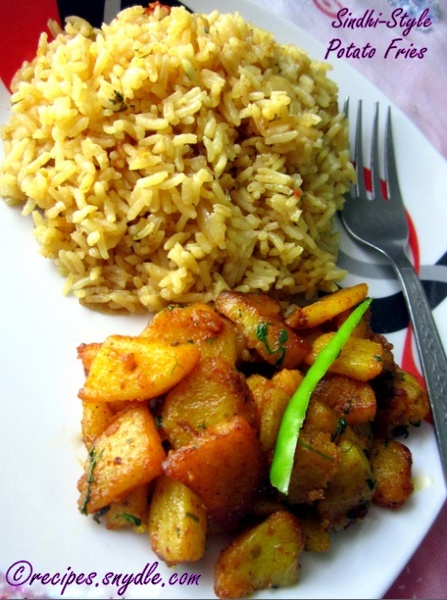 Ingredients
Potatoes – 5 medium-sized, diced into small 1/2 inch cubes
Whole green chilies – 5
Oil – For deep-frying
Turmeric powder – 1/3 tsp
Red chili powder – 1 tsp
Coriander powder – 1/3 tsp
Salt – To taste
Cilantro – 2 springs, chopped
How to Make Sindhi-Style Potato Fries
Heat sufficient oil in a skillet. When the oil is hot, carefully and gently drop in the potatoes and fry them while stirring occasionally. They should be golden and crusty from outside and properly cooked from inside. Keep the flame on medium heat.
Remove the potatoes and place them in another skillet.
Fry some whole green chilies for a few seconds in the same oil. Please be very cautious while doing so. The chilies tend to swell up and split open splattering oil all around. Remove the fried chilies and keep them with potatoes.
Heat the skillet with fried potatoes and green chilies. Again, keep the flame on medium. Season the potatoes with salt and spices and toss it well. The spice powders should coat the potatoes evenly. Cook as you toss them occasionally for a couple of minutes for the raw smell of spices wane. Finish it with chopped cilantro.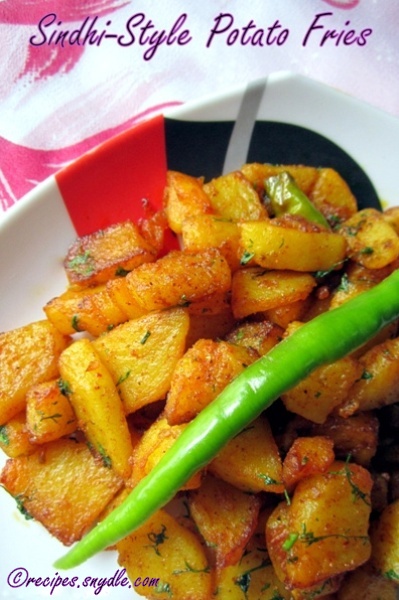 Serve hot with dal-rice, pilaf, or just with tomato ketchup as an appetizer or with anything else you like.