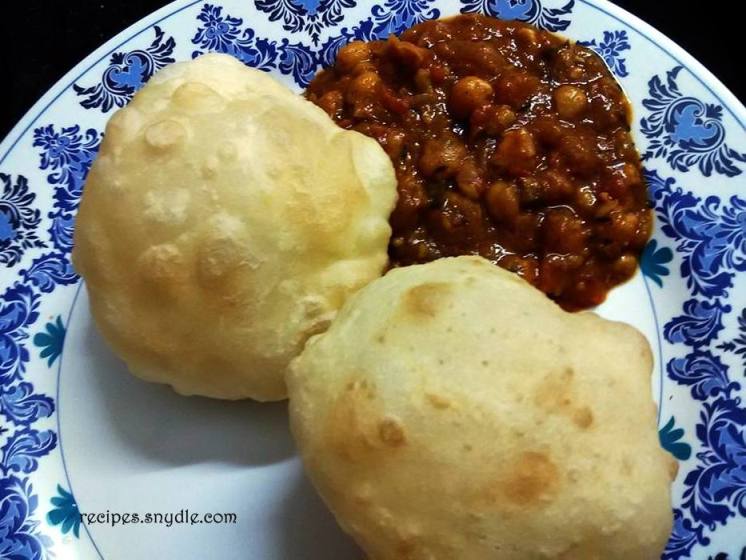 Hello dear readers. Earlier I shared chhole masala recipe, which I had served with bhaturas. You can find the chhole masala recipe here – How to Make Chhole Masala. Today I am sharing bhatura recipe. Bhatura is a type of flatbread that is traditionally served with chhole, i.e., the chickpea. It is made from refined flour or maida and deep-fried. A good bhatura is the one that melts in your mouth.
When I had visited Delhi, I noticed that people have chhole bhature for breakfast. I usually have been having it for lunch all these years. But you can have whenever you want because this dish is an absolute delight anytime of the day.
So let us see how to make perfect bhature to serve them with chhole masala, chana masala or any side dish you like. This recipe will yield 6  bhaturas depending upon the size. You might want to knead the dough in advance, because the dough needs to be rested for 2-3 hours prior to frying the bhaturas. I used American measuring cups, where 1 cup = 250 ml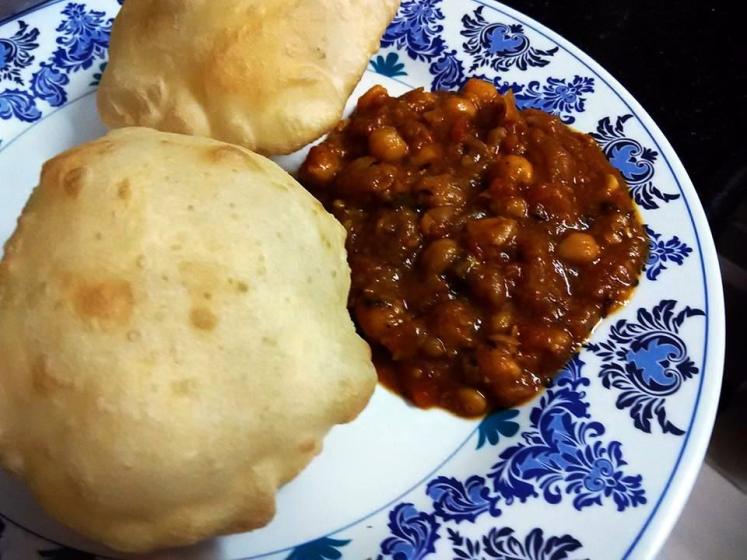 Ingredients
All purpose flour / refined flour / maida – 1 and 1/2 cups
Sooji / rawa / semolina – 2 tbsp (Use thin variety)
Fresh yogurt – 1/2 cup
Fine sugar – 1 tsp
Baking soda – 1/2 tsp
Salt – to taste
Water – As required
Oil – 2 tbsp and for deep frying
How to Make Bhaturas
Take a big bowl, sieve and combine together the flour, semolina and baking soda. Add in the sugar and salt.
Now add in the fresh yogurt and 2 tbsp oil and mix everything with your fingers, trying to incorporate the yogurt with the dry ingredients. The mixture with look a bit crumbly.
Add water little by little and knead soft, pliable dough. Apply a few drops of oil on the dough ball to prevent it from drying up. Cover the dough with a damp cloth. Allow the dough to rest for a 3 hours.
After the dough has rested, knead the dough once again. Split the dough in 6 parts. Roll out each part into a flat circle with the help of the rolling-pin. A size of 5 inch will be good. Roll out the dough very lightly. Putting too much pressure on the rolling-pin as you roll out the dough will prevent the bhatura from puffing up when you fry it.
Heat the oil to fry the bhaturas. The oil should not be smoking hot. Carefully drop the rolled out bhatura along the side of the skillet in hot oil till. Fry it till turns golden and puffs up nicely. Remove the bhatura on a kitchen towel to draw off the excess oil. Serve right away with chhole masala.