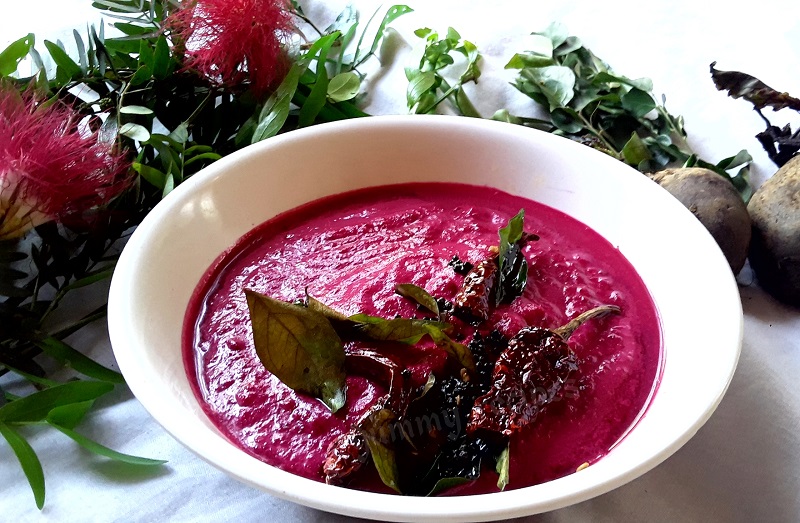 Beetroot pachadi is one of the traditional food in Kerala and also a main food in onam sadhya. This is the combination with beetroot and curd. We can make pachadi by using many vegetables. This is very color full and healthy beet recipe.we can serve beetroot pachadi with rice.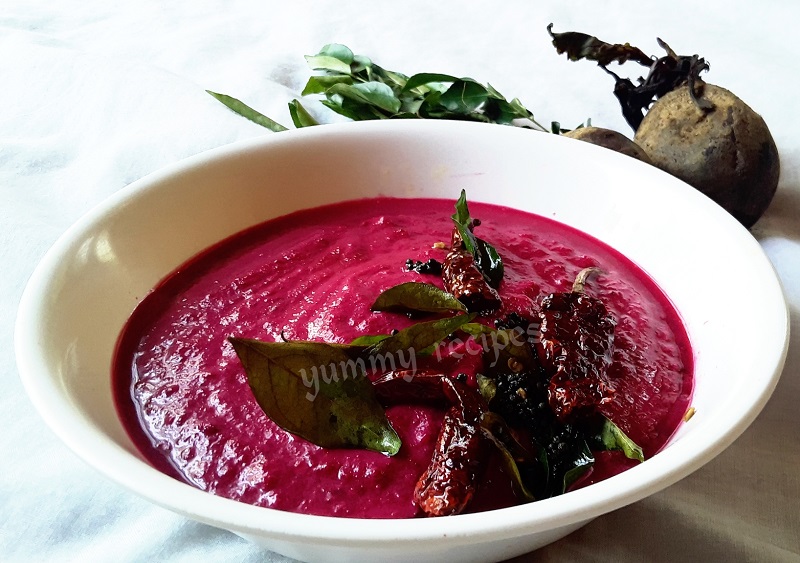 Beetroot is good for our health. Beetroot is good for our health. It reduces the blood pressure. Beetroot is also an excellent detoxifier. It cleans the liver. Let's see the ingredients list and making with detailed images.
Ingredients : Beetroot pachadi
Beetroot 1 medium size
Grated coconut 1 cup
Garlic cloves 3
Green chili 1
Shallots 4
Curd 3 or 4 table spoon
Water 1 cup
Salt to taste
Oil 2 table spoon
Mustard seeds 1 teaspoon
Curry leaves 1 spring
Dry red chili 2
Method of preparation : Beetroot pachadi
In a pan cook beetroot, (that I cut in to small cube pieces) by adding ½ cup of water and salt. Cook until the water evaporated from it. Then keep it aside to cool.

In a blender add grated coconut, garlic cloves, green chili shallots and 2 table spoon water.

Blend it well and make a fine paste, remove in to a bowl.

In the same blender add cooked beetroot and it makes a fine paste without adding water.

Heat 1 tablespoon oil in a pan and add beetroot paste and coconut paste. Sauté 2 minutes in low flame.

Add remaining water and allow it to boil. Then add curd and salt. Mix it well. Switch off the flame and remove in to a serving bowl.


Heat oil in a small pan adds mustard seeds, curry leaves and dry red chili. Then pour in to the beetroot pachadi.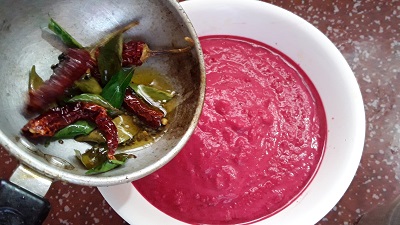 Now the tasty beetroot pachadi is ready to serve with rice. Enjoy cooking with yummy recipes.