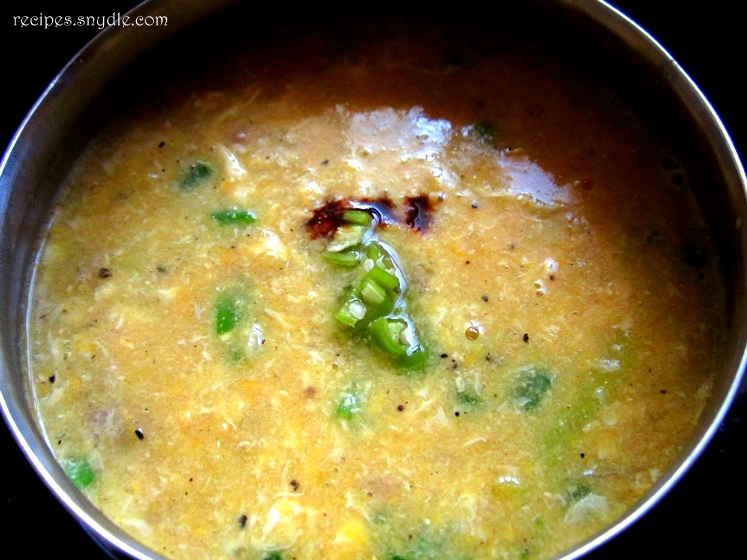 Hello buddies. Today I am sharing a very nutritious and healthy soup recipe. It's the Sweetcorn Chicken Soup, that I made without using canned creamed corn or any cornflour. Creamed corn does lend a creamy texture but it is laced with preservatives and smells nothing like fresh sweetcorn. I used fresh sweetcorn kernels to prepare the base of this soup.
Using water in this soup won't give you the best flavor. Adding chicken stock will make this soup more flavorful. You can make a fresh batch of chicken stock within minutes. Here is the recipe of Chicken Stock or Yakhni. It has an amazing warmth of ginger and flavor of garlic, and of course, the goodness of chicken. For thickness, I have used one egg. Pouring a thing string of beaten egg lends the soup a great texture, and thick consistency.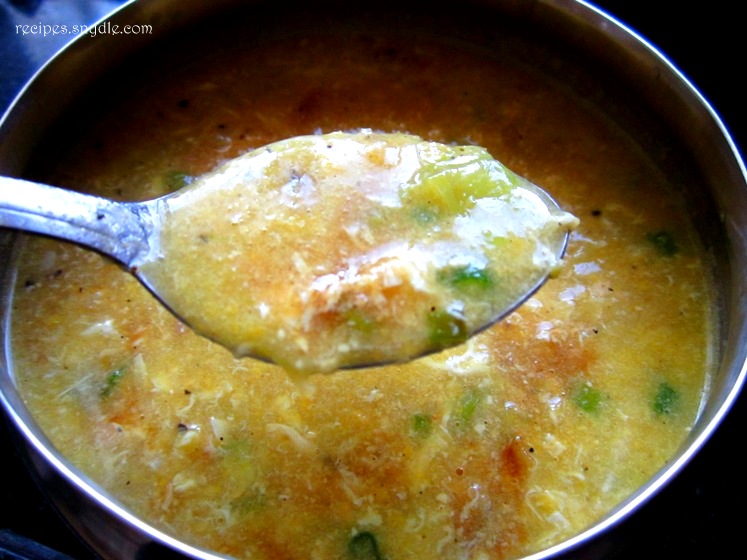 You can make chicken stock ahead of time and keep it in the refrigerator. This will save a lot of time when you make this soup.  Let's see how to make sweetcorn chicken soup now. I made one serving of this soup today. You can definitely double the recipe if you want to make 2 bowlfuls. For the purpose of measurement, 1 cup=250 ml. I added some cabbage to this soup, but it's completely optional.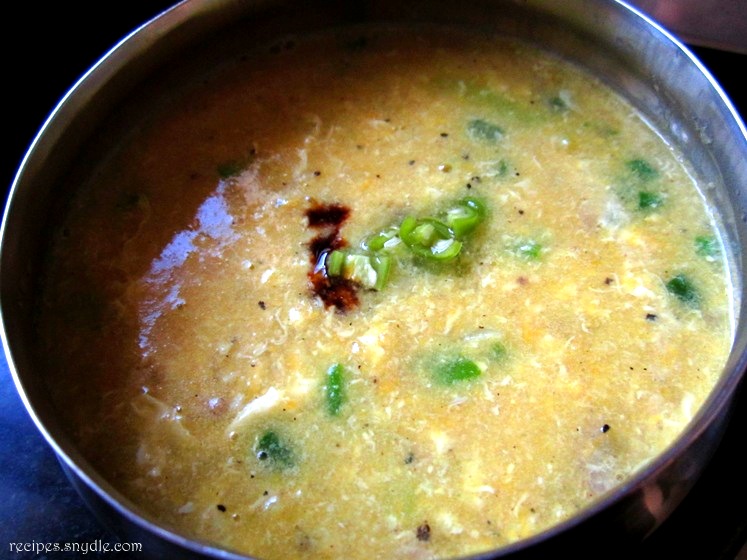 Ingredients
Sweetcorn kernels – 1/2 cup
Chicken stock – 1 and 1/2 cup (Recipe here)
Boiled chicken from stock – 1/3 cup to 1/2 cup, as much as you like
Egg – 1, beaten
Spring onion whites – 1 tbsp
Salt – to taste
Freshly cracked black pepper – to taste
Spring onion greens – 2 stalks, finely chopped
Cabbage – a handful, shredded or chopped (Optional)
Butter – 2 tsp
For serving
Soy sauce – 2 to 3 drops
Green chilies soaked in vinegar – to taste
How to Make Chicken Sweetcorn Soup
Boil sweetcorn kernels for 10 minutes. Drain them and let them cool. Grind them to a smooth paste using some water.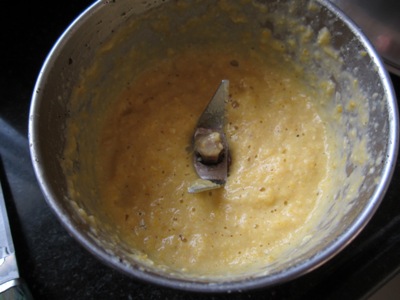 Melt butter in a pan. Add spring onion whites to it and saute for a few seconds.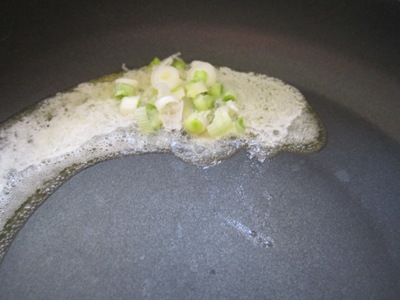 Add in the cabbage and saute for a minute.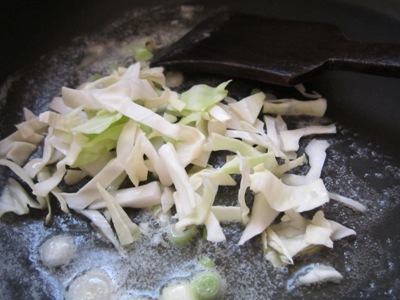 Add in the sweetcorn puree and a pinch of salt. Cook it on low flame for 2-3 minutes.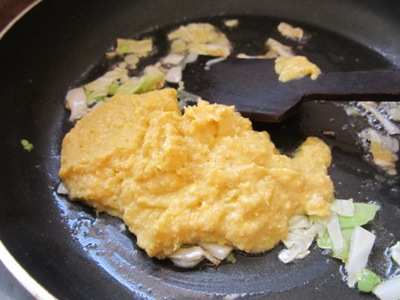 Add in the chicken stock and mix well so that there are no lumps.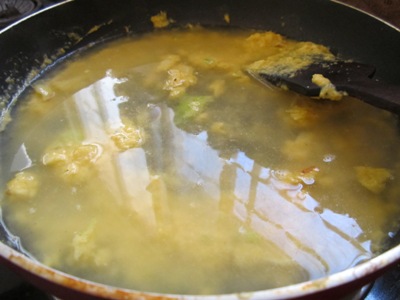 Add in the cooked/boiled chicken that you used to make the stock. Discard the bones. Use only the meat. Add in the black pepper as well.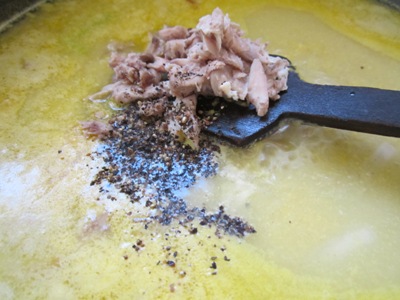 Let the soup come to a boil and then let it simmer for 2 minutes. Beat an egg in the meanwhile.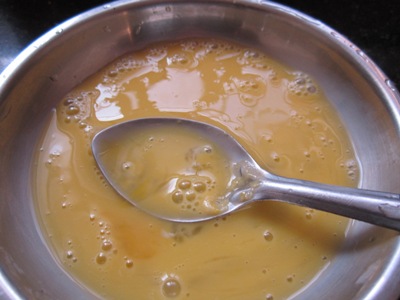 Pour the beaten egg from a height little by little into the boiling soup with a spoon, with one hand. Stir the soup with other handle. The egg will form threads.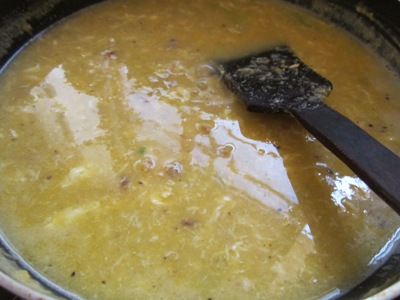 Let the soup boil on medium to low heat for another 2-3 minutes till the raw smell of egg is gone and soup thickens. Check the salt. Add in the spring onion greens and stir. Chicken Sweetcorn Soup is ready.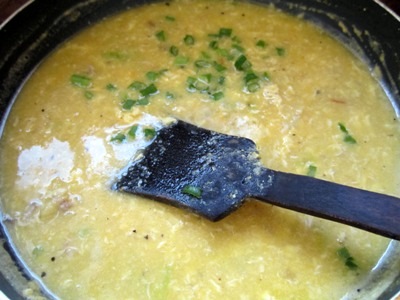 Pour it into a bowl. Drizzle 2-3 drops of soy sauce and add some chilies soaked in vinegar. Also, I added a few drops of vinegar along with the chilies.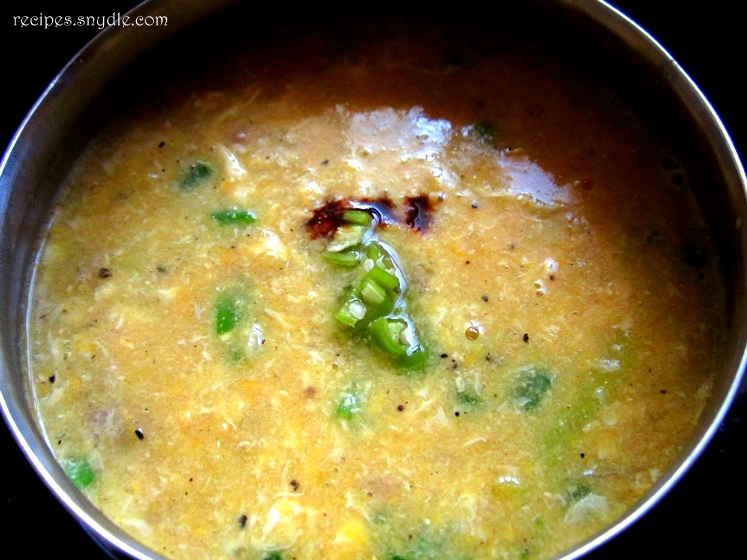 Serve hot! This soup is wholesome and tastes ridiculously good!