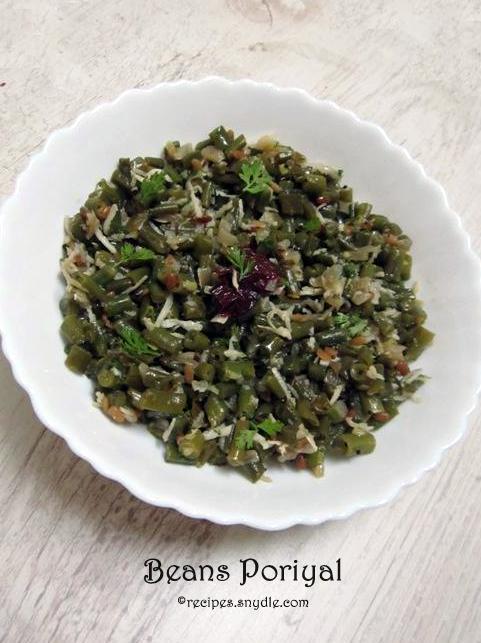 Hello foodies. Today I made a simple yet delicious dinner all by myself. Dad had a hankering for beans poriyal and Mom for yellow moong dal with a tempering of garlic and red chili. So I made both the dishes today. They were served with both roti and rice. Beans poriyal is a South Indian recipe that makes a delicious side dish for rice and dal.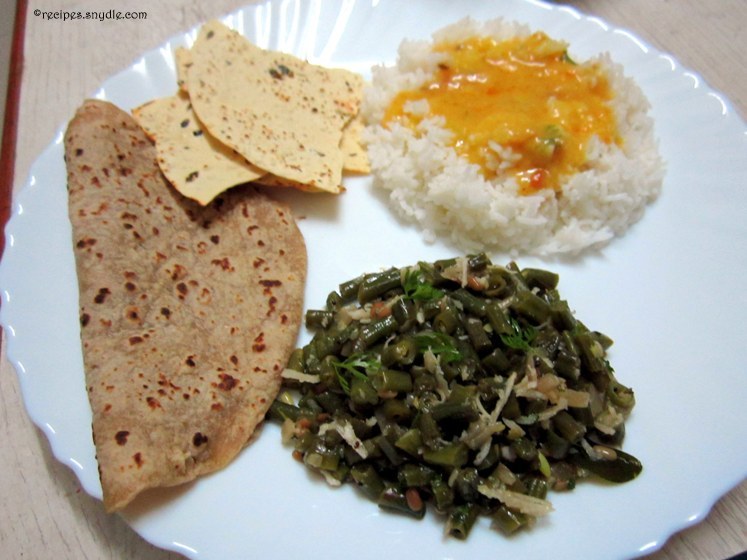 Beans poriyal is an incredibly easy recipe, gets ready within minutes and needs minimal ingredients. For those who aren't familiar with Indian cuisine, beans poriyal is a french beans curry made with fresh coconut. It is a dry recipe. It makes a great recipe for easy dinner ideas as well as an easy lunchbox recipe. Not to mention how nutritious it is. The fragrance of curry leaves and fresh coconut would fill your kitchen as you wait for it to get ready so that you could dig in. Since there are no spices except for chilies, which you can of course adjust as per your taste, this is a good recipe for kids.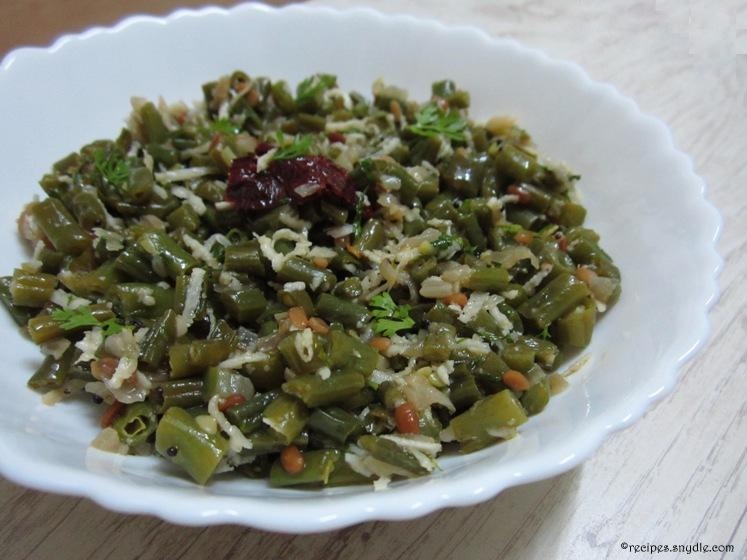 This is my Mom's version of Beans Poriyal recipe. Let's see how to cook french beans now. This recipe yields 3-4 servings. For the purpose of measurement, 1 cup = 250 ml.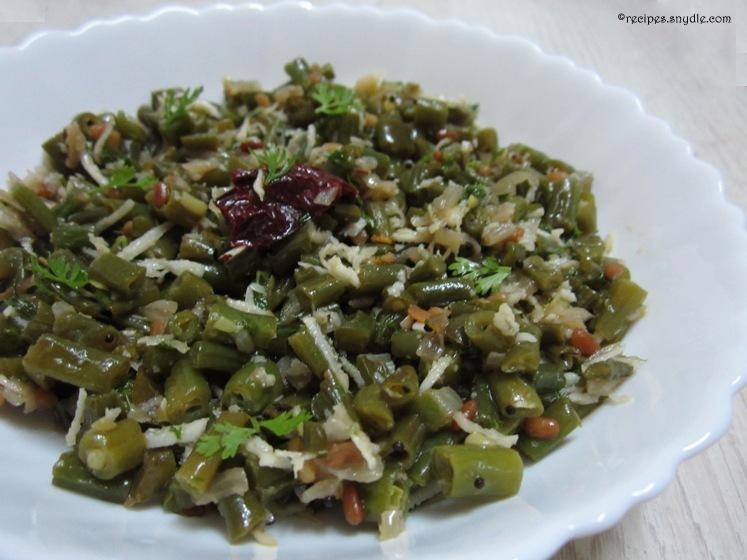 Ingredients
French beans – 3 cups, chopped to small bits
Onion – 1 medium, finely chopped
Green chilies – 3, split lengthwise
Mustard seeds – 1 tsp
Skinned urad dal – 1 and 1/2 tsp
Whole dried red chilies – 3 (I used Kashmiri chilies)
Curry leaves – 15 leaves
Hing / Asafoetida – a pinch
Salt – to taste
Fresh coconut – 6 tbsp, grated/shredded
Coriander leaves – a handful, finely chopped
Oil – 1 tbsp
How to Make French Beans Poriyal
Wash and chop the french beans.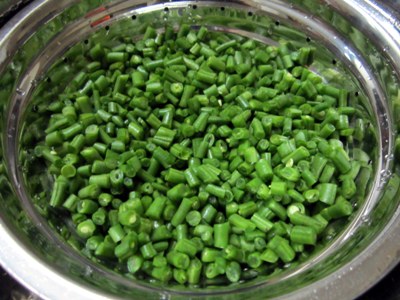 Heat oil in a skillet and add mustard seeds. Allow them to splutter.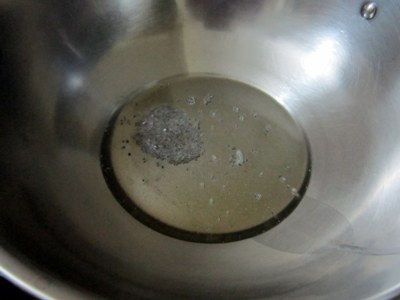 Add in the urad dal and fry it for a few seconds till it turns golden. Add in the asafoetida and fry it for another 4-5 seconds till it gives out a nice smell.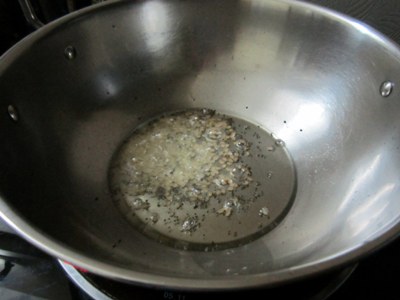 Add in the onion and saute it till it turns pink and loses its raw smell.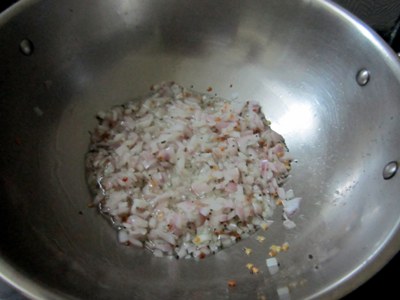 Add in the curry leaves and whole dried red chilies and saute them for a minute till they become aromatic.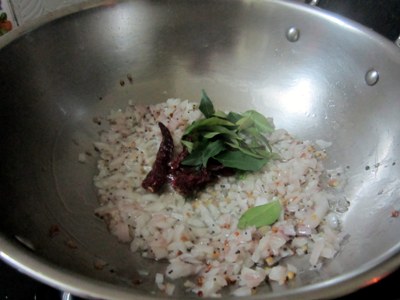 Add in the french beans and salt. Saute it for 2-3 minutes.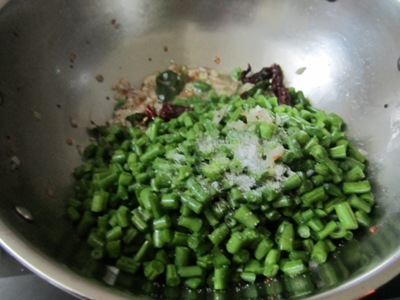 Add in the green chilies. Mix. Then cover the skillet and allow the beans to get cooked on low flame. The french beans oozes out enough water. If yours doesn't and the mixture looks too dry, then add 1/4 cup of water and then cover the skillet.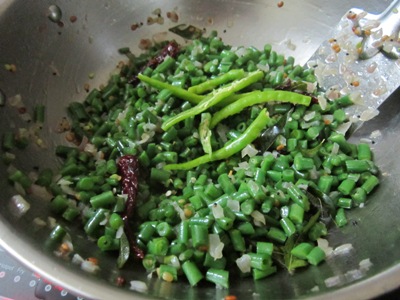 After about 10 minutes, the beans would be done. Add in the coconut and coriander leaves. Mix well. Switch off the flame, else the coconut would start releasing its oil.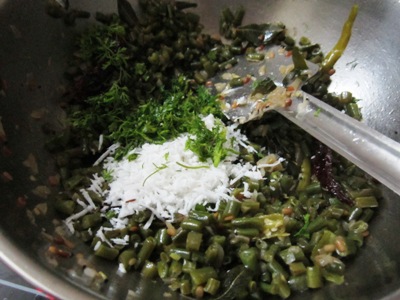 Beans poriyal is ready. Serve hot with rotis or dal rice. Enjoy!