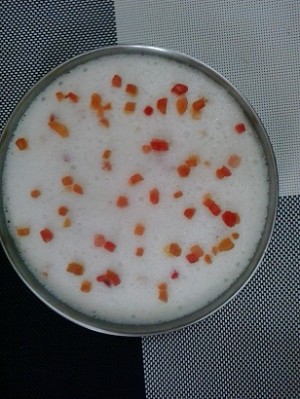 Vattayappam  is a traditional dish of Kerala. It can be used as  a snack and as a  meal. It is a fermented steamed pan cake. It makes  in special occasions. This is soft and fluffy. We can make it in different  shapes . If we don't have round vessel to fit correctly in the steamer .We can use idly pan. According to our preference  we  can  use  jaggery  or  white sugar. Beef or  chicken curry  is  the  combination  for this. My mother in law  used to make for dinner. She was making with roasted rice. But today I am going to make it with soaked white rice. When you use roasted rice powder,mix it with hot water.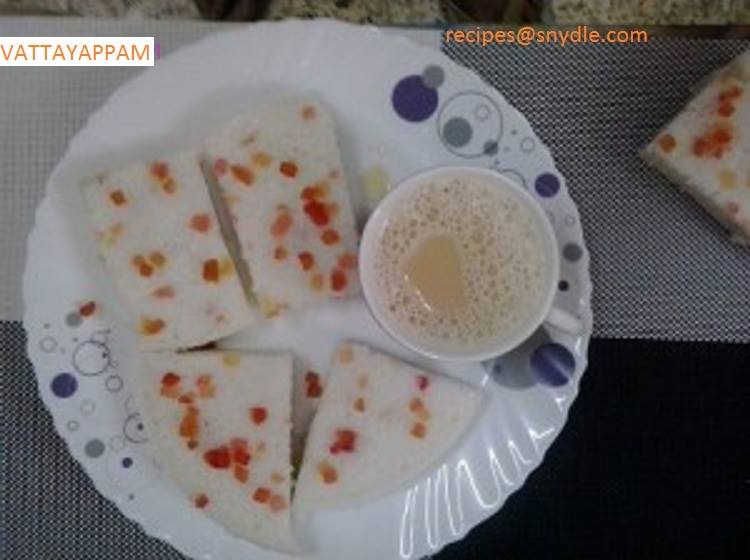 Ingredients
Soaked white  rice -2 cup
Grated coconut-1 cup
Sugar-1 cup
Cooked rice or paav-4 tbsp
Yeast -1/4 tsp
Cardamom-3
Tutty  fruity-to  decorate(Cashews,Raisins,Banana,Cherries)


How to Make Vattayappam

Soak the white rice for 6 hrs.
Keep  the   yeast  in  warm  water  with  2 tsp sugar for ½ an hour.
(left over old  appam  batter or sweet coconut water with sugar in an air tight container for 2 days  also preferable)
Grind the rice with coconut,sugar ,yeast and cooked rice as  a semi thick batter.
Keep the batter to ferment for 6 hrs (according to the climate the fermentation time will change)
Add salt and powdered cardamom . Stir well.
Keep the steamer on the flame.
Keep the vessel in it.
Pour the batter till ½ part of the vessel.
when it half cooked, put the decorative items over it.
Close the lid allow to cook.(it is optional to spread oil or ghee in the vessel before pouring the batter.)
When it is cooked the batter will be doubled and  appam will fluffy.
;