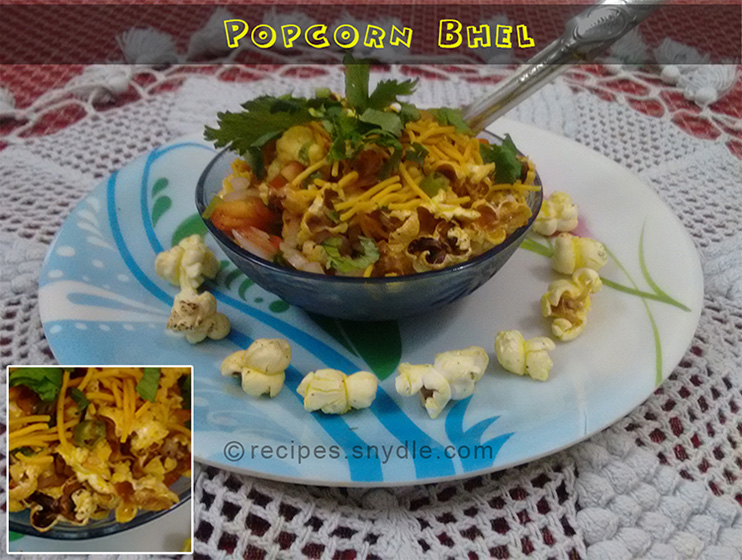 Preparation Time- 10 Mins
Cooking Time- 5 mins
Hello dear foodies. I am sharing an easy and quick recipe of Popcorn Bhel, which is a very healthy snack.
Bhel is a popular Indian snack. It has a spicy and tangy taste. You can find a wide variety of bhel. Most bhel recipes call for puffed rice or the kurmura / murmura. Since I like fusion food, I used popcorn instead of puffed rice. It's one of my most favourite snacks. Popcorn bhel is a healthy way to satiate your tummy between meals. Don't fight with your small hunger, have a popcorn bhel. Now let's begin.
NOTE  There are many flavours of Act II popcorns available in the market but best flavours for popcorn bhel is Act II Classic salted popcorn and Act II butter Delight popcorn.Those who are using dry corn, please add 1 tbsp oil or butter before adding corn to the cooker.
Ingredients:
Act II butter popcorn – 1 Packet OR ½ cup dry corn
Onion – 1 medium, finely chopped
Green chilli – 3 or to taste, finely chopped
Tomato – 2 small, finely chopped
Coriander leaves – 3 tbsp, finely chopped
Lemon juice – 2 tbsp
Sev (Gram flour noodles) – 4 tbsp
Salt – to taste
Cumin Powder –3/4  tbsp

How to Make Popcorn Bhel
Add Act II popcorn in cooker close it without whistle, put it on high flame. Once the corn pops, remove it to a bowl and keep it aside.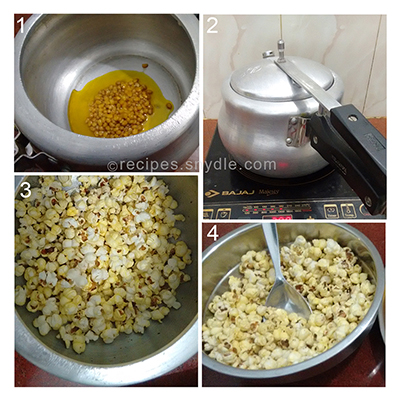 Take another bowl and mix together onion, tomatoes and green chilli. Add some salt, cumin powder and lemon juice and mix it well.
Now add popcorn, half of the chopped coriander leaves, and half of the sev. Mix it well.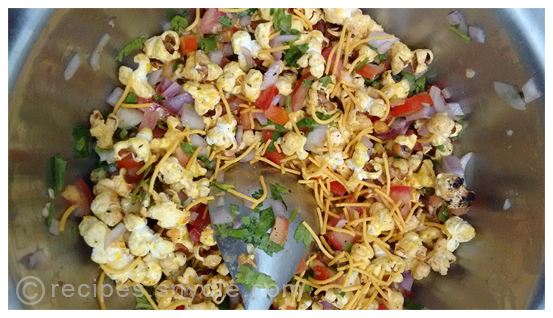 Serve the popcorn bhel in small bowl or on a plate and garnish with the remaining coriander leaves and sev.
Popcorn bhel is ready. Serve immediately.