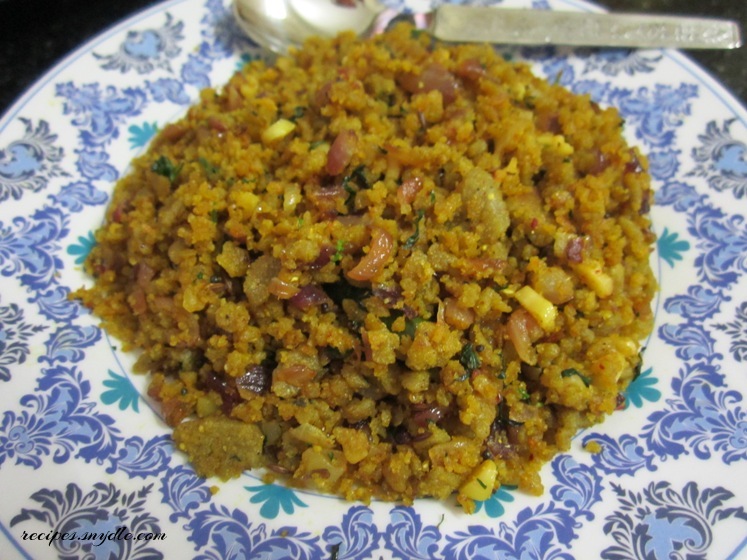 Vaghareli Bhakri Recipe with Step by Step Pictures.
Hey foodies! Today I am sharing the recipe of a popular Gujarati snack called Vaghareli Bhakri. It is made from leftover bhakri or jowar (Sorghum) / bajra (Pearl Millet) flatbread. I usually make it when I don't feel like cooking much and want have a quick bite to curb the hunger pangs. Vaghareli Bhakri is spicy, and very tasty. Even though it need only the most basic spices and condiments in your kitchen, there is something really satiating about this dish. I think it is safe to say that Vaghareli Bhakri has made it to the list of my favorite comfort foods.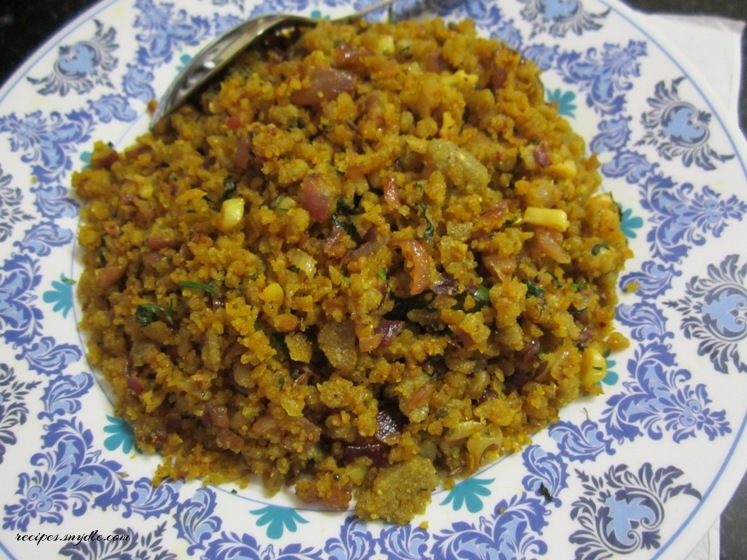 It's really healthy to eat bajra and jowar flatbreads during winters because of the inherent quality of these grains of being hot in nature. So the flatbreads made using these flours keep you warm. I have noticed that the bhakris that the vaghareli bhakri tastes better if you use bhakris that are prepared a day before. The texture of the bhakri is much better and so is the taste!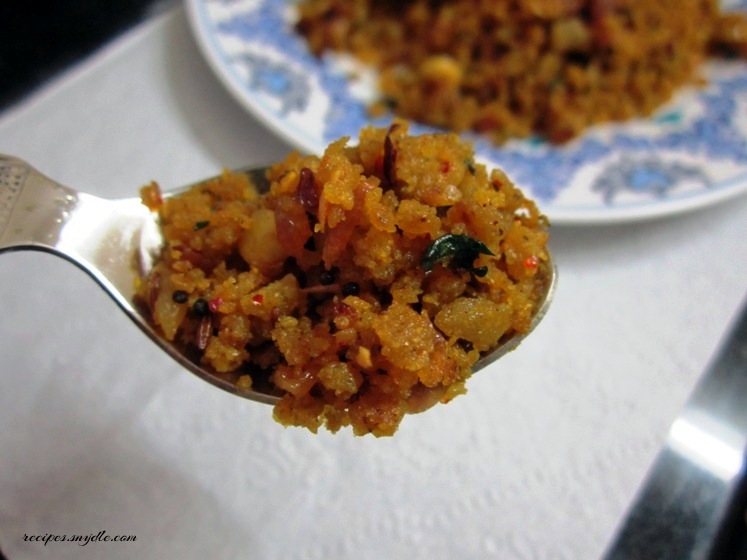 I had a couple of leftover bhakris from last night and I used them today to make evening snacks. I served this vaghareli bhakri with a cup of mint tea. Let's begin with the recipe of Vagareli Bhakri. This recipe yields 2 servings. Use bajra bhakri for a better taste.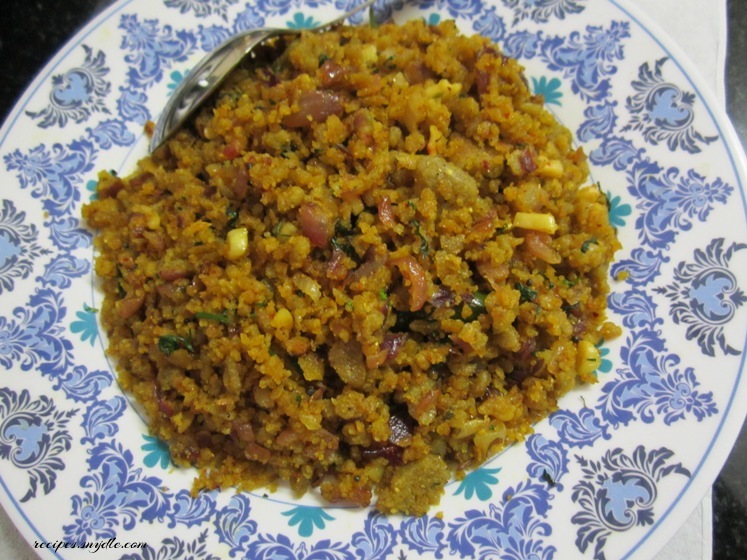 Let's start with the recipe for Vaghareli Bhakri. This recipe serves 2.
Ingredients
Bhakris / Bajra flatbreads – 2, medium sized
Onion – 2 medium, finely chopped
Garlic – 15 cloves, finely crushed
Green chilies – 3, split lengthwise
Curry leaves – about 15 leaves
Lemon juice- 2 tsp or to taste
Coriander leaves / Cilantro – a handful, finely chopped
Turmeric – 3/4 tsp
Red chili powder – 1/2 tsp or to taste
Coriander powder – 1 tsp
Asafoetida – 1/4 tsp
Salt – to taste
Oil – 3 tbsp
Cumin seeds – 1 tsp
Mustard seeds – 1 tsp
How to Make Vaghareli Bhakri
Break the bhakri into 4-5 pieces and put it into the blender jar or food processor.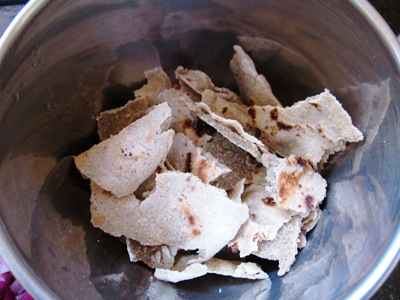 Grind it to smaller bits.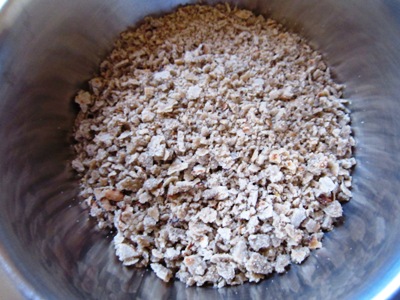 Heat oil in a skillet. Add in the mustard seeds and allow them to splutter. Add in the cumin seeds and allow them to splutter as well. Add in the asafoetida and let it cook for 3-4 seconds.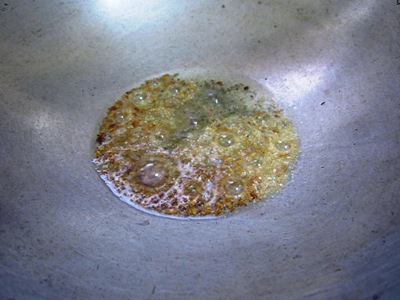 Add in the onion, green chilies, curry leaves and garlic and saute. The onions should turn translucent. and the raw smell of garlic should go away.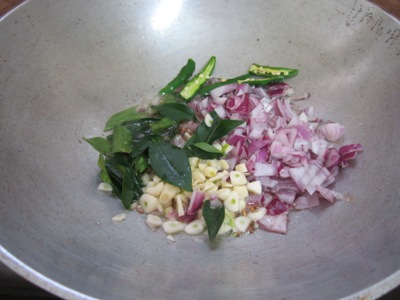 Add in the turmeric, coriander powder and red chili powder. Add salt. Mix well.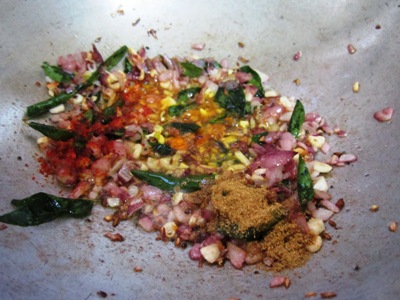 If the mixture looks too dry, sprinkle some water. Then add in the chopped/ground bhakri. Mix well.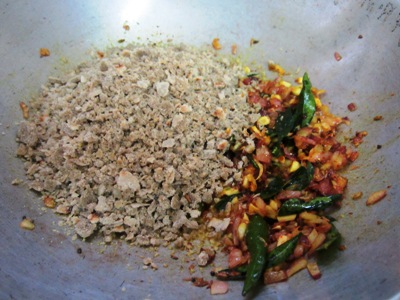 Let the bhakri get heated through and become a little crisp. Finish with some lemon juice and cilantro. Mix well.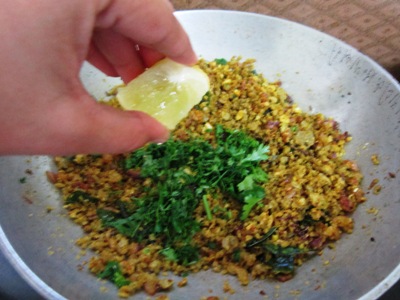 Vaghareli bhakri is ready. Serve hot as a simple lunch or breakfast or even as a tea time snack. Enjoy!