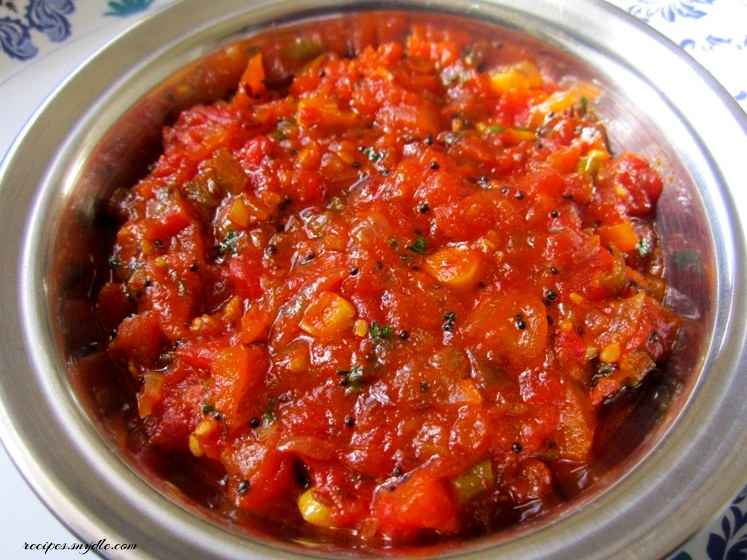 Tomato Chutney Recipe | Tamatar ki Chutney Recipe with Step by Step Pictures
Hi foodies! Hope you had a great Sunday! It's been so cold in India that I really don't feel like getting out of my duvet and get cooking. So I have been sticking to some snacks, healthy ones of course and some easy one pot recipes like this one.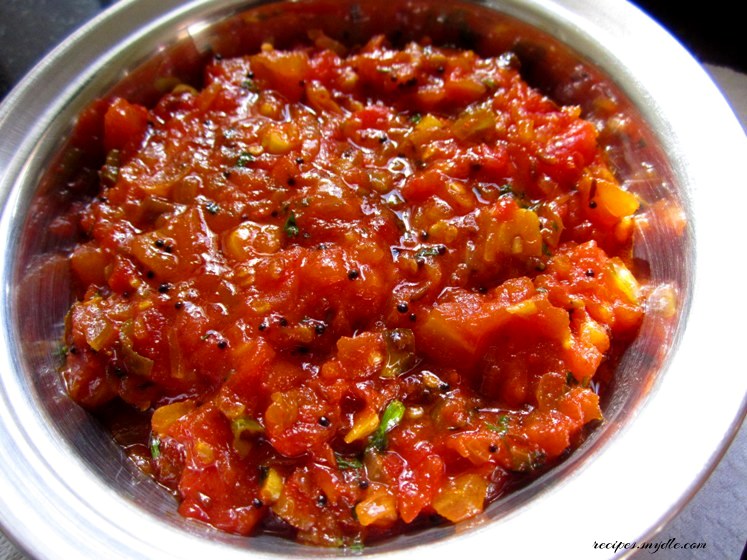 Today's recipe is Tomato Chutney or Tamatar ki Chutney. I know some people who also call it Tamatar ka Salan. That's kinda strange for me because Tamatar ka Salan has whole tomatoes cooked it gravy. But anyway, what's in the name? Anything cooked with tomatoes as the main ingredient ought to be delicious!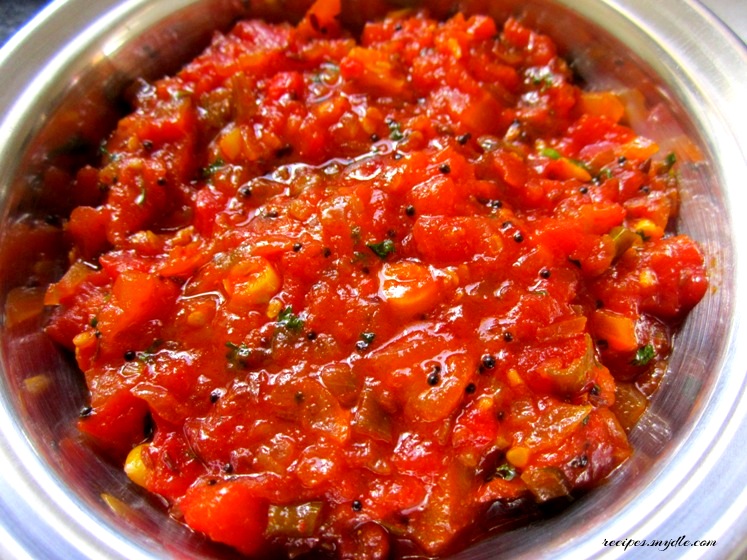 So this recipe of Tomato Chutney needs basic spices and condiments. And it uses some jaggery. Yep, jaggery! Now just imagine how luscious the combo of juicy tomatoes and warm melted jaggery is! The tomato chutney melts in the mouth. You can have it with hot phulkas or chapatis or even bajra bhakris if you like those in winters. You would certainly relish the fresh tang from the tomtatoes coupled with the subtle sweetness from the jaggery and hotness from the red chili.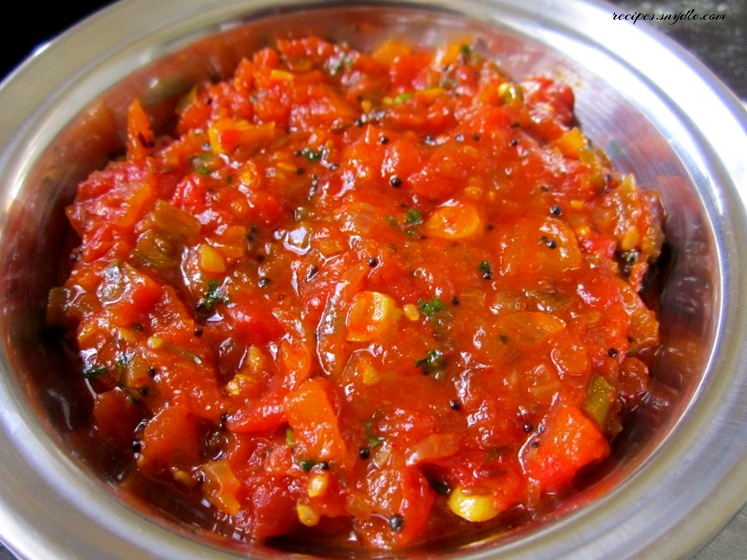 This is one of the easiest lunch box recipes ever. Your kids would bring their tiffins back totally empty. Let's start with the recipe for Tomato Chutney. This recipe serves 2.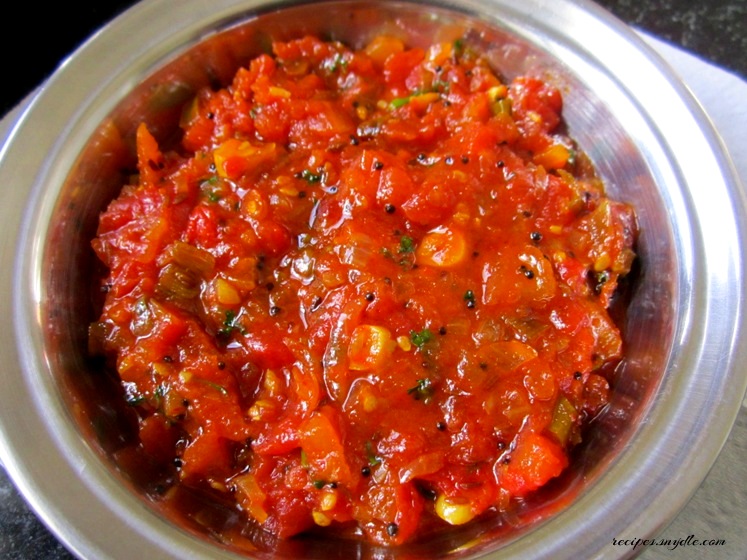 Ingredients
Tomatoes – 4 large
Green chilies – 1, finely chopped
Garlic – 4 cloves, finely chopped
Coriander leaves – a few leaves, finely chopped
Oil – 1 and 1/2 tbsp
Mustard seeds – 3/4 tsp
Cumin seeds, 3/4 tsp
Red chili powder – 1/2 tsp or to taste
Turmeric – 1/4 tsp
Salt – to taste
Asafoetida/Hing – 1/4 tsp
Jaggery – 1 and 1/2 tbsp or to taste
Water – to blanch the tomatoes
How to Make Tomato Chutney
Let's prep the tomatoes first. Boil some water and then turn off the heat. Dip the tomatoes into the hot water and cover it with a lid.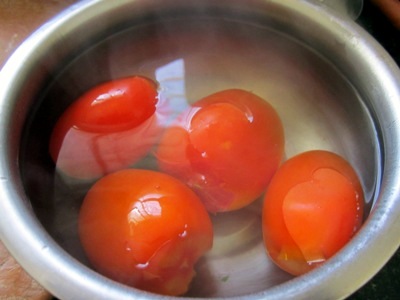 We do not need to cook the tomatoes completely in this water. We just need the skin to crack. This will take 5-7 minutes.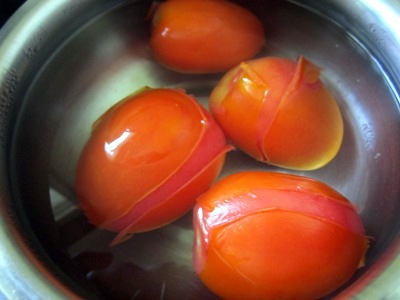 In the meanwhile, prep the other ingredients.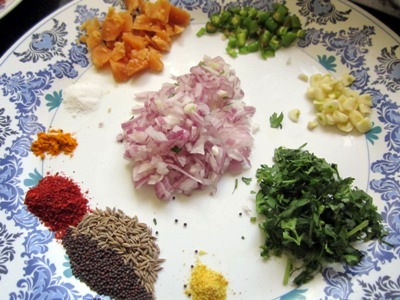 Peel the tomatoes and chop them as fine as you can.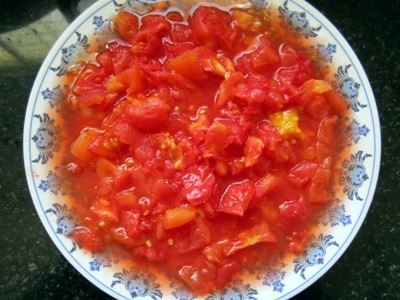 Heat some oil in a skillet. Add mustard seeds and let them splutter. Then add the cumin seeds and allow them to splutter as well. Add the asafoetida/hing and let it sizzle for 3-4 seconds.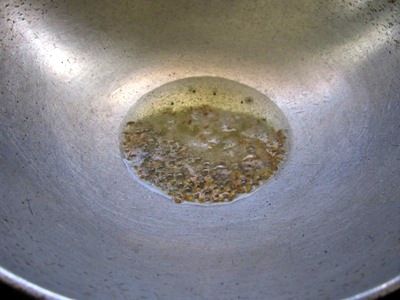 Add in the green chilies.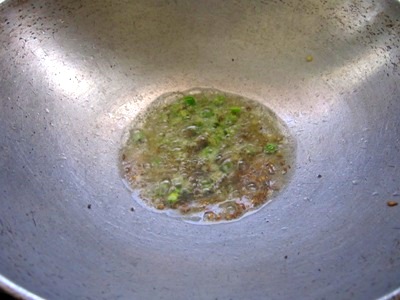 Then the garlic. Saute on low flame for about half a minute till the raw smell of garlic is gone. We do not intend to turn the garlic brown. It should stay white or golden.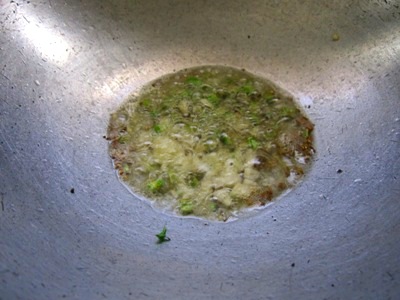 Add in the turmeric and red chili powder. Let the flame stay on low else the spices will burn. Mix well and cook for 3-4 seconds.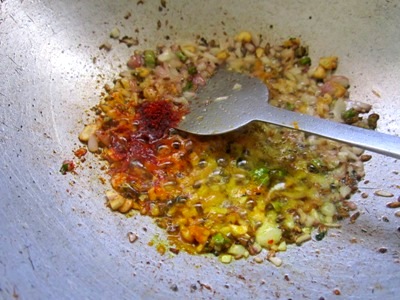 Add in the tomatoes and mix well.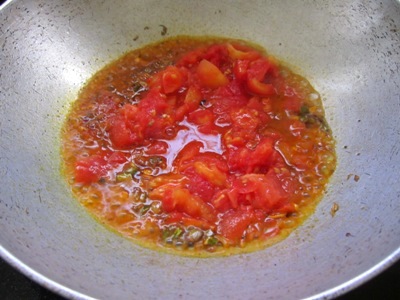 Add in the jaggery too. Melted jaggery will help the tomatoes cook faster. Cover the skillet with a lid and let the chutney simmer on low heat for about 7-8 minutes till the tomatoes get cooked it their own juices.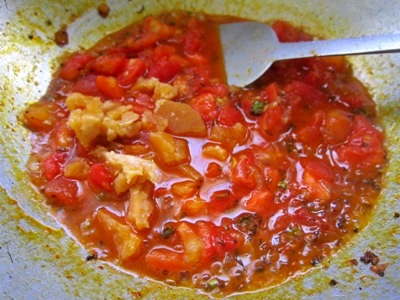 It should look like this. Add the coriander leaves and mix well. Turn the heat off. Cover the skillet once again for 5 minutes if you wish to have an enhanced coriander flavor.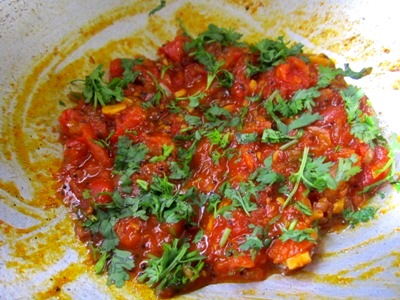 Serve hot with phulkas or rotis. Enjoy!