Unniyappam is a traditional snack of south India. Unni means small. Appam means cake. Usually it is giving to church and temples as nivedyam or offering. It is a delicious soft snack easy to make. With one cup of rice we can make 25 nos.,and it is less oil consuming. Olden days our grandparents were making with rice powder. But for the time consumption we are going to make differently. We used to make with rasakadali. If it is not available paalankodan also fine. Appakkaara is the mold using to make.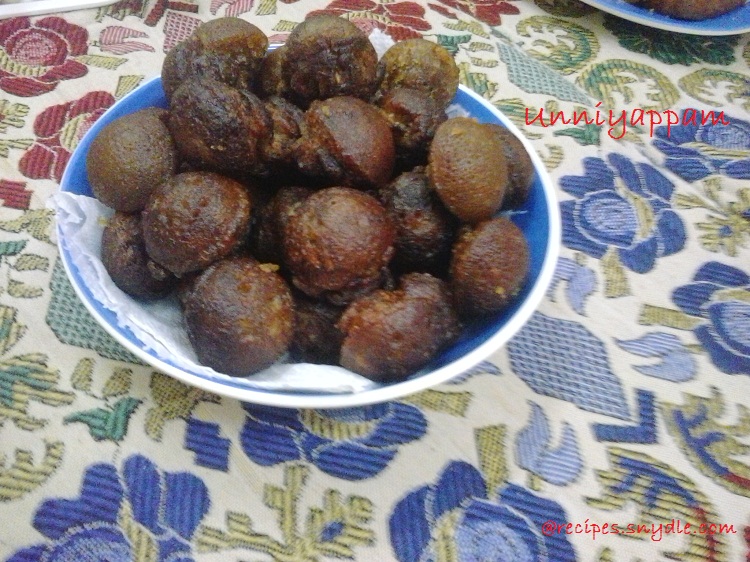 Ingredients
Soaked white rice-1 cup
Jaggery-100 gm
Plantain-1
Coconut bits-2 tbsp
Coconut oil-100 ml
Black sesame seed-1 tsp
Cardamom-1
 Jeera powder-1/2 tsp
HOW To Make Unniyappam
Soak the white rice for minimum 4 hrs.
Make jaggery syrup.grind with rice,cardamom and jeera powder.
Add plantain and grind.the batter should be semi thick consistency.(little coarse batter)
Keep it for 4 hrs.
Roast the sesame seeds in a dry pan till the sound comes.
Add ghee or coconut oil in the pan and put coconut bits.
Fry till golden brown.
Add the fried coconut and sesame into the mixture.
Keep appakkaara on the stove. Pour coconut oil till 3/4 of the pit. When the oil is ready pour the batter till the level of the pit.
Allow it to fry .Then flip the appam with a spoon or fork.