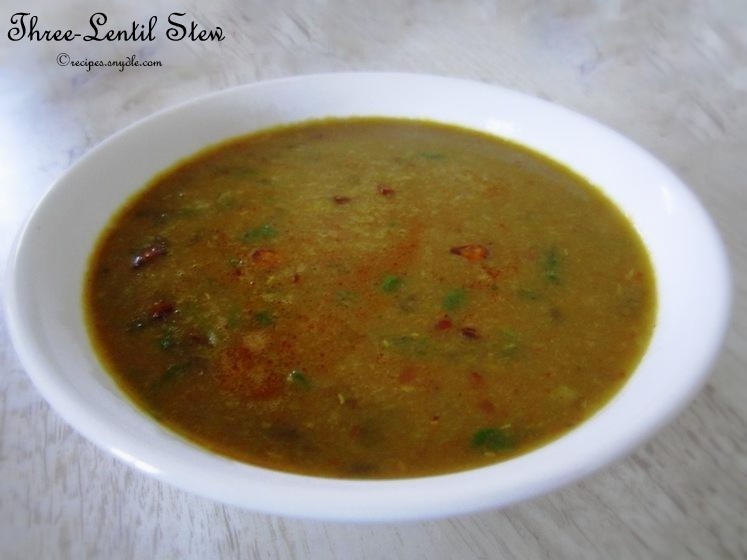 Three-lentil Stew with step by step pictures. Triple-Lentil Stew with step by step pictures.
Hello, foodie buddies. Today I am sharing a dal recipe. This recipe consists of three different kinds of pulses/lentils that have been cooked together and tempered with an extremely feisty and aromatic tempering of chilies and garlic. In India, where pulses are a part of daily diet, this lentil dish is had with Indian flat bread and rice.
For those who are not familiar with Indian cuisine, you can say this is a lentil stew. At my place, we have it mostly with rice, some pickle, curd, fried papads of some kind and raw onion rings seasoned with red chili and lemon. It is a very comforting meal. It's a matter of personal choice and you can have this lentil stew whichever way you want. You can have it like a soup as well.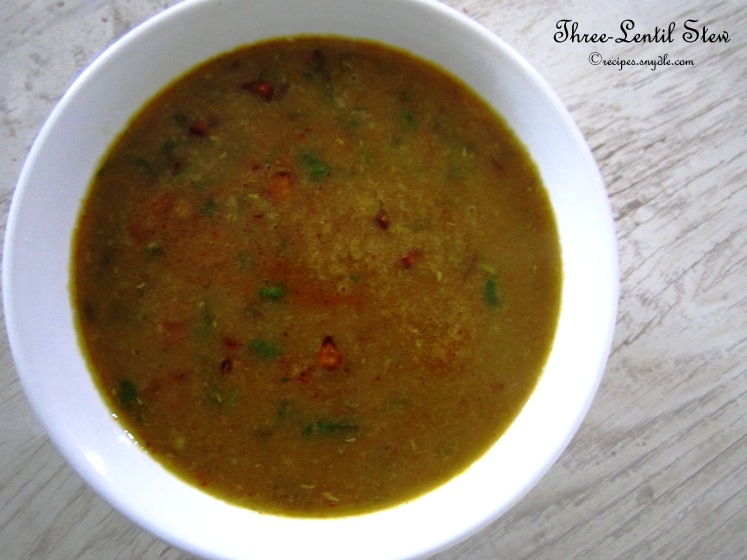 Since this is a protein-packed recipe, you can use it as a recovery meal as well. You do not have to compromise on taste because this lentil stew tastes absolutely divine. This one is basically a Sindhi recipe and I have not seen other people make this lentil stew using this particular combination of pulses. We call it Tridali Dal, which means a dal recipe consisting of 3 kinds of pulses. But now that you know about it, you should try this out. This is a healthy and quick dinner recipe. You can make it for lunch as well.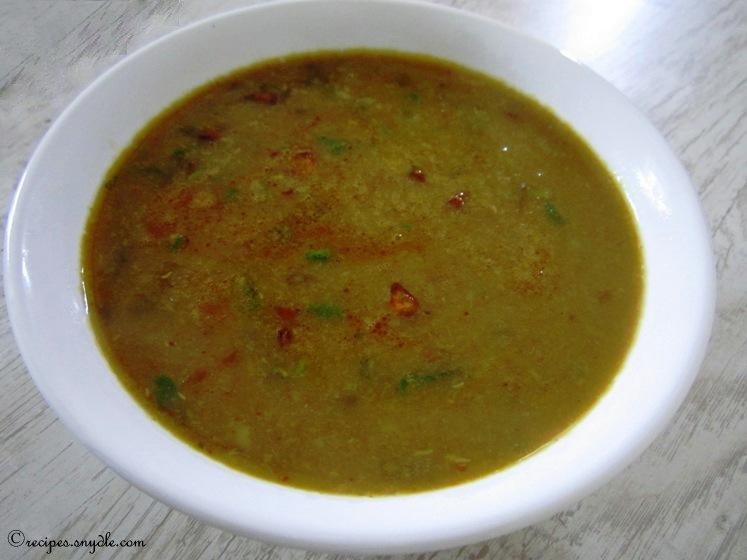 Now let's get started with the recipe of Tridali Dal with step by step pictures. This recipe serves 4-5 people. For the purpose of measurement, 1 cup = 250 ml.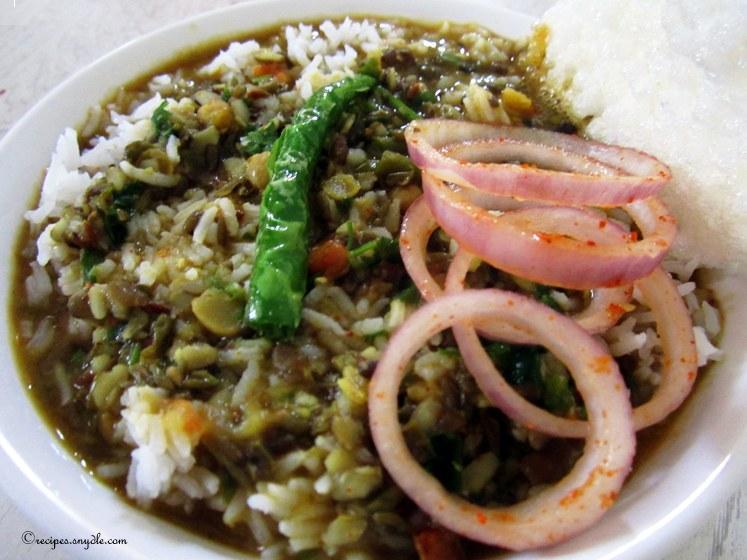 Ingredients
Skinned and split yellow bengal gram / Chana dal – 1/2 cup
Split black gram / Chilkewali urad dal – 1 cup
Split green gram / Chilkewali moong dal – 1/2 cup
Water – 5 cups or as needed
Green chilies – 2 chopped
Green chilies – 2, whole (optional)
Curry leaves – 15 to 20 leaves
Coriander leaves – a handful
Tomato – 2, medium, diced
Ginger – 1-inch piece, finely chopped or grated
Turmeric – 1/2 tsp
Salt – to taste
For the Tempering
Oil – 2 tbsp
Red chili powder – 2 tsp or to taste
Garlic – 12 cloves
Cumin seeds – 1 and 1/2 tsp
How to Make Three-Lentil Stew/Tridali Dal
Wash and soak all the 3 dals/lentils together for about 30 minutes. Drain them and transfer them into a pressure cooker. Add 2-2.5 cups of cups water or as needed depending on your pressure cooker. Add in the tomatoes, ginnger, chopped green chilies, turmeric powder and salt.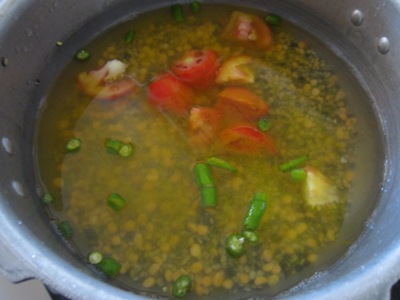 Pressure cook for 5 whistles till the dals/lentils are completely cooked and somewhat mushy. If you want a smooth texture, mash the mixture with a masher. I, however, like the grainy texture and so I didn't mash the dal.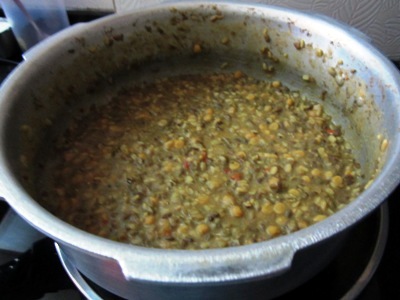 Add 2 cups of water to adjust the consistency. I like my dal not to thin. So I added 2 cups of water. Mix well.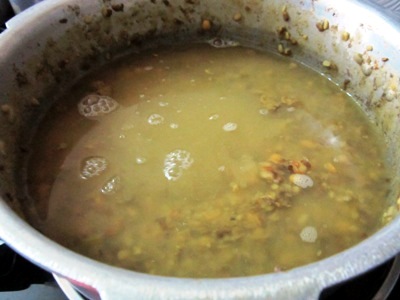 Bring the dal to a boil. Add in the curry leaves and whole green chilies. Green chilies are optional. I love to bite on these so I have added them.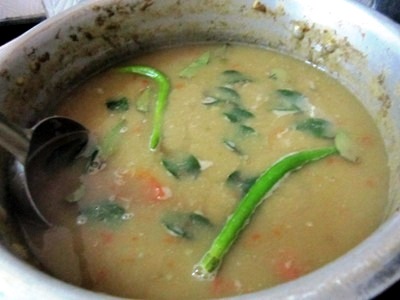 When the dal has come to a boil, let it bubble for another 7-8 minutes on medium heat. Then turn off the flame and add the chopped coriander leaves.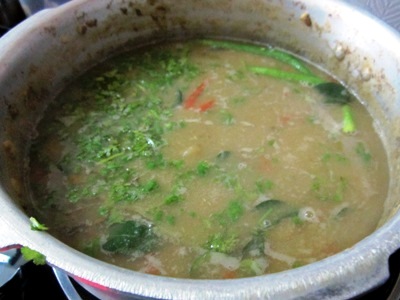 Let's prepare the tempering now. Take a pan or a skillet. Add in the oil and heat it. Add in the chopped garlic and turn the heat to low.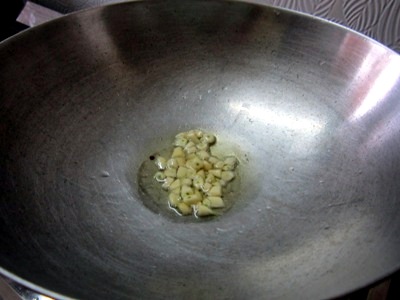 Let the garlic get golden brown on low heat. Keep stirring. Add in the cumin seeds and allow them to crackle.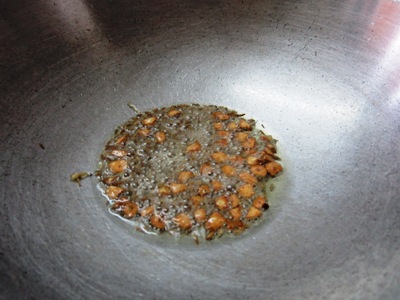 Turn the heat off and add in the red chili powder. Try not to burn it. Mix it well with the oil and quickly pour the tempering over the dal.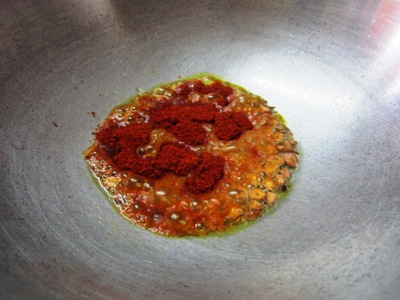 Quickly mix it around and cover the dal with a lid for 2-3 minutes so that the flavors stay in.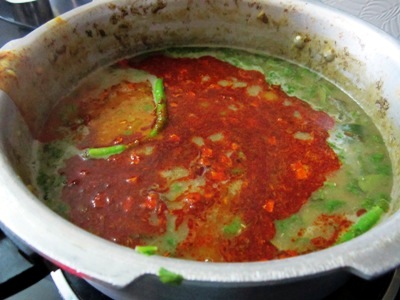 Three-Lentil Stew / Tridali Dal is ready to be served.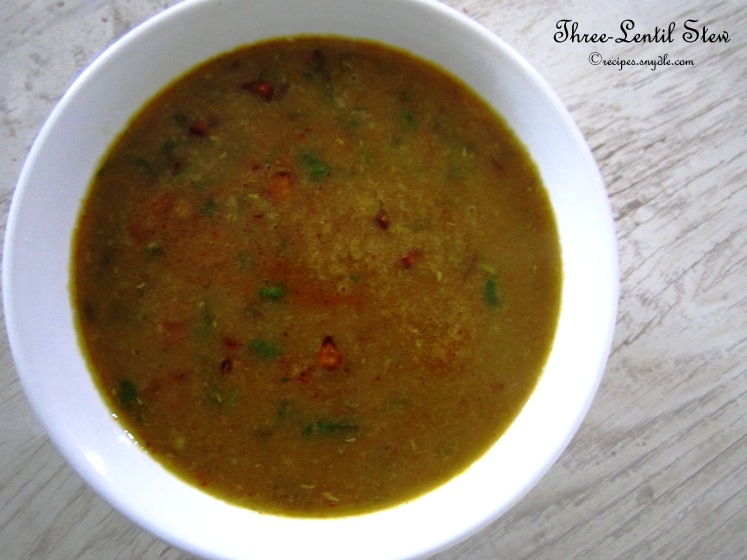 Serve hot with rice, roti and a side dish with a dollop of ghee or just have it like a soup. Enjoy!