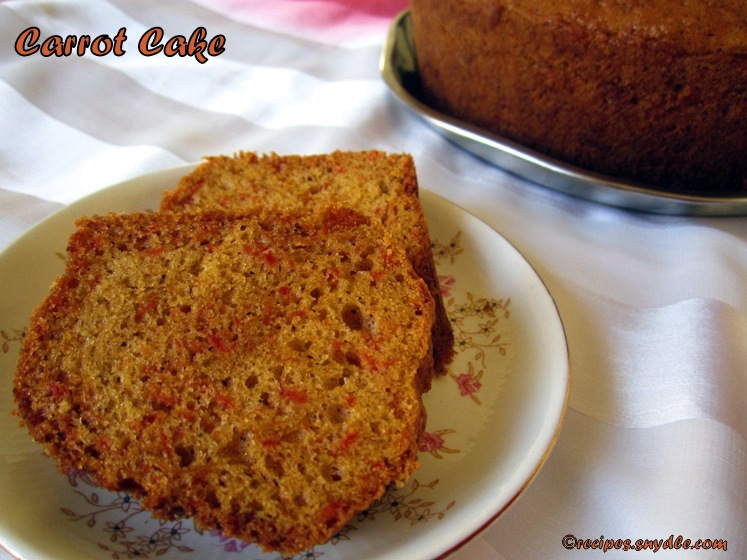 Hello folks. Hope you had a lovely weekend. Like any other Sunday, yesterday was special too. I baked a carrot cake under my Mom's supervision. There is a very popular saying.
"When you cook, follow your heart. When you bake, follow the recipe."
Apparently, Mom doesn't believe in it. She loves to experiment with baking too and would alter the recipes as she deems fit. This recipe is adapted from the one given by Arathi Vishal, a member of one of the food groups I follow on Facebook. Since my family likes cakes without frosting more, I gave the cream cheese frosting a pass. For me, this is the best carrot cake recipe. A keeper, indeed!
I have had a lot of carrot cakes, but homemade carrot cake is the best. The best ones can be described as carrot-y, moist, not very crumbly, nutty and spiced-up. The flavor of roasted walnuts lends an amazing flavor to the cake. The texture and color come from the sweet red carrots. The cinnamon and nutmeg make this cake stand apart from the rest. In a nutshell, carrot cake is the ultimate one. It has everything, an amazing texture, wonderful flavors and superb taste. If you like frosting, carrot cakes can pull off cream cheese frosting and vanilla buttercream frosting very well.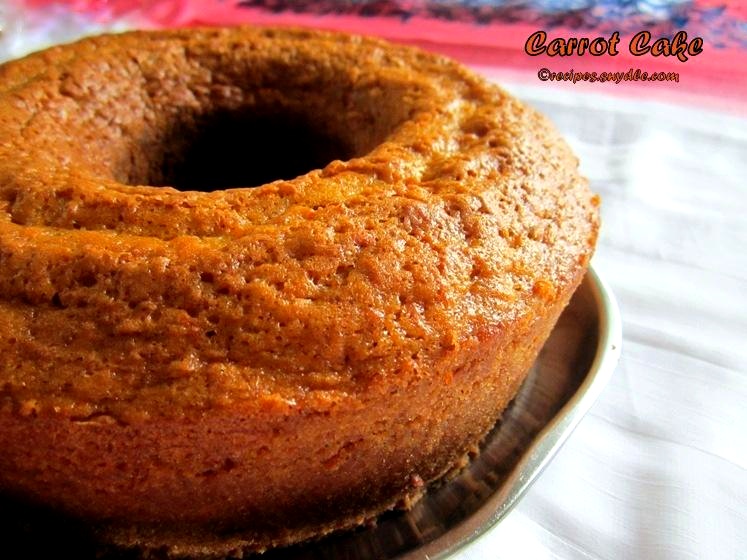 I am decent enough when it comes to baking cakes. So I observed that carrot cakes take somewhat longer to bake, because of so much moisture from the carrots. Also, carrot cakes cannot retain a lot of fat. They ooze of oil if you add too much of it. So the quantity of oil has to be cut back a lot, when you compare it with vanilla or chocolate cakes. I baked this carrot cake without the electric oven / OTG. I baked it on stovetop using the gas oven to make this perfect carrot cake recipe. You can bake this carrot cake in a pressure cooker too. However, you must know that this cake took a good 55-60 minutes to bake. In the oven, it gets done in 60 minutes tops. If you wish to bake carrot cake cupcakes, then fill the cupcake moulds to two-third and bake the cupcakes for 15 minutes.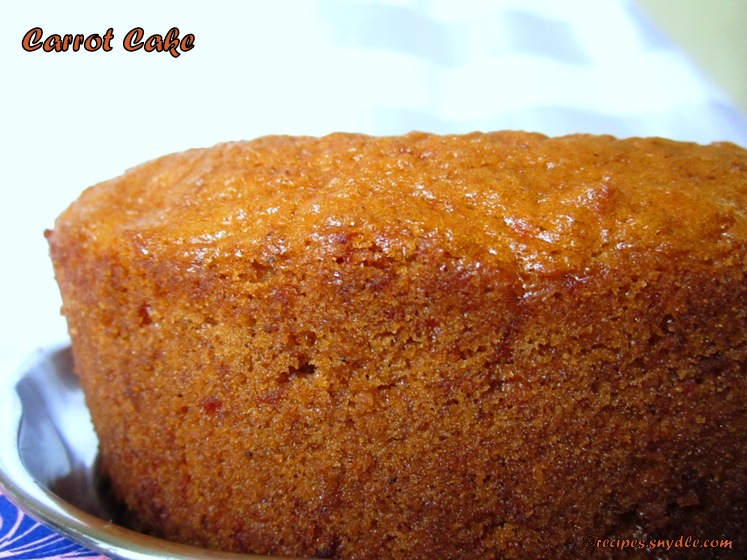 Now let's begin with the recipe of Carrot Cake. For the purpose of measurement, 1 cup = 250 ml.
NOTE
Use red carrots for this recipe. English carrots, i.e., the orange ones are not suitable for making cakes.
You can adjust the amount of sugar, between 4/5 cup and 1 cup depending upon the sweetness of carrots. A 1/5 cup of sugar would not affect the consistency of the cake batter a lot.
Measure the sugar after grinding it to the powder.
Once you fold the shredded carrots into the cake batter, you have to be very quick. The carrots will ooze a lot of moisture and make the batter watery if not put into the preheated oven quickly.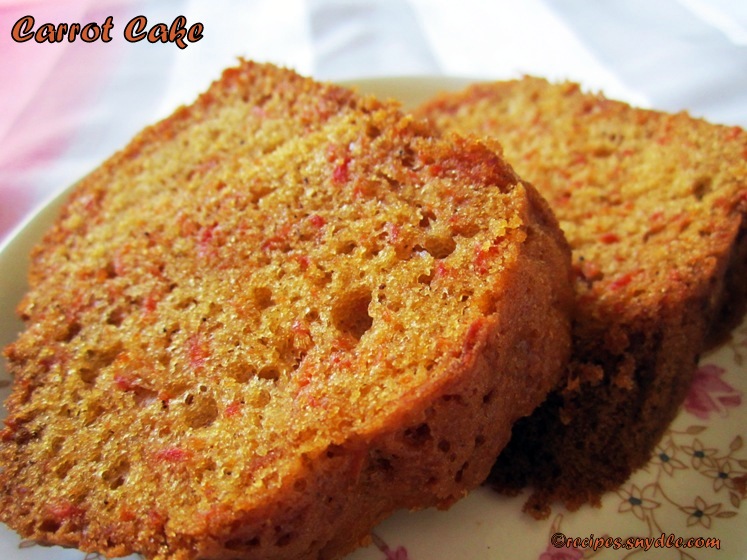 Ingredients
All purpose flour / Maida – 1.5 cups
Cinnamon powder – 1 and 1/4 tsp
Nutmeg powder – 1/3 tsp
Salt – 1/2 tsp
Baking soda – 3/4 tsp
Baking powder – 1 and 1/4 tsp
Eggs – 4
Oil – 1/2 cup
Powdered sugar – Between 4/5 cup to 1 cup, depending upon the sweetness of carrots
Vanilla extract – 2 tsp
Red carrot – 3 cups, shredded
Walnuts – 3/4 cup, chopped
How to Make Carrot Cake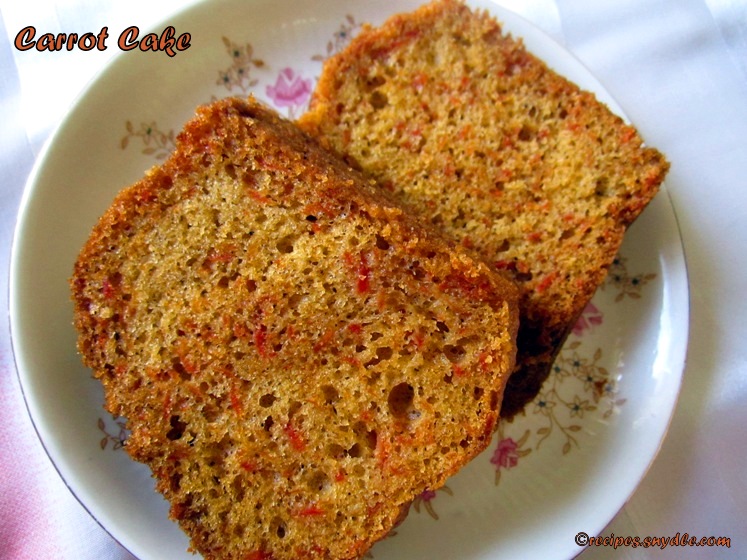 Start off by preheating the oven at 350° Fahrenheit or 180° Celsius for 15 to 20 minutes. Grease the 8-inch cake pan. If you want to frost the cake, then you would want to make two cakes out of this batter. In that case, grease two 8-inch cake pans.
In a bowl, sieve together all purpose flour / maida, baking soda, baking powder, salt, cinnamon powder and nutmeg powder.
In another bowl, break open the eggs and beat them for a minute using the electric beater. Add in the powdered sugar little by little and beat the mixture for another 2 minutes till it becomes frothy. Make sure no lumps are formed.
Add in the oil in a uniform stream into the egg mixture and continue to beat. Add in the vanilla extract too and beat once again.
Now add in the dry ingredients (all purpose flour / maida, baking soda, baking powder, salt, cinnamon powder and nutmeg powder) little by little into the egg mixture and beat well. Beat the batter for another two minutes. It helps the air incorporate into the batter, which will make the cake rise well.
Now fold in the freshly shredded carrots and walnuts and fold them into the mixture very gently using a spatula. Do not mix. Just fold it gently.
Transfer the cake batter into the cake pans and bake it for 55 to 60 minutes at 350° Fahrenheit or 180° Celsius. It will take the same amount of time when baked in the gas oven or pressure cooker. Due to so much moisture from the carrots, it takes long for the carrot cake to get ready.
If making carrot cake cupcakes, fill in the greased cupcake moulds to two-third and bake it at 350° Fahrenheit or 180° Celsius for 15 minutes.
The cake will have a beautiful crust and that's when you will know it's perfectly done. Insert a toothpick. If it comes clean, it means the cake is ready.
Allow the cake to cool in the pan, if using aluminum cake pans. If using the non-stick, springform pans, unmould the cake and allow it to cool on the wire rack. Frost with vanilla buttercream or cream cheese frosting, if desired.
Carrot cake is ready to be enjoyed. It goes well with tea and coffee too.