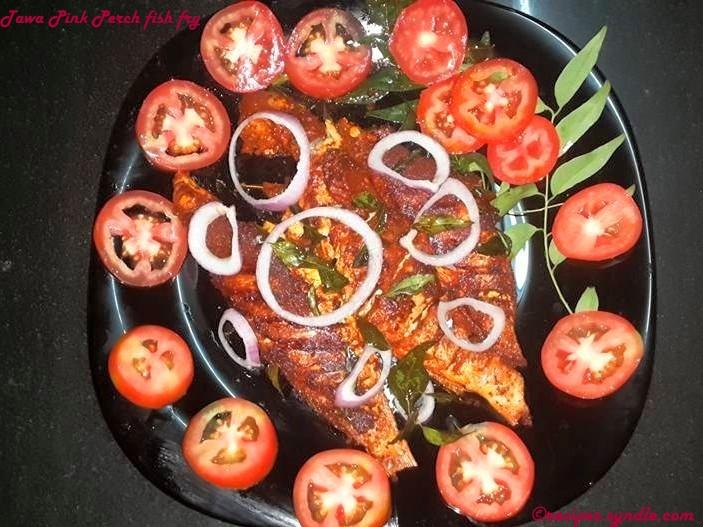 Kerala Kilimeen Fry (Tawa Pink Perch Fish Fry)
This fish fry can use as a great appetizer or a side to a meal. This recipe is very easy to follow and even a bachelor can easily make for lunch. Its  very tasty and crispy fish fry.  A simple vegetable salad or cut onions always compliment with fish fry. It can be served along with rice, morru and a stir fry dish. For make this easy fish fry, first we should marrinate the fish to absorb all flavours and spices. This easy fish fry recipe can do a shallow fry in tawa  or to grill. Here am doing a shallow tawa fry, if u want u can grill it also with this same marrination. There are so many ways a fish can be fried.
kilimeen varuthathu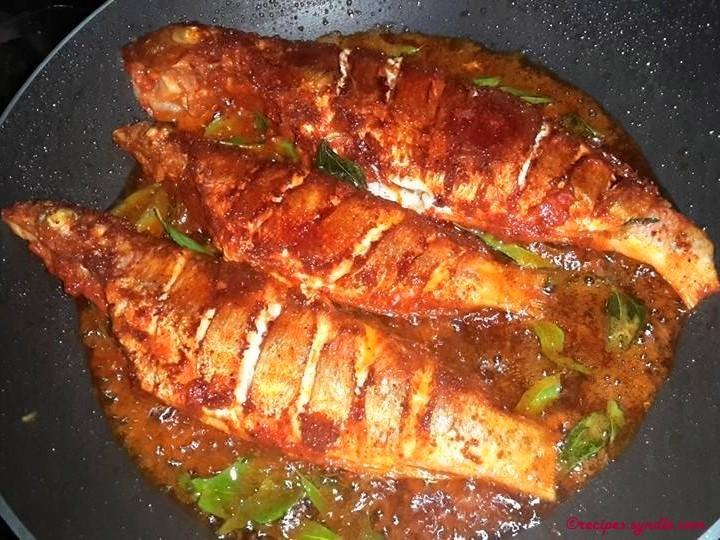 Pink Perch Fish Fry Recipe
Ingredients
Fish- 1 kg
 Ginger/garlic paste-2tbsp
Turmeric Powder- 2tsp
 Pepper Powder- 1tbsp
 Kashmiri Chilly Powder- 2 tbsp
Lemon Juice- 1tbsp
Salt- to taste
Coconut oil – 2tbsp
Curry leaves-3 sprig
How to Make Tawa Pink Perch Fish Fry
Remove waste, scales and clean the fish by adding some salt in it. I am using Pink Perch fish, u can substitute it with any other fish. Drain water completely and keep it aside.
Make a fine paste of salt, giner/garlic paste, kashmiri chilly powder, turmeric powder, lemon juice and pepper powder. Marrinate fish with this, and keep it in refrigerator for 30 minutes.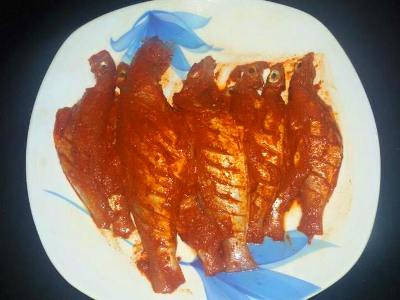 Heat a frying pan with 2tbsp oil. Here am using a shallow fry, if deep frying use more oil. For getting a kerala taste fish fry use coconut oil. When oil become hot enough, place the fish and  add curry leaves for a traditional flavoured fish fry. Keep the flame to medium.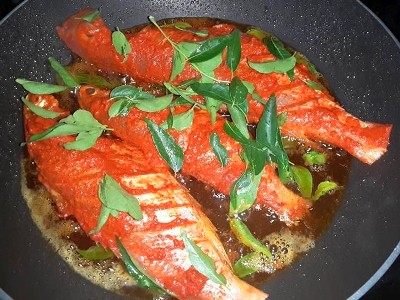 I suggest using a small pan, so that less oil can used to fry. After 5 minutes flip it and then repeat frying for another 5 minutes.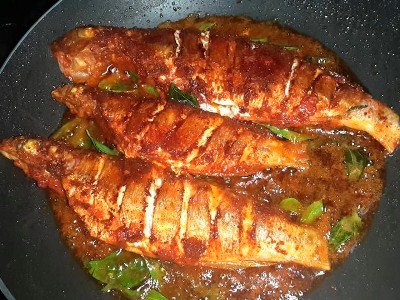 Drain it on an absorbent paper or to a kitcken towel. Fish fry is ready and garnish along with onion rings and tomatoes.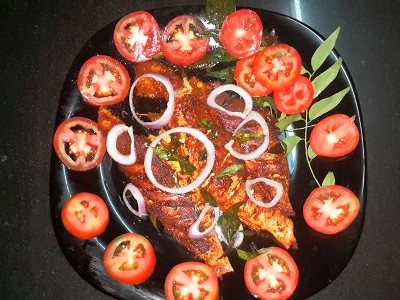 Serve it along with rice and other side dishes.