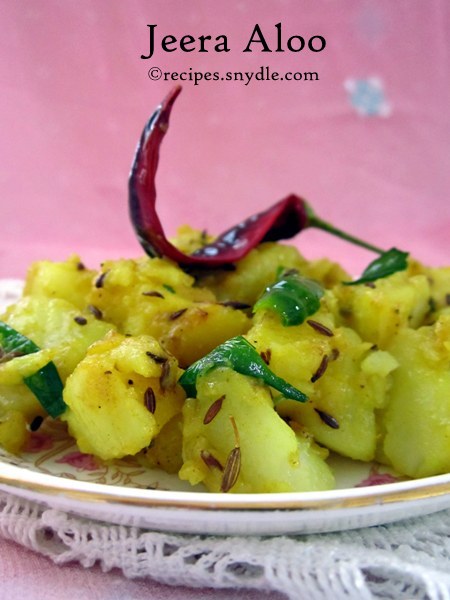 Hi there. If you are wondering what to cook as a side-dish for daal and rice that is tasty, easy and gets ready within minutes , you have come to a right place. Today it's the Jeera Aloo recipe.
If you have been following my recipes here, you already know that I am such a huge fan of potatoes. This Jeera Aloo recipe is my attempt to replicate the one I tasted at a local restaurant last week. Me and my friends feel in love with the seemingly humble Jeera Aloo at the very first bite. I decided I would give it a try, and would share the recipe here if it turns out good.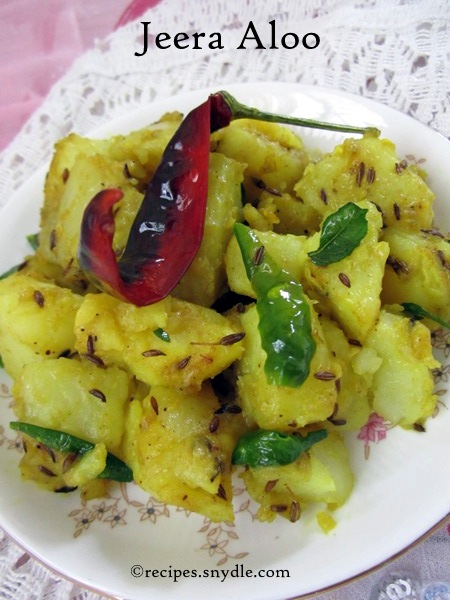 It looks simple, smells great and tastes amazing. A die-hard fan of home-cooked meals would surely understand how much comfort this kind of dish holds within itself. This is my kind of comfort food. With oodles of flavors and a taste that is tangy and hot, Jeera Aloo will surely give you nostalgia of the good old days. That's what home-cooking is all about.
This recipe will suffice for 3-4 persons. Let's get started!
Ingredients
Potatoes – 4 large
Turmeric – 1/2 tsp
Dry Mango Powder / Amchur – 1 tsp or to taste
Coriander powder – 1/2 tsp
Cumin powder / Jeera powder – 1/2 tsp
Garam Masala – 1/2 tsp
Salt – To taste
Cilantro – A handful, finely chopped
Lemon juice – 1 tbsp or to taste
For Tempering
Jeera / Cumin seeds – 1 tsp
Whole dried red chilies – 4
Green chilies – 5, slit length-wise
Curry leaves – 10 to 15 leaves
Butter – 2 tbsp
Oil – 1/2 tbsp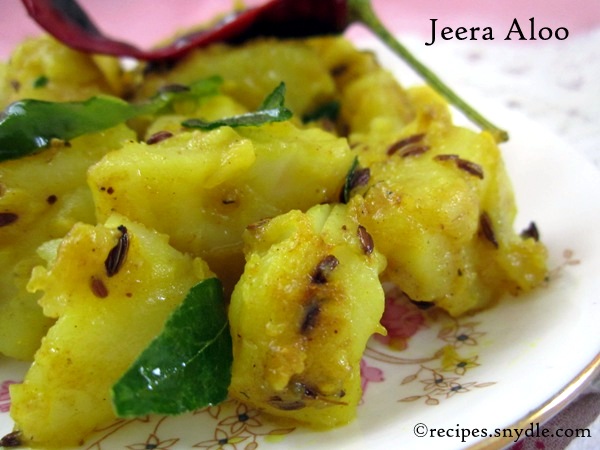 How to Make Jeera Aloo
Boil the potatoes in a pressure cooker till they are cooked well. We don't want the potatoes to be too mushy. We want them to be cooked yet firm. Two whistles are usually enough to cook large potatoes.
Allow the potatoes to cool down a bit. Peel them and then cut them into 1 inch cubes. Set them aside.
Now heat the oil and the butter together in a pan or skillet. When the oil gets hot, turn the flame to low because there would be a lot of spluttering around when you add the tempering ingredients. Also, we have to prevent them from getting burned.
Add in the cumin seeds and let them splutter. Now toss in the whole dried red chilies, green chilies and curry leaves and sauté them for 5 to 10 seconds till aromatic. Sautéing the chilies will diminish their hotness a bit. They taste great when you bite on them.
Now add the turmeric. Stir it around for a couple of seconds. Toss in the diced boiled potatoes and stir around everything well. You can turn the heat to medium now and sauté the potatoes for 3 to 4 minutes till they gets some nice golden color. Toss them occasionally to avoid burning them.
Add the garam masala, salt, cumin powder, coriander powder and amchur powder and mix everything well so that the spices evenly coat the potatoes.
Cook the potatoes with the lid on for the next 2 minutes. Then garnish it with chopped cilantro and finish it with lime juice. Mix well once again. Jeera Aloo is ready to be served.
Pair it up with daal and rice or just roti or as you like. Enjoy!