Lassi is a traditional yogurt based drink.  It is very popular in North India.  Here the main ingredients are yogurt, sugar and water.  It is very easy to prepare and tasty. You can also find fruit based lassi's and it is not that lassi is always sweet.  There are salt based lassi's also.  But sweet ones are favourite at home. Lassi can be flavoured with cardamom powder or few drops of rose essence.  If you are using cardamom powder, add powder at the end and then add few almonds or pistas also on top.  Since I have used rose essence, I haven't used cardamom powder.   One of my aunts live in Kolkata and she introduced lassi to me for the first time.  Though I didnot like it initially, slowly I started taking it but I always have a liking towards sambharam / spiced butter milk.  At home hubby and kids are a big fan of lassi that we make it every other day.  Whenever we go to any punjabi dhaba or any restaurant, our food always ends with a glass of lassi.  Earlier I have shared a post of how to make Kesar lassi.  Today, I thought I will share this post of how to make normal lassi though I know it is not a big post to share.  But it will serve as a natural cooler during this summer.  Now to the recipe..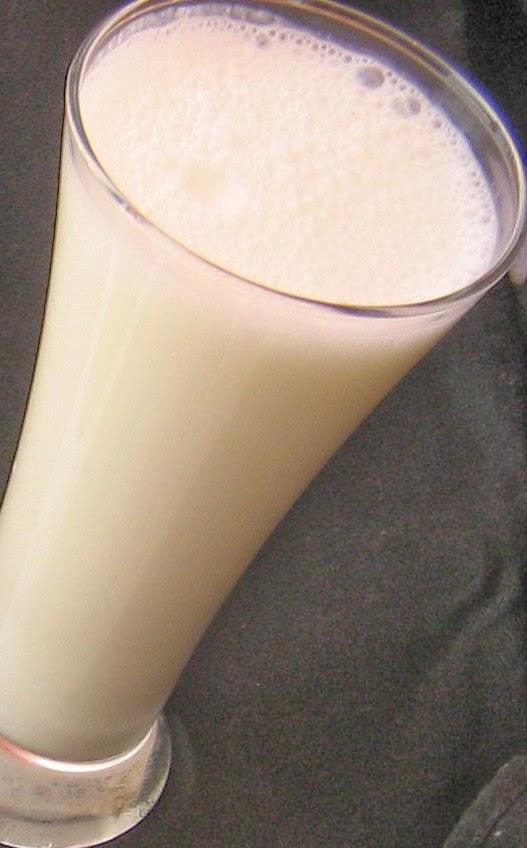 Ingredients required
yogurt / curd   – 1 1/2 cup
milk    – 1/2 cup
sugar  – 6 – 7 tsp (or as req.)
rose essence (optional)  – 1 – 2 drops
ice cubes  – few
Method
1.  Take yogurt, water, one or two drops of rose essence  and sugar in a blender.
2.  Blend them nicely till the mixture becomes frothy  Blend until the yogurt get mixed up well..
3.  Don't over blend as butter will start floating on top.
4.  Serve lassi in tall glasses.  Add crushed icecubes to it.
5.  Serve the sweet lassi as such or chill it and serve.