Beetroot pachadi is an integral part of Kerala sadya.  It is a very easy to prepare and tasty  dish.  It is a yogurt based dish and takes approximately 10 – 15 minutes to prepare this wonderful dish.  There are two ways in which you can prepare this pachadi.  One is without coconut which I have shared here and the other is with coconut.  Though this is prepared mainly during Sadya, but this can be prepared during normal days also as a side dish for rice along with rice, sambar, rasam and any side dish. This dish has got a deep pinkish color which attracts everyone towards it.  Also there is a sweetness of beetroot for this curry.  This is very similar to beetroot raita which is prepared in North India.
Beetroot is such a vegetable with low cost and high nutritional value.  It is believed that beetroot juice may reduce blood pressure in a matter of hours.  Beets are a unique source of betain.  Betain is a nutrient that helps to protect proteins, enzymes and cells from environmental stress.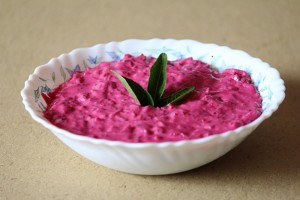 Ingredients required
grated beetroot   – 2 cups
ginger (grated)  – 2 tsp
onion – 1 (finely chopped)
green chillies   – 2
mustard    – 3/4 tsp
curd   – 2 cups
curry leaves   – few
oil    – 1 1/2 tbsp
salt   – to taste
Technique
1.  Beat curd nicely without lumps.  Keep it aside.
2.  In a pan, heat oil, splutter mustard seeds.
3.  Add onion, fry till it turns slightly brownish.
4.  Add ginger ,  greenchillies and saute till raw smell goes off.
5.  Add grated beetroot, curry leaves and salt.  Saute well.
6. Keep the gas in sim till beetroot is cooked properly and entire moisture is evaporated.
7.  Turn off the flame.  Allow it to cool.
8.  Once the beetroot mixture is cooled, add curd.  Mix well.  Check for salt.  Add more if required.  Pachadi is ready.
Note:  Don't add curd while the beetroot mixture is very hot as it will curdle.
Tips to remove beetroot stains. 
1.  Rinse the cloth under cold water right away.
2.  Soak the cloth in a biological detergent for some time and then clean it.