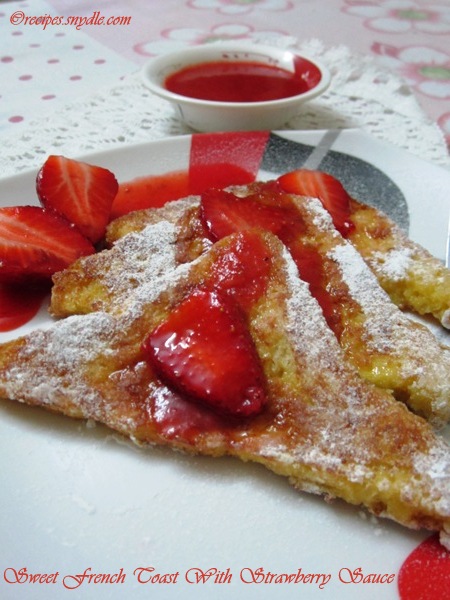 Are you bored of eating savory French toasts for breakfast? Is it that even pancakes don't appeal much to you these days? Then let us try something new! How about sweet French toasts? Laced with strawberry sauce? Sounds good!
Sweet French toasts taste delicious, smell heavenly and look alluring! This is a Nigella Lawson recipe that I watched on TLC last year. It was resting in my diary since a year now. So, I decided to make them today for breakfast. They turned out really yummy and hence I am sharing the recipe with you. I did tweak the original recipe to adjust things to my preference.
Now let us see how to make sweet French toast with strawberry sauce.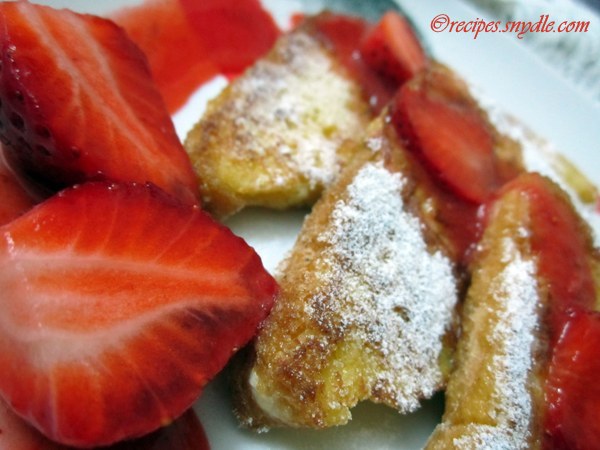 IngredientsFor the Sweet French Toast
Bread slices – 2
Eggs – 2
Milk – 30 ml
Vanilla extract – 1 tsp
Cinnamon powder (Optional) – a generous pinch
Butter – 2 to 3 tbsp
Castor sugar – 1 tbsp
For the Strawberry Sauce
Fresh strawberries – 10
Honey – 1 tsp
Sugar – 1/2 tsp
Lemon juice – 1/2 tsp
Few strawberries- For garnishing
How to Make Sweet French Toast with Strawberry Sauce
Take a bowl and lightly whisk the eggs. Add in the milk, vanilla extract and cinnamon powder to the eggs and whisk everything well.
Cut the bread slices into two. Cut them diagonally so that you get 2 triangular pieces.
Dunk the bread slices into the egg batter and coat them properly. Allow the bread slices to soak in the egg mixture for a couple of minutes.
In the meanwhile, heat some butter in a pan. Allow the butter to melt. Take the bread slices out of the egg batter and place it in the pan. Roast the French toast on both sides on medium heat till its cooked n the inside and golden brown on the outside. This may take about 5 minutes.
Add some more butter while you flip the French toast and cook it on the other side. When done, remove the French toast onto a serving plate.
While the toast is getting ready, we prepare the strawberry sauce. We just have to blend all the ingredients of the sauce together in a blender.
You can keep the sauce chunky or smooth, as you like. Use strawberries that are ripe and sweet. Sour strawberries don't make a good sauce. Avoid adding lemon juice if strawberries are a bit sour. You can adjust the amount of sugar.
Now it's time to assemble the French toast! Place the French toasts onto the serving plate. Dust it with some castor sugar and pour some strawberry sauce on it.
The sweet French toast is ready! Garnish with some bits of fresh strawberries. Serve more sauce for dipping if you desire.
Enjoy it hot at for breakfast with your family!