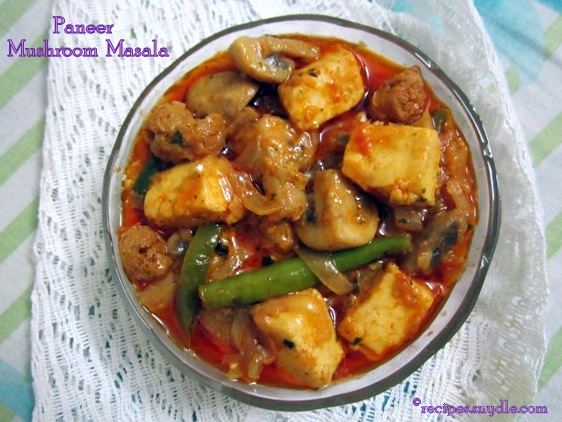 Hi there! Looking for a recipe for which you can use whatever you have in your fridge today? Well for me, "cleaning the refrigerator" cooking is very exciting. I start blank without a plan. I just dig the veggies out and come up a recipe impromptu. It's absolute joy thinking quickly and executing the thoughts in your head and coming up with a scrumptious dish. The end result is like a surprise.
Today I had a pack of button mushrooms, a capsicum and some paneer (cottage cheese). So I made this Paneer-Mushroom Masala. I also added soy chunks to boost the nutritional goodness of the dish. However, soy chunks are optional. And it turned out absolutely lip-smacking and filling too.
First we need to prepare the gravy in one pan. Then we fry the mushrooms, capsicum and paneer in another pan. Then we combine the gravy with the veggies. This way the veggies stay crispy.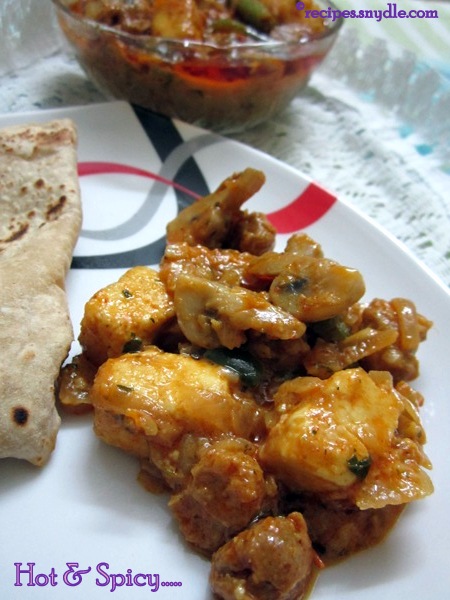 This dish is creamy and moderately spicy. It goes really well with phulkas. For the purpose of measurement, 1 cup = 250 ml.
Let us now check out how to make Paneer Mushroom Masala.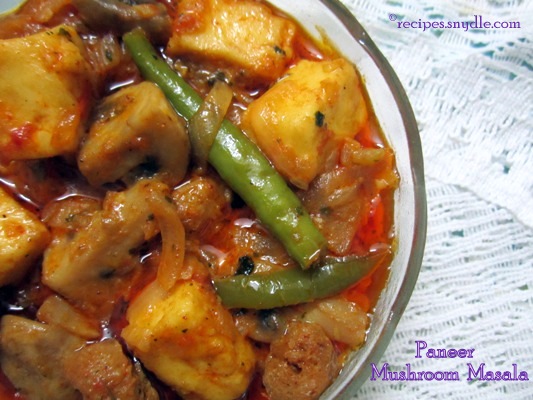 Ingredients For the Spice Mix
Coriander seeds – 1/2 tsp
Fennel seeds- 1/3 tsp
Cardamom – 2
Cumin seeds – 1/2 tsp
Black peppercorns – 5
Cloves – 2
Cinnamon stick – 1
Cashews – 5
Poppy seeds – 1 tsp
How to Make the Spice Mix
Dry roast the coriander seeds, fennel seeds, black peppercorns, cumin seeds, cinnamon stick and cloves, on low heat for a minute till aromatic. Take care not to burn the spices.
Allow the spices to cool. Grind the spices with cashews, poppy seeds, and cardamom to a fine powder. Set it aside.
For Making the Gravy
Onions – 2 medium, finely chopped
Tomato- 1 large, chopped
Mini soy chunks – 1 cup, washed, boiled, and drained. (OPTIONAL)
Ginger paste – 1/2 tbsp
Garlic paste – 1 tbsp
Red chili powder – 1tsp
Turmeric powder – 1/3 tsp
Coriander powder – 1/2 tsp
Hung curd – 1/2 cup
Full cream milk – 1/3 cup
Water – 1/3 cup
Salt – To taste
Oil – 2 tbsp
How to Make the Gravy
Heat oil in a skillet and add in the chopped onion and sauté it till it turns golden brown. Add in the ginger paste and garlic paste and sauté for another minute till the raw smell disappears.
Toss in the chopped tomato, some salt and sauté it till it turns soft. If you are adding soy chunks, add them now. Add a little water if need be. Allow the soy chunks to cook with the lid on for 5 to 7 minutes.
The oil will start to separate. I is time to add the spices. Add in the red chili powder, turmeric powder, coriander powder and the ground spice mix. Sauté for a minute.
Add in the hung curd and mix well. When oil starts to separate again, pour in the milk and allow the gravy to simmer on low heat. Keep stirring constantly.
Add some water if needed, to adjust the consistency. Let it simmer away from 3 to 4 minutes.
To Make Stir-Fried Veggies
Onions – 1 medium, sliced
Capsicum – 1, sliced.
Mushroom – 200 grams, cut into quarters
Paneer (Cottage cheese) – 200 grams, cut into 1 inch pieces
Green chilies- 2, split lengthwise
Salt – 1/3 tsp
Red chili powder -1/2 tsp
Sugar – 1/3 tsp
Lemon juice- 1 tsp
Kasuri methi – 1 tsp, roasted and crushed between your palms
Oil – 1 tbsp
Cilantro for garnish
How to Make Stir-Fried Veggies
Heat some oil in another pan. Toss in the onion and mushrooms and fry on high heat for a couple of minutes till the moisture is entirely released and mushrooms are nicely sautéed.
Next, toss in the capsicum and green chilies. Sauté for another minute. Lastly, add in the paneer and sauté again till it starts to turn golden.
Sprinkle some salt and red chili powder. Squeeze in the lemon juice and add some sugar and give the veggies a quick toss. We want the veggies to stay crisp.
Assembling the Stir-Fried Veggies and the Gravy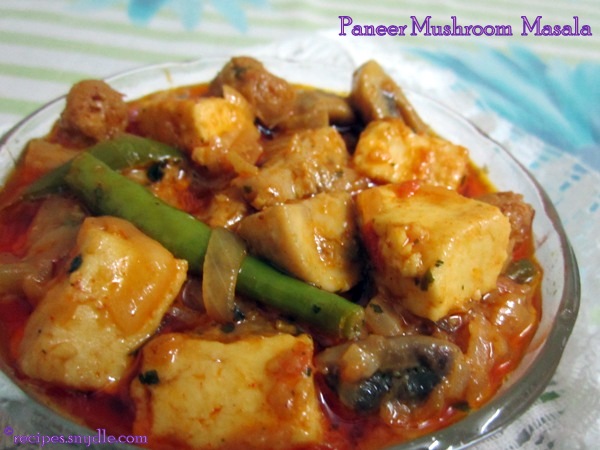 Now add in the gravy to the veggies and mix everything well with a light hand. Add the kasuri methi mix gently. Turn the heat off. Garnish with chopped cilantro and serve hot with phulkas or naan! Enjoy!